Hillsborough is what matters
Feature by Mike Jones
Updated Friday, 11th July 2008
Let's get this straight I have seen many seasons where hopes have been falsely raised by a stellar preseason...I can remember for instance Wayne Biggins scoring two hat tricks in a week in the Lancs Manx Cup before the following season saw us seriously under whelm.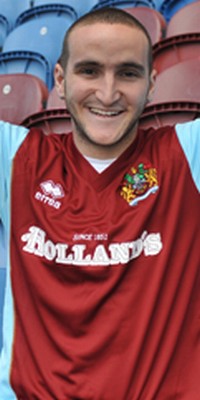 Martin Paterson - on as a half time substitute for Ade Akinbiyi
Today's match wasn't about a result but about fitness, building bridges and making contacts on a new frontier. Granted Owen Coyle will not be overly impressed by the fact that The Clarets first preseason attempt saw them out classed and outplayed by essentially a bunch of talented American kids.
On the plus side though the game did serve to make Brendan Flood and Barry Kilby's American adventure look to be a very promising connection. If we were to partner up with The Railhawks I am sure there would be a whole host of ways it would benefit both parties. I doubt many who saw the game will question the talent on show and when you consider that very few of these players are even in on the US National Team radar then you start to get a picture of the burgeoning talent available.
Before the game many of the Clarets Mad family met up in The
Hibernian
Pub for a pre-match pint. Much of the discussion tended towards the new signings and how they would show. Obviously it is early days yet but there was promise.
Kevin McDonald was an early substitute for Chris McCann and he looked like he could be a force in the centre of the park. We have needed a physical presence in the midfield and he certainly brings that to the table.
The other big plus for me was half time substitute Remco Van der Schaaf who looks to be a class act in my opinion. He could well be the shrewdest signing of all with his steadying influence being something we have lacked since the days of Kevin Ball.
I was impressed with both these lads. Other than that it was largely disappointing from our point of view. The obvious lack of pace at the back and the worrying lack of bite upfront will be a worry for Coyle. New record signing Martin Paterson showed little in this game other than a decent work ethic and several others looked well below par.
The strike force looked very blunt tonight indeed. It is hard to see where the goals will come from. The Railhawks centre-half pairing of Mamadou "Futty" Danso and Darius Brown were immense and left The Clarets strike force very frustrated.
The usually robust Akinbiyi looked positively lightweight in challenges with the giant Danso, who apparently hails from Ghana and plays at little known Southern Poly Institute in Georgia. This guy looked the real-deal despite the fact that he plays as a forward for his college team.
The other standout that must have made an impression with Coyle was the much lauded Michael Videira. Usually such players don't live up to the hype but this kid looked to be class. With a great touch, vision and athletic ability in abundance it was clear to all that he has the ability to make it big. The fact that he has a Portuguese passport to boot suggests that he will be playing in Europe somewhere come September. I personally would love to see him join our ranks.
With respects to the game as the scoreline suggests it was a close game. Some will suggest we should wipe the floor with such an opponent but they were definitely a very good team.
The game started with Robbie Blake and Wade Elliott creating some early chances however it was The Railhawks who produced the first effort worthy of a save when the industrious Michael Callahan brought a decent save from a slimlined Brian Jensen in the Burnley goal.
As the half continued Cary continued to pepper The Beasts goal with efforts however other than an Akinbiyi effort that he skied in the 36
th
minute neither side looked like breaking through.
The only noticeable happening in the first half was big Kev McDonald's first yellow card in our colours for the second of two clumsy challenges in the 40th minute. So there it was 0-0 at the half.
With Paterson replacing Ade at halftime we were hoping for a bit of spark upfront and although he buzzed around the first clear cut chance went to The Railhawks. In the 52
nd
minute Videira picked out Brian Ackley with a curling free kick and Jensen had to make a good save to avoid The Clarets falling behind.
Then came a moment of genius. Elliott picked up the ball out on the right almost in his own half and set off on a run. With the Railhawks for once slow to react the winger jinked his way into the penalty area and proceeded to plant the ball firmly past the home keeper. Wade doesn't know how to score easy goals and this one was a typical effort and gave the Claret followers in the crowd a moment to cheer.
A minute later Paterson attempted an even more ambitious lob over the diminutive Akira Fitzgerald in the Cary net. Although it didn't come off it suggested it might be the start of an avalanche.
We didn't have to wait long for the next goal to come in fact inside a minute. However it was at the other end. Some sloppy defending let in Zach Schilawski and the impressive local product made no mistake when the ball rebounded to him about 10 yards out.
From that point on it was a case of Burnley looking increasingly tired and the youngsters getting more confidence and starting to dominate. With several substitutes entering the fray, including long time absentee Bes Berisha, the Clarets lost there shape and Cary looked much more likely to take the lead.
In the 73rd minute Jensen made an excellent save from Schilawski, when the striker was clean through. Then two minutes later Tyler Lassiter himself a substitute lashed home a thunderous winner from outside the box that Jensen was this time helpless to block.
Despite some frantic effort all The Clarets endeavours came to nothing and in fact the home side could have increased their lead. None more so than in the 87
th
minute when Alan Sanchez's header clipped the right post with Jensen beaten.
All in all it was a good exercise, against a surprisingly good opponent. I for one loved almost every second of it despite the result and as a U.S. based Claret I really hope this is the start of a long term relationship between the clubs. There are no doubts in my mind the Carolina Railhawks are a great organisation with great facilities and a great network.
Now the lads will travel on to Minnesota as they continue their preseason build up. Hopefully the performance will show signs of improvement, however the truth is the only thing that matters is how things go once the real show begins at Hillsborough.
On one last note I'd like to wish Owen and his staff the best of luck for the season. After meeting them tonight and seeing how they took time to interact with the clubs supporters I have to say that I am proud to have them at our club.
The teams were;
Cary Railhawks:
Newbold, Graye, Barnes, Danso, Brown, Callahan, Shriver, Videira, Geoffrey, Catchpole, Schilawski. Subs: Sanchez, Shuler, Fitzgerald, Bone, Ackley.
Burnley:
Brian Jensen, Michael Duff, Clarke Carlisle, Steven Caldwell, Graham Alexander, Wade Elliott (Alex MacDonald 77), Joey Gudjonsson (Bes Berisha 70), Alan Mahon (Remco van der Schaff 45), Chris McCann (Kevin McDonald 27), Ade Akinbiyi (Martin Paterson 45), Robbie Blake (Jay Rodriguez 52). Subs not used: Christian Kalvanes, Steve Jones, Adam Kay.
Interact with us
Sponsored links