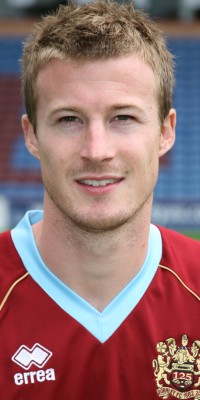 Wade Elliott - ran the show in the second half
As we walked into the ground it was good to finally see Diego Penny in Burnley colours he looked to be taking everything in his stride and seems to have a strong pair of hands.
With the lack of pre-match entertainment the only thing to happen was Clarke Carlisle hitting a shot which bounced and hit a little girl of around 9 years old on the head which led her to falling on the ground. It might seem cruel but was one of those things which you could do nothing but laugh at. I am glad to report that she was ok and that Clarke came over straight away to check she was fine.
The game kicked off with the Clarets starting with a much different line up from the one I can see lining up against Sheffield Wednesday In a few weeks. Partick started brightly had a free kick and a corner in the first 10 minutes but never tested Penny.
The Clarets then took control of the game with Jones looking very lively down the left and Alex MacDonald down the right playing the kind of football Owen Coyle has always said he wants play with pace down the wings. Gatis Kalnins who started up front with Jay Rodriguez was jumping early for most balls played to his head. He needs to be a lot fitter and lacks match sharpness. It was Rodriguez who played a good ball into Gudjonsson who had a cool head to finish well just before half time.
As the second half started so did the mass of influx from the bench with Ade, Paterson, Kevin McDonald, McCann and Wade Elliott coming on at half time with the team looking much more like what I would expect and the Clarets looked much the stronger of the two teams. However it was a Partick free kick from the left-hand side of the box from Simon Donnelly, which forced Penny into a save down by his right hand post.
Wade Elliott and Martin Paterson both looked really fit and both worked hard with Elliott running the channels and Paterson chasing every ball which came anywhere near him.
With chances coming for the Clarets a good run from Alex MacDonald forced a free kick which he looped way over the bar but it was Ade Akinbiyi who had the best chance of the 2
nd
half. He saw his double effort saved by the Partick keeper, and there were other chances for McCann and Blake but to no avail.
We now move on to Perth where we wrap up our Scottish tour. Let's hope we can get another win and maybe a few goals before the trip back down south for the Accrington game on Saturday.
The Clarets lined up:
Penny 8: Strong and calm display but never really tested
Alexander 6: Never influenced the game
Duff 8: Solid display
Jordan 7: Questionable positioning in 1
st
half played well in 2
nd
half
Kalvenes 7: Creative but ran out of steam
Gudjonsson 7: Good display took his goal well
Mahon 6: Never got into the game
A MacDonald 8: Promising display from the young man
Jones 8: Good display from the creative winger
Rodriguez 6: Never got going
Kalnins 5: Looked well off the pace
Akinbiyi 7: On for Kalnins (46) Held up ball well, should have scored
Paterson 8: On for Rodriguez (46) Strong fit display, chased everything
K McDonald 7: On for Mahon (46) Promising display, looks a good signing
McCann 6: On for Gudjonsson (46) nothing he tried came off
Elliott 9: On for Jones (46) Ran the show looked different class
Blake 7: On for A MacDonald (67) Good crosses reated chances
Carlisle 5: On for Kalvenes (74) Not enough time to impress
Attendance 1,162