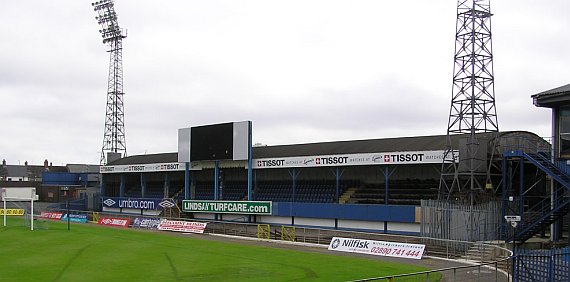 Windsor Park
The flights were booked and I was due to leave this morning in a party of six, a group of people I regularly travel with to away games, but no sooner had the email arrived confirming the flights than Glentoran realised they'd double booked us with a UEFA Cup tie.
Hurried phone calls led to new plans, more flights booked and on Sunday four of us flew from Liverpool to Belfast International. Now for those who don't know about the Belfast airports this one is some seventeen miles from the city so we got ourselves a taxi for the journey in to town.
I had the privilege of the front seat next to the driver and engaged in conversation with him, polite conversation that was, and certainly no clichés. Suddenly from the back seat Dave said: "Bin busy?" and quickly followed that up with "What time are you on till?" Unbeknown to me the more childish members of the party were awarding themselves points for getting these questions in and John was left laughing loudly in the back seat as I tried to keep a straight face.
Eventually we reached our destination and having dropped out bags at the hotel set off on foot to take a look at Windsor Park, home of Linfield and the Northern Ireland side. On a Sunday morning we knew we wouldn't get inside but a couple of photographs outside the ground would be good.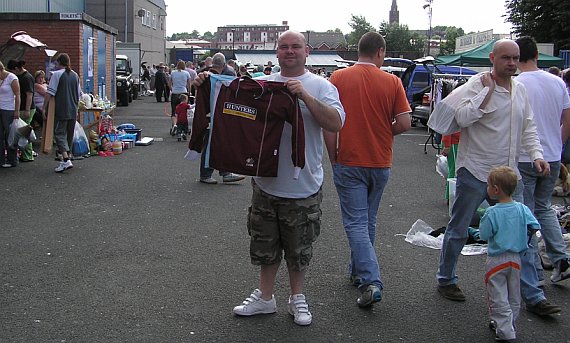 It's surprising what you can pick up at a car boot
The walk was around thirty minutes and as we got close to our destination we saw any number of people making their way there. As far as we knew there wasn't a game on and Alan jokingly suggested there could be a car boot sale in the car park.
Yes Al, we believe you. Guess what? There was a car boot sale in the car park. Our claret and blue shirt were quickly spotted by one keen Linfield supporter who asked us to give the Glens a hammering the following day. Linfield and Glentoran of course are rivals.
He did more than that though, he went to get someone for us who was able to take us inside the ground and although it was empty I could almost close my eyes and imagine Billy Hamilton, and even Kyle Lafferty, scoring for their country.
Back at the car boot outside there was a stand with some shirts for sale, and there was just one football shirt. Not Manchester United, not Liverpool nor any big team, there sitting proudly was a 2006/07 Burnley home shirt.
We made a point of thanking those who helped us get into the ground, and helpful they were, something of a shock after St. Johnstone. It was though, how it was for the two days.
The Oval from on high
Back into the city we spent the afternoon exploring and those without a fear of heights ventured onto the big wheel to see more of the city from some distance off the ground. Needless to say there was a hunt for football grounds and eventually on the last time round I spotted the Oval where just over a day later we would see the Clarets play.
The day ended with a visit to a restaurant and a couple of pubs, but beware if you are travelling to Belfast, they are very strict in pubs regards dress and football shirts are very definitely not allowed.
It all ended in the Crown (and not the one where the Burnley fans were meeting before the Accrington game). We even found ourselves in a lock in. Now that was a good way to end the first day.