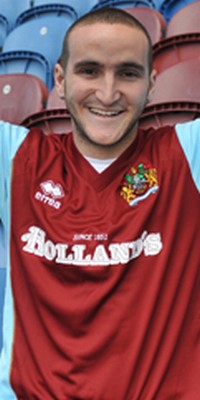 Martin Paterson - his first Burnley goal
The close season seems a long stretch when you leave that last game of a season but the new one always comes round soon enough and so I'd eagerly awaited this trip to Palmerston Park to take on the Scottish Division One club.
Yes, we'd played two games in America but for most of us it was only possible to watch via the internet, today there was a healthy following of Burnley fans to take in this game and I would think most eyes would have been on the new signings.
We saw three of them play, Christian Kalvenes, Kevin McDonald and Martin Paterson and all did enough to suggest they could have good Burnley careers in front of them. Remco van der Schaaf was unfortunately ruled out with injury and although new goalkeeper Diego Penny didn't play he was out there on the pitch with Brian Jensen, Gabor Kiraly and goalkeeping coach Phil Hughes ahead of the game.
We lined up in a 4-3-3 formation with Paterson up front flanked by Wade Elliott and Robbie Blake. Behind them was a three man midfield of McDonald, Joey Gudjonsson and Chris McCann whilst it was the expected back four of Graham Alexander, Clarke Carlisle, Steven Caldwell and Kalvenes with Jensen in goal.
And we were thankful to Jensen in the early stages for keeping us level as Queens took hold of the game. The defending was awful as they got in a free header which thankfully went straight to the keeper but he had his work cut out very soon after on two occasions and did well both times to keep the ball out.
Little had been seen of the Clarets but we did eventually get our attacking play going with a two good moves down the left hand side. We were coming into the game more and more but were having real problems with a referee who if I am being kind was not being particularly fair with his decisions.
The closing stages of the first half was almost Alfred Hitchcock like as the birds swarmed into the ground. There were more seagulls than you'd find in Blackpool and it was a surprise, I really thought it was Eagles we were trying to sign.
As the players fought their way through the mass of birds we took the lead and what a good goal it was to give Pato his first Burnley goal. He latched on to a sublime through ball from Gudjonsson, took it round the goalkeeper and slotted it home.
I think any striker joining a new club will be somewhat relieved to get his first goal and when he's the record signing then even more so. He's got his first goal now, and hopefully it will be one of many.
The second half saw the Clarets dominate play but for the most part we didn't create too many clear cut opportunities and saw ourselves trying our luck from long range, but the move of the match came within inches of getting us a second.
Robbie, who was as good as anyone on the pitch, played a superb cross field ball to Wade who crossed low and early for the onrushing Paterson who saw his shot go just over the bar.
It was the last of the action from the starting eleven as Owen Coyle made a number of substitutions and that always breaks the rhythm. But we kept going forward with Alex MacDonald and Bes Berisha prompting things.
Then, with the clock ticking down, we gave away a soft goal to allow the Queens a draw. We failed to deal with a corner from the left that was headed home at the far post from close range. It is the sort of goal that we must stop conceding.
We went looking for a second and Alex MacDonald almost got it for us after a powerful run and shot whilst Alan Mahon saw a free kick comfortably saved by the goalkeeper.
1-1 it was and of course we can say that results don't matter at this stage. They don't, and there were positives to take from the game as well as negatives. Certainly the three new boys on show all did enough to suggest they can prove to be good signings. Kalvenes looks strong defensively, McDonald although not quick is certainly very comfortable on the ball whilst Paterson got his goal.
We've another six of these games before the results do start to matter, and hopefully there will be more positives with each game starting at Partick Thistle this coming Monday.
The teams were;
Queen of the South:
Halliwell, Barr, Harris, Thomson, Reid, MacFarlane, Burns, Tosh, McQuilken, Kean, Arbuckle. Subs: Aitken. Dobbie, Robertson, Adams, McGowan, Bell.
Burnley:
Brian Jensen, Graham Alexander (Michael Duff 62), Clarke Carlisle, Steven Caldwell, Christian Kalvenes (Stephen Jordan 62), Kevin McDonald (Alan Mahon 62), Joey Gudjonsson (Alex MacDonald 69), Chris McCann, Wade Elliott (Bes Berisha 69), Martin Paterson (Ade Akinbiyi 62), Robbie Blake (Jay Rodriguez 69). Subs not used: Gabor Kiraly, Steve Jones, Adam Kay.
Attendance:
1,810 including 700 Clarets.