I'd staggered the alarms. There was one set for 4:25 a.m., one for 4:30 and one for 4:35 and all with snooze options. Everything was covered.
As it happened I only needed the first one. By the time the second alarm decided to ring I was already in the shower. To be honest I've never had much problem getting out of bed for football matches (West Ham in the Premier League apart) and I do enjoy a pre-season trip.
The first time I left these shores for pre-season was back in 1983. It was only the Isle of Man and on that occasion it was the sail from Heysham with the players and staff of Burnley, St. Mirren and Sunderland all on board.
I thought Joe Gallagher was sea sick when he walked past me on the boat. I didn't realise that's how he walked all the time. It was the first time I spoke to John Bond too along with his trusted assistant John Benson who I always found a bit strange.
I only made fleeting visits when Stan took us there; the last of which was when we reached the final in 2001. I wished I hadn't. We played poorly and lost, and the Isle of Man is hardly the most exciting of places to visit.
I've since seen us play in Austria, Germany and Italy. The Austria trips in particular proved very popular with large numbers of Burnley fans taking in games at some of the most scenic football grounds I've visited.
Since 2007 the pre-season has taken us to America and Singapore and games in mainland UK but 2008 gave me my first ever visits to Ireland when I spent two days in Dublin in the Republic and two days in Belfast in Northern Ireland for games against the Bohs (I'm using the abbreviation to avoid having to make a choice between Bohemian and Bohemians) and Glentoran.
This year I was getting picked up at 6 a.m. but such was the heat in the house I decided to change the pick up point to the Habergham Eaves Jubilee Bench. It's a bit of a shabby affair to be honest; a plastic bench placed outside a boarded up pub (The Bull & Butcher) is probably all the parish council could afford, but a Jubilee Bench it is.
Everything went to plan. Mikey (MDWat to those on the message board) arrived five minutes early, then it was Pete (I don't think he knows how to use a computer) and by seven we were strolling into Terminal 1 at Manchester Airport and removing belts and displaying strange liquids in plastic containers.
That was two hours before the flight but we still managed to be the last three passengers to climb the steps into the aircraft after taking a bit too long over slices of toast, eggs on toast and pints of bitter.
There were disapproving looks from Chris (North Manchester Clarets) who was travelling with his wife Jackie, as if we'd held up the flight, but even with our late arrival it took off a few minutes earlier than scheduled. Football ground alert saw us pick out Anfield and Goodison Park and just over an hour later we were in Cork.
The five of us were all in the same hotel and so a taxi was hired to take us the short journey from the airport into town. We got a taxi driver with the gift of the gab (he must have kissed that Blarney Stone). I don't think he stopped to take a breath but offered us a lot of advice for our stay in the city. It was like a driver and a tour guide all in one.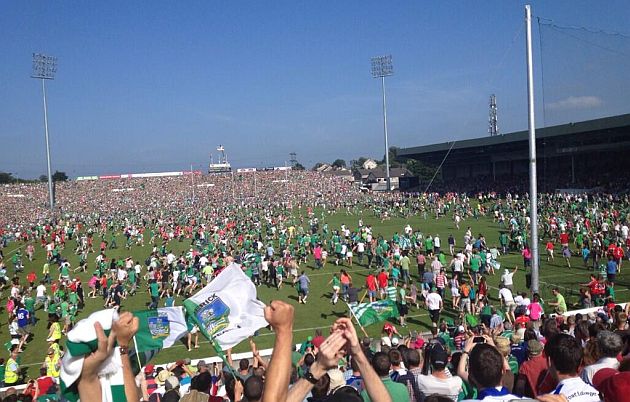 Limerick fans celebrate their first Munster title in 17 years
Sunday afternoon had originally been earmarked for the Munster Hurling Final. Unfortunately those hopes were dashed when Cork was not chosen as the final venue but we saw many Cork supporters boarding coaches to take them to the game in Limerick.
We did catch some of the game on television. Cork had a man sent off just before half time although the referee didn't look like a Darren Deadman or Drysdale. They struggled after that and were beaten easily with Limerick clinching their first title for 17 years.
With no game to go to we strolled into town, went into a bar and met Alan (another computerphobe) and Janette, two more from our hotel. We watched the end of the first Ashes Test. It was never in doubt was it?
Simon (edison) arrived in late afternoon. He might be from the north (Belfast) but he was going to be a welcome interpreter.
We'd been recommended a couple of restaurants in the city by a fellow Claret. Isaacs and Greens they were. We went, we looked, and we didn't bother when we saw the prices, but we found somewhere decent to eat and then ended the day with a pint of Guinness. It's how it should be.
Monday was match day but we spent most of it on a day trip to Kinsale. We wandered past all the shops with the bright coloured frontage and discussed the difference between craic and crack.
A boat ride was on the cards at one point but I wasn't convinced at the thought of Captain Mikey. Instead I smashed into him a few times on the dodgems. I reckon it must be fifty years since I last drove a dodgem car but I'd lost none of my ability behind the wheel.
I've reached an age where I get forgetful. I'm often mislaying things. We went into a shop to buy a hurling ball (you will have to ask others for the reason for that purchase) at which point I announced that I'd lost my camera.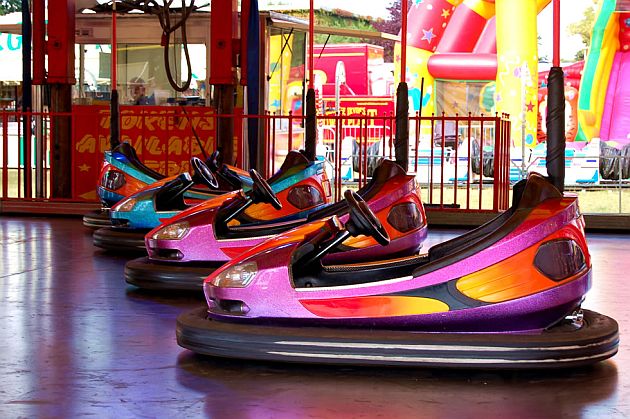 There was some outstanding driving on the dodgems
It was retrace your steps time. I'd left it on a wall outside a fish restaurant and thankfully some kind soul had handed it in. I think this was the point in time when it was thought that a check list should be drawn up to ensure nothing else went missing.
I liked Kinsale with its lovely harbour and could have stayed longer, but there was a match to get to and a free pint to be had, so back to Cork it was and Turner's Cross.
We were early and saw a gate open into the ground. No sooner had we got in than some bloke came over and we expected to be thrown out. Instead he invited us onto the pitch. Mikey tried a shot (he said it was long range but it wasn't) and he missed target anyway.
It was time for the pub. There were no more than a handful of Clarets in there as we opened the doors to the Beer Garden. Does it have a beer garden? Of sorts but I'd call it a small back yard although it is the first one I've ever seen festooned with Cork City Football Club flags.
For the next half an hour the door to the pub just kept opening as more and more Burnley fans walked in. I'm not sure what the locals made of it but the landlord looked delighted, claiming it had never been so busy on a Monday.
Finally the man with the tickets came through the door with manager Sean Dyche. Some of those who weren't there described it as a publicity stunt but it was anything but that. It was a thanks from a good man to those fans who had come to the game. As for Dyche, he told me there was no way he was missing it when John B was paying although, unlike one fan, he didn't ask for a pint of vodka.
The match has been covered elsewhere but for us the day came to an end around 1:30 a.m. after a very enjoyable eight man (and woman) conference back in the hotel where we put the football club, indeed the world, to rights and enjoyed a bit more Guinness.
The numbers started to dwindle on the Tuesday. Two left before breakfast and after enjoying his black pudding (Clonakilty of course) it was time for Simon to drive back home to Belfast. It was brilliant for him being able to drive to a game for once, almost a local fixture I thought until he told me the drive was around the same as it is for us going to Brighton.
It was Cobh (pronounced Cove) for us and a day my legs will remember for a long, long time. They don't do much walking these days, arthritis and poor circulation have had an effect. This was a day when we walked and walked and walked.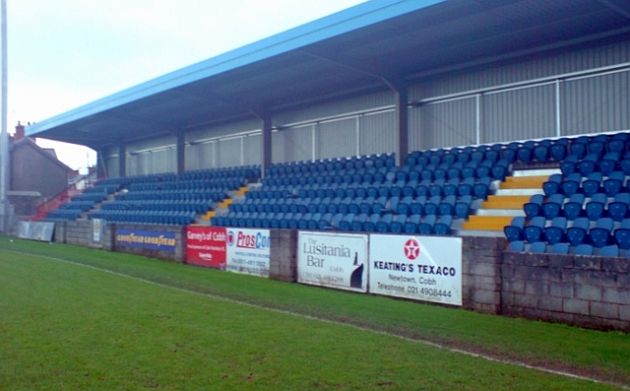 The main stand at Cobh Ramblers St. Colman's Park
I didn't even get a seat on the packed train from Cork and we were soon wandering around Cobh although we weren't able to find the home of local football club Cobh Ramblers whose colours are claret and blue.
I've since checked out where it is and am thankful that we didn't find it. It would have been one hell of a climb, and there was one of those to come later in the day.
A pleasant walk in the town was followed by the sail out to Spike Island which sits in lower Cork Harbour, claiming to be the second largest natural harbour in the world. Just six days earlier the island had hosted an event to celebrated the 75th anniversary of it being handed over to the Irish Government.
Spike Island is going to change. There's a master plan. But for now it is an island with a great history and the former Fort Mitchel. It even has a football pitch but you need to do the walk around the outside of the fort to see that. You see - more walking.
There was one more walk to come before we got back to the hotel. Before the train journey back, Mikey got out the check list to ensure I'd not lost anything. Unfortunately he hadn't included the return train ticket on his list. It's somewhere in Cobh of that I'm sure but its loss didn't pose a problem.
Kent station it is in Cork. There's a short cut from the station to the hotel. The only problem is that it is steeper, considerably steeper, than any of the hills Burnley has to offer. I'm not sure how I made it, but I did, just about. Thankfully the evening was spent in the hotel, I could have gone no further.
One day to go and that was spent in Cork. Now for those who don't know, and I didn't, the city centre of Cork is an island as the River Lee splits into two channels. To enter or leave the city centre you must cross one of 22 bridges.
We've seen the lot. We crossed one to get on the inside and then walked round, having one break for lunch. It was an enjoyable last day before taking a taxi to the airport. This time the driver had no need to give us a tour guide, but he spotted the claret and blue shirts and knew all about Robbie Blake's goal against Manchester United and that fantastic 1-1 draw when Arsenal visited the Turf.
The ground spotting on the return journey took in the Reebok and then the home of our great rivals as we flew over Edgeley Park.
My front door was finally opened at around 10 p.m. I'd got myself home and just about everything I needed to bring home with me. Mikey's check list had worked.
This had been another really enjoyable pre-season trip with fellow Clarets providing great company - even if one of them did want to say "Laws Out" at every opportunity.
Simon thinks games against Finn Harps and Derry would be a good idea for next year; Mikey fancies a trip to Holland. My feet and legs might just have recovered in time but I think we'll need a more extended check list in a year's time. I'm already looking forward to it.