Throughout the last five years, the group have enjoyed holding monthly meetings in some of the region's finest alehouses, as well as playing weekly in a competitive 5-a-side league on the outskirts of central Leeds.
Although the group originally based itself in Leeds, plans quickly changed and every other meeting saw a regular core of attendees travel by train to one of the four other boroughs in West Yorkshire; enabling fans from further afield to join us for meetings. Holding meetings in different venues around the region very quickly became a popular choice for many members. Consequently, we now aim to cover a different borough each month, to better accommodate exiled Clarets, although Leeds still remains the group's spiritual home.
West Yorkshire Clarets generally adopt a relaxed approach to the monthly meetings; happy to pay any location a visit in the search for new members. However, in the hope of attracting more fans to come along for a drink and a chat about all things 'Claret and Blue', as well as ensuring that fairer coverage is given to all five boroughs in the metropolitan county, a calendar has been negotiated by the more regular attendees, outlining the dates and venues of future meetings, right through until the end of the year.
The group will hold their next meeting in Huddersfield on the 29
th
of this month.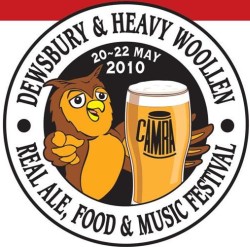 Dewsbury Beer Festival - May destination
After presenting two awards at the Supporters Groups Player of the Year evening, the month of May will see the West Yorkshire Clarets pay a first outing to the Dewsbury Beer Festival. A return to their Leeds base in June will be followed by short train journeys to Saltaire and Bradford (including a short walk to a top Curry house) in July and August respectively.
An annual stop at Todmorden Beer festival awaits in September; a long trip for many but one that is well always worth it and often results in a very good turnout. This venue also provides a great opportunity for fans living in the Burnley area to make the short trip over the border for an excellent night out with fellow Burnley fans.
Due back in Leeds in October, the group have decided to pay Headingley an inaugural visit, in the hope of attracting new students (as well as those past and present) to come along and discuss the first two months of the new football season.
In November, the West Yorkshire Clarets will raise a glass to toast their fifth anniversary in Halifax, prior to a return to the town in December, where they will have their Christmas celebrations at a different venue.
For a full breakdown of the forthcoming meetings, please see the calendar below.
| | |
| --- | --- |
| 29th April | HUDDERSFIELD |
| 20th May | DEWSBURY (Beer Festival) |
| 24th June | LEEDS (City Centre) |
| 22nd July | SALTAIRE |
| 26th August | BRADFORD (Drinks & Curry) |
| 23rd September | TODMORDEN (Beer Festival) |
| 28th October | HEADINGLEY, LEEDS |
| 25th November | HALIFAX |
| December | HALIFAX (Christmas Celebration) |
Monthly meetings tend to be generally informal affairs, where the aim is to discuss football with friends, new and old, rather than to work through a structured agenda. If you are residing in the West Yorkshire area and are keen to get involved with the group, don't hesitate to get in touch.
Please contact
MARTIN BELL
or
STEVE HODGE
and they will add you to the mailing list. Alternatively, email
CLARETS MAD
and your message will quickly be passed on.
The West Yorkshire Clarets will be covering a lot of ground over the next eight months or so and as always, new faces will be warmly welcomed at any of the meetings.
All the above dates have also been included in the
Clarets Mad Calendar