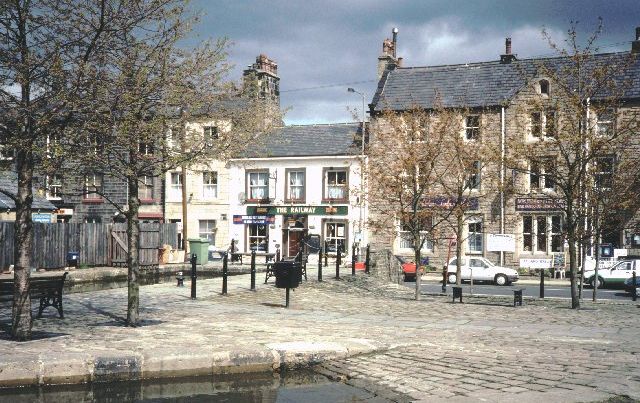 These have been atHuddersfield, Keighley,Leeds,Sowerby Bridge, Dewsbury and Silsden. At the most recent meeting in Silsden, a new schedule was finalised and as always, the group have tried to incorporate some new ideas into the plans, whilst keeping some regular annual favourites on the calendar.
Over the next six months, popular venue,Huddersfieldwill be visited again, for the second time this year.Bradford is a second popular meet up point, as is the excellent Todmorden Beer Festival which is held in September. In July, the group will visit Headingley in Leeds for a BBQ and in August, they will take a day out in Calderdale, enjoying a beer walk between the two market towns of Sowerby Bridge and Hebden Bridge (pictured). As always, the year will end with a special Christmas celebration, but as yet, the date and venue remain undecided.
For a full breakdown of the forthcoming meetings, please see the calendar below, or alternatively find in KEY DATES on Clarets Mad.
Saturday July 23rd - HEADINGLEY (BBQ)
Sunday August 14th - SOWERBY BRIDGE - HEBDDEN BRIDGE (Beer Walk)
Thursday September 22nd - TODMORDEN (Beer Festival)
Thursday October 27th - BRADFORD
Thursday November 24th - HUDDERSFIELD
December - Christmas Celebration (venue to be confirmed).
All West Yorkshire Clarets meetings are very informal, light hearted affairs, where people of all ages meet up to talk about the game we all love, amongst other things. If you are residing in the West Yorkshirearea and are keen to get involved with the group, don't hesitate to get in touch.


Please contact WEST YORKSHIRE CLARETS if you wish to be added to the mailing list or if you have any queries. Alternatively, email CLARETS MAD and your message will quickly be passed on.
The West Yorkshire Clarets are looking forward to the second half of 2011; hopefully there'll be plenty to discuss as the Clarets get their 2011/2012 season underway and as always, new faces will be warmly welcomed.