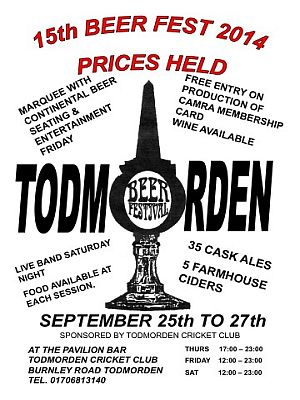 It's certainly one of the fixed dates on the West Yorkshire Clarets' calendar. They've included the beer festival on their itinerary for a number of years and have again opted to sponsor a barrel of one of the 35 different cask beers available.
The festival is again being held at Todmorden Cricket Club, my favourite ground of the fourteen in the Lancashire League, and the Burnley supporters living in the white rose county will be meeting up there from 7 p.m.
At this years festival, there will be 5 farmhouse ciders and wine to accompany the 35 beers and this evening is the first of three for the festival which is now in its 15th year.
There is an admission charge of £2 per person to the beer festival (although Camra members are admitted free of charge). Beer tokens will be available which works out at approximately £1.40 per half pint.
As such there are no WYC subs for this meeting.
For those members travelling from Leeds there are trains at 18:08, 18:13, 18:37 and 19:08 with the journey taking approximately fifty minutes.
For those who don't know the cricket club, it is situated on the main road from the town centre to Burnley. Walking from the station it is on the left hand side of the road.
Should you require more information on tonight's meeting, or the West Yorkshire Clarets in general, please EMAIL them.