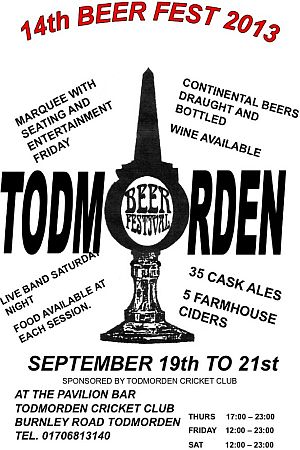 The event is the 14th annual Todmorden Beer Festival which, as in previous years, is being held at Todmorden Cricket Club.
West Yorkshire Clarets will again be sponsoring a barrel and there will be plenty of different beers to choose from.
At this year's festival there will be 35 different cask ales and six ciders in the main room, with two draught beers and a selection of bottled beers and wines available in the Continental Tent.
The festival runs for three days, Thursday to Saturday, and West Yorkshire Clarets will be there on Thursday.
Entry is by £2 programme with beer tokens working out at around £1.40 per half pint. Any CAMRA members are permitted free of charge.
Because of the entry charge there will be no West Yorkshire Clarets subs for this meeting.
If you are travelling from Leeds by rail there are trains at 18:08, 18:13, 18:37 and 19:08 with the journey taking approximately fifty minutes.
From the station, make your way to the main road towards Burnley and the cricket ground is on the left just before the park.
Should you require any further information about West Yorkshire Clarets, please EMAIL them or alternatively you can EMAIL Clarets Mad and we will forward it on to them.