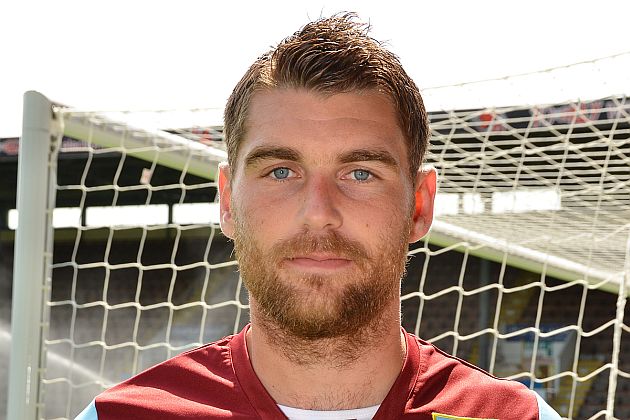 He edged it ahead of strike partner Danny Ings after scoring 20 league goals this season, the last of them coming from the penalty spot against Doncaster just four days before he suffered his ruptured anterior cruciate ligament injury.
The special achievement award this year went to Ian Britton who was with the Clarets for three seasons and, at the end of his first season, scored the crucial second goal in the win against Orient that saved the Clarets from relegation out of the Football League.
The Janice Fretwell Memorial Trophy, introduced last year following Janice's sad passing in November 2012, was this year won by ticket office manager Elaine Clare. Again Janice's husband Gary and son Marc were there to present it.
And there was one more award this season, with the supporters' clubs presenting a specially commissioned piece of glassware to commemorate the Clarets' promotion to the Premier League. It was accepted by manager Sean Dyche and captain Jason Shackell.
The Award Winners

Central Lancs Clarets

Goal of the Season
Junior Stanislas v Blackburn

Player of the Year
Sam Vokes

Accrington Clarets

Goal of the Season
Danny Ings v Blackburn

Special Award
Michael Duff - reaching 300 appearances

Player of the Year
Jason Shackell

Barrowford Clarets

Player of the Year
Tom Heaton

Boundary Clarets

Goal of the Season
David Jones v Derby

Player of the Year
Sam Vokes

Special Award
Sean Dyche

Colne Clarets

Player of the Year
Scott Arfield

Clarets Trust

Player of the Year
Sam Vokes

Sheffield Clarets

Moment of the Season
Jason Shackell goal v Blackburn

London Clarets

Player of the Year
Danny Ings

Burnley Football Supporters Club

Away Player of the Year
Michael Duff

Goal of the Season
Danny Ings v Millwall

Player of the Year
Sam Vokes

West Yorkshire Clarets

Champagne Moment
Danny Ings goal v Blackburn

Player of the Year
Kieran Trippier

North Manchester Clarets

Player of the Year
Sam Vokes

Rossendale Clarets

Goal of the Season
Junior Stanislas v Blackburn

Player of the Year
Jason Shackell

Earby Clarets

Most Improved Player
Sam Vokes

Long Service Award
Michael Duff

Player of the Year
Danny Ings

Janice Fretwell Memorial Trophy

Elaine Clare - BFC Ticket Office Manager

Special Achievement Awards

Ian Britton

Burnley Team - 2013/14

Player of the Year

Sam Vokes