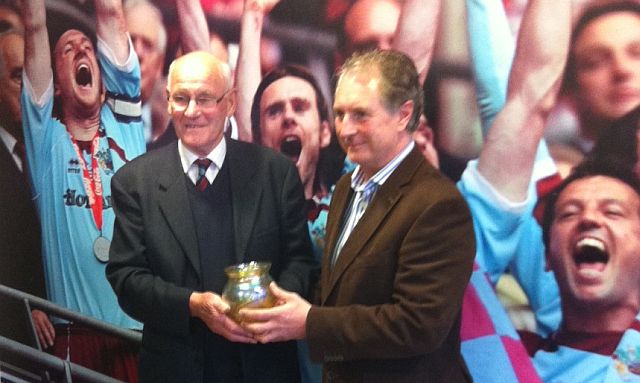 Robson's goal in our 3-1 defeat to Spurs was the first goal ever scored by the Clarets at Wembley and was the last goal we ever scored in an FA Cup Final. It was a special goal too, the 100th Wembley FA Cup Final goal depicted in a painting that each of the then 92 Football League clubs received a copy of.
Jimmy, like so many other players of that era, came from the North East of England and over a perid of eight and a half years went on to score exactly 100 goals for the club including 37 in the 1960/61 season in just 54 appearances.
He was transferred to Blackpool and also played for Barnsley and Bury before returning to Turf Moor in the early 70s for a year as reserve team coach and then in 1998 having another six years at the club as a member of Stan Ternent's back room team.
Jimmy is now very much a supporter but his contribution to the club over the past 50 years and more was considered worthy of him being the recipient of this year's Special Achievement Award which he received from another former Burnley striker Paul Fletcher.
There was also a special award made to this season's youth team for their achievements in reaching the semi-final of the FA Youth Cup and this was presented to Tom Anderson and Alex Coleman by Chris McCann and Jay Rodriguez.
Jay was himself a contender for the overall Player of the Year, the first time this has been awarded by the Supporters Club, but by the narrowest of margins he was pipped by Kieran Trippier who received his award from Howard Jones of Skipton Clarets.
The Award Winners

London Clarets

Player of the Year
Kieran Trippier

Rossendale Clarets

Player of the Year
Dean Marney

North Manchester Clarets

Player of the Year
Kieran Trippier

Colne Clarets

Player of the Year
Michael Duff

Clarets Trust

Player of the Year
Kieran Trippier

Skipton Clarets

Recognition Award for Service
Brian Jensen

Burnley Football Supporters Club

Player of the Year
Jay Rodriguez

Young Player of the Year
Kieran Trippier

Goal of the Season
Jay Rodriguez v Peterborough United

Away Player of the Year
Kieran Trippier

Barrowford Clarets

Player of the Year
Kieran Trippier

Accrington Clarets

Player of the Year
Jay Rodriguez

Goal of the Season
Kieran Trippier v Middlesbrough

Bravery Award
Ben Mee - headed clearance v Reading

West Yorkshire Clarets

Award Day Goals of the Season
David Edgar - brace v Hull City

Assist of the Season
Junior Stanislas - whipped cross for Charlie Austin goal v Blackpool

Ultimate Champagne Moment
Ross Wallace - free kick v Blackpool

Earby Clarets

Player of the Year
Jay Rodriguez

Exciting Newcomer
Kieran Trippier

Sheffield Clarets

Goal of the Season
Jay Rodriguez v Hull City

Special Achievement Awards

Jimmy Robson

Youth Team 2011/12

Player of the Year

Kieran Trippier