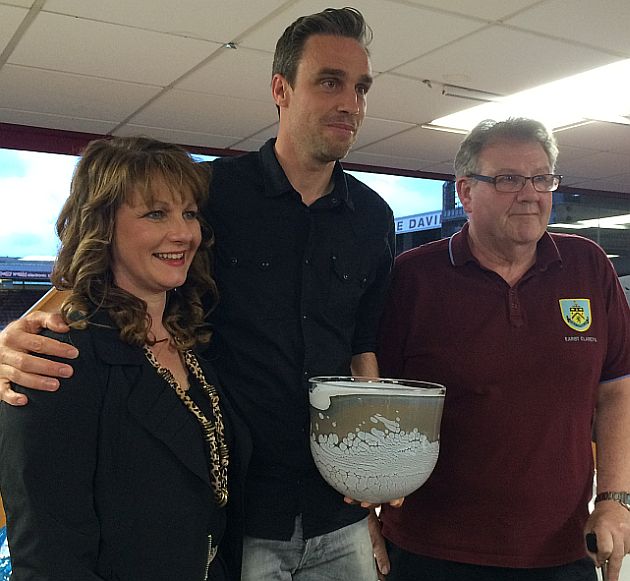 Some 300 members of the various groups were there alongside manager Sean Dyche, his backroom staff and 25 members of his first team squad and it was another fantastic night if not quite as celebratory as the one held last year.
A list of winners can be found below with George Boyd the recipient of a number of them. He won a number of goal of the season awards for that Turf Moor winner against Man City and some player of the year awards to go alongside that.
That goal won him the overall goal of the season award and he also picked up the overall player of the year award, two specially commissioned pieces of glass from John Ditchfield's Glasform.
The big award each year is the Special Achievement Award. There's a considerable amount of debate before a winner is chosen. Previously it has gone to ex-Clarets such as Jimmy McIlroy, Martin Dobson and Ian Britton, but it went to current player Michael Duff.
He's had an amazing eleven years so far at Burnley and this week's news suggests his time at Turf Moor is not going to come to an end any time soon.
Steve Cotterill, who signed him for the Clarets, spoke to the Supporters Groups last week, and told us: "I've known him since he was a teenager and even then thought he had the ability and the attitude to go further in the game. He's a good lad and he fully deserves everything he's achieved in the game."
Meanwhile, one of his former Burnley captains Steven Caldwell said to us: "He is a man I consider one of my closest friends in football and I'm proud to say he's a friend. He's a winner and a leader and in my opinion he should be under discussion as one of Burnley's finest players."
The picture above shows Duff with Carol Goodall and Tony Riley, members of Earby Clarets who were the group chosen to make the award. The picture directly below shows John Robertson from West Yorkshire Clarets making the player of the year presentation to George Boyd.
The evening ended with a few words from the manager. He told the supporters: "We were all aware it would be a tough challenge this year and we're very proud of the players and the way they've gone about it, not just on the pitch but off the pitch.
"I think they're a bunch of good people, not just good players, and I think that's important.
"Thanks to all the supporters and supporters clubs, onwards and upwards as ever."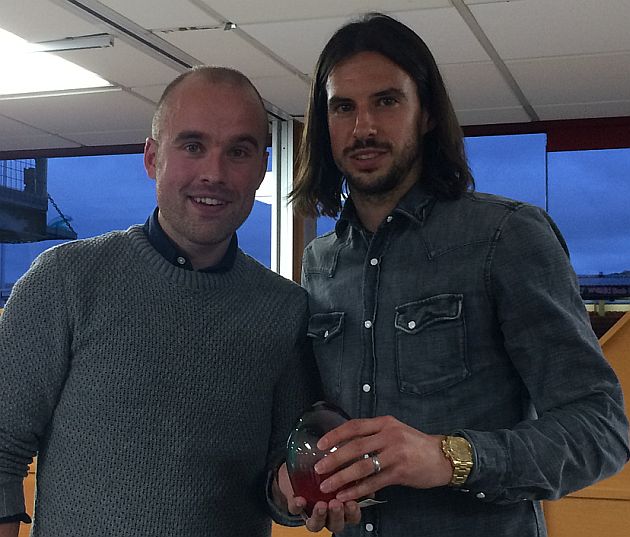 The Award Winners
Clarets Trust

Player of the Year
George Boyd

Earby Clarets

Player of the Year
Tom Heaton

Rossendale Clarets

Goal of the Season
George Boyd v Man City (h)

Player of the Year
George Boyd

London Clarets

Player of the Year
Danny Ings

West Yorkshire Clarets

Champagne Moment
George Boyd, goal v Man City (h)

Player of the Year
Ashley Barnes

Burnley Football Supporters' Club

Away Player of the Year
Tom Heaton

Goal of the Season
Ashley Barnes v Tottenham (a)

Player of the Year
George Boyd

North Manchester Clarets

Player of the Year
George Boyd

Barrowford Clarets

Player of the Year
George Boyd

Boundary Clarets

Goal of the Season
George Boyd v Man City (h)

Player of the Year
Tom Heaton

Accrington Clarets

Home Goal of the Season
George Boyd v Man City

Away Goal of the Season
Ross Wallace v Leicester

Player of the Year
Tom Heaton

Central Lancs Clarets

Goal of the Season
George Boyd v Man City (h)

Player of the Year
Ashley Barnes

Janice Fretwell Memorial Trophy

Joyce & Stefan Haluk - Supporters' Club

Special Achievement Award

Michael Duff

Overall Goal of the Season

George Boyd v Man City (h)

Overall Player of the Year

George Boyd