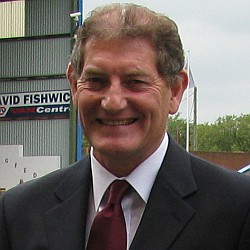 Forty years ago, Dobson was captaining Burnley back to the old First Division which led to a good season back before he was sold to Everton. He returned to captain another promotion team before having another three years at the club recently as Director of Youth Development.
An iconic figure in both his spells as a player, he collected his award tonight from former team mate Colin Waldron. The reception he received showed just how popular a decision his selection was.
Not bad for a player we picked up on a free transfer from Bolton Wanderers in 1967 who went on to represent the club almost 500 times in his two playing spells.
Grant just beat Charlie Austin to the overall player of the year award but it was very close and both players won awards from the various clubs.
There was one new award this year, the Janice Fretwell Memorial Trophy, in recognition of the Supporters' Club treasurer who passed away last November after a long and brave fight against cancer.
That was won by the club's catering manager Chris Gibson who had been such a big help to Janice in helping her when she was able to get to games. Her husband Gary and son Marc were there to present the award.
Janice was treated by Professor Gordon Jayson at Christie Hospital in Manchester, and in her memory the proceeds of the raffle, over £300, will be donated to the Professor Jayson Ovarian Cancer Research Fund.
The Award Winners

London Clarets

Player of the Year
Charlie Austin

Rossendale Clarets

Player of the Year
Ross Wallace

North Manchester Clarets

Player of the Year
Lee Grant

Central Lancs Clarets

Player of the Year
Lee Grant

Clarets Trust

Player of the Year
Charlie Austin

Burnley Football Supporters Club

Player of the Year
Charlie Austin

Goal of the Season
Charlie Austin v Charlton

Away Player of the Year
Dean Marney

Barrowford Clarets

Player of the Year
Lee Grant

Accrington Clarets

Player of the Year
Lee Grant

Goal of the Season
Charlie Austin v Charlton

Earby Clarets

Player of the Year
Jason Shackell

Sheffield Clarets

Moment of the Season
Sam Vokes v Blackburn for equalising goal

Janice Fretwell Memorial Trophy

Chris Gibson - BFC Catering Manager

Special Achievement Awards

Martin Dobson

Kieran Trippier - selection in PFA Team

Player of the Year

Lee Grant