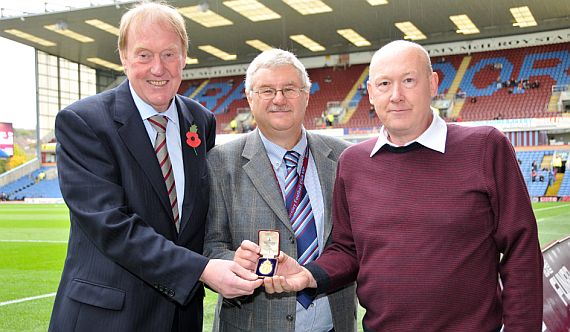 Colne Clarets' Alan Beecroft presents Bert Freeman's medal to Barry Kilby with club historian Ray Simpson looking on
Photograph kindly supplied by Burnley FC
That final was the last ever played at Crystal Palace and also the first ever attended by a reigning monarch, then King George V, and Freeman scored the only goal of the game to bring the cup back to Burnley for the first and, to date, only time.
Freeman, who signed for Burnley from Everton, was a top player for the club. He scored 115 goals in 189 appearances, and none were more significant than the one he scored at Crystal Palace on 25
th
April 1914.
Now, the medal he won that day is back at Turf Moor thanks to sterling work and a big financial contribution from Colne Clarets.
Freeman's medal was bought by Burnley supporter Harry Brooks in 1995 but Brooks opted to have it on display at Towneley Hall. This recent sale will now see it go on display in the Doctor Iven Suite within the Bob Lord Stand at Turf Moor, housed within the 1914 collection.
On receiving the medal from Colne Clarets' Alan Beecroft, club chairman Barry Kilby said: "It is fitting that we have his FA Cup Final medal here at Turf Moor and I would like to thank everyone involved in helping us to acquire such an important piece of memorabilia."