As we left we heard a story that several monkeys had escaped from Blackpool Zoo, only later to find one of them on our coach! He was quite intelligent, said he wanted to support a promoted team rather than one that could be relegated.
As we hit the M6 we were enjoying our usual refreshments which were enjoyed by all on board , including our new member . We broke our journey at Banbury for time to stretch our legs.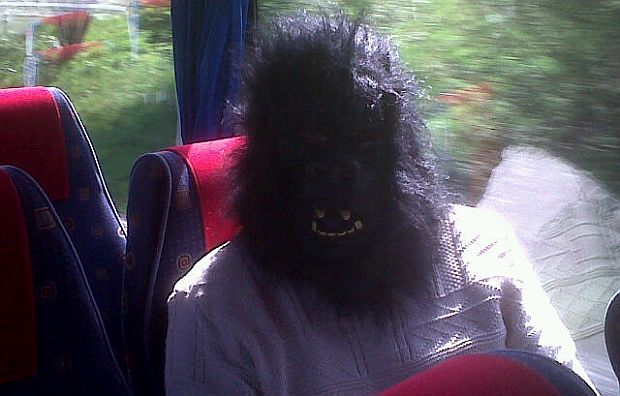 He wasn't enjoying the football at Bloomfield Road
Two of our members took advantage of this to visit three more real ale venues that had been listed since our last visit.
We arrived at the hotel around five, this gave us time to get settled before the evening meal and the start of our celebrations, which continued into the early hours.

We left at half past ten the following morning for our short trip to Reading where we were greeted by signs inside and outside the ground congratulating Burnley on their promotion to the Premiere League.
The game was again a total team effort. Reading started with great tempo but we gradually slowed the pace down, only to be caught on the break and conceded an own goal . The lead only lasted four minutes when a quickly taken free kick was converted by Scott Arfield , to be followed shortly afterwards by another from Danny Ings.
The second half saw the best goal of the game, a volley hit by McCleary, which made it 2 all. That was how it finished thanks to a couple of great reaction saves from Tom Heaton.
Our fans continued to celebrate, but unfortunately the draw was not good enough to secure a play off place for Reading , as Brighton won their game with a goal in the last minute.

We made the short trip back to Newbury and spent the next 3 hours having a glass or 2 of champagne before returning to the hotel for our evening meal.
As I returned to the bar after the meal a gentleman, who was sat with his wife, asked: "Have you been to the game?" We started talking and then he told me he used to play for Burnley, although he never made the 1st team.
His name is David Tait. He was signed by Harry Potts and played in the reserves alongside Billy O'Rourke, Andy Wharton and our former manager Brian Laws.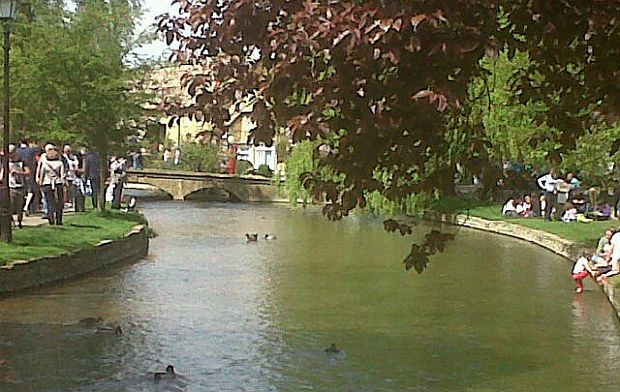 Bourton-on-the-Water was the last stop on the way home
We had a couple of hours of reminiscing about the old times of BFC , which was enjoyed by us all, before David and his wife left for their short walk home.
After breakfast and a walk down to the race course we left for our journey home, calling at the beautiful village of Bourton-on-the-Water, where we spent 3 hours taking in the scenery , before arriving back at 8 pm having celebrated our promotion in true Burnley fashion.
I must say a massive thank you to Joyce and Stefan for organising a brilliant weekend to end this brilliant season in the perfect way.