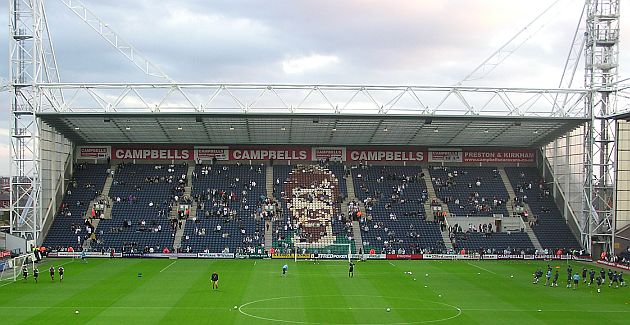 The next stage of the Lancashire tour takes us to our former rivals, Preston North End, now two divisions below us in the Football League. Snigger.
Saturday brought you the first of our new feature, Getting To Know You and today comes the turn of our neighbours Preston.
I spoke to Simon Moulding who gave us his lowdown on our local rivals. Ahem.
Preston have been busy in the transfer market this summer with 6 signings already. Which of these signings is key and why?
Simon Grayson has managed to rectify many of the mistakes made under the previous regime of Graham Westley and after 18 months now has his own team in place. The squad has more depth; we've replaced on-loan Declan Rudd with proven League 1 keeper Jamie Jones and he could prove vital to our season – every solid defence needs a keeper they have confidence in.
We have also signed versatile defender Callum Woods who Grayson has worked with at Huddersfield to help sure up an already sturdy defence. The team was quite slow last year with not much pace on the counter attack so we have added some much needed pace in the form of Kyel Reid. He's currently returning from 6 months out so won't be ready for the start of the season but could be an exciting signing if he rediscovers the form that saw him rip North End to shreds when we played Bradford at Deepdale last season. Andy Little from Rangers may prove the surprise signing to score the extra goals to help Joe Garner.
It is hard to pick out a key signing because the fans are still hoping that there is still a key signing to make. There is money to spend if the right player comes along and that has to be the 20 goal a season striker that we need to secure promotion.
Are you happy with the business than Simon Grayson has conducted so far?
Fans are happy but they probably aren't excited by the signings. They have increased the quality of the squad and provided more depth but there are question marks over whether they have improved the starting eleven. People are hoping that there is one more signing still to be made with that bit of extra quality. A goal scorer capable of getting 20 goals is what we want and need but everybody in the Football League is looking for the same and they don't come cheap. There is money to spend on the right player though and space in the squad too. There are always rumours that we are interested in Stevie May at St Johnstone which would be a real coup however they are still in the Europa League and he will surely be of interest to other clubs too.
North End were unfortunate to miss out in the play-offs again last season. Is top two the aim this season or are you looking at another season in the top six?
Promotion is the important thing and this is a must this season. We've been out of the Championship for too long and League 1 gets harder the longer you're in it. North End have an atrocious record in the play offs so automatic promotion has to be the aim. We have a manager who knows what he is doing and now a team that has the quality to be promoted. For the first time in a while we have stability and if Joe Garner finds his scoring boots again a top six place should be no problem but we have to look higher than that. We're amongst the favourites along with the likes of Sheffield United and Bristol City but nobody makes it easy and there are always surprise packages, just like Yeovil Town a few seasons ago.
Burnley are fresh off a competitive 1-0 victory over Accrington in humid conditions. What can we expect from PNE on Tuesday night?
PNE have had a good pre-season so far. We pushed Liverpool all the way at Deepdale in front of a large crowd losing 2-1 after leading at half time. We've also beaten non-league opposition in Chorley, Bamber Bridge and Halifax whilst we also won 2-1 away at Morecambe on Friday. These games have all been about fitness though with wholesale changes being made throughout the games. Every member of the team has been given minutes on the pitch which have led to the games becoming disjointed. With two pre-season games left in Burnley and Leicester, a step up in quality, we would now expect to see what the team will look like come the opening day of the season. A new 4-1-2-3 formation with ex-Rovers players Paul Gallagher in a free role and Joe Garner up front on his own with two wide players supporting. This could change if we were to sign another striker though.
Some youngsters with good reputations started to come through at Preston last season including Josh Brownhill, who was tentatively linked with The Clarets earlier in the summer. Who will be your star player this season and why?
Joe Garner will hopefully find his shooting boots again and fire us to promotion. He showed his quality last year by scoring 24 goals in all competitions last season and none more special than in the playoffs against Rotherham. He was named the player of the year too and much will be expected of him again. The worry is stalled contract talks with only 12 months left but he is a fans favourite and a boyhood Preston fan so hopefully he will ignore the attention of any other clubs who might be looking.
After Graham Westley tried to rid the club of any decent youth players, including World Cup squad member Bailey Wright (who he made a quick u-turn on) and recent Manchester United debutant Reece James, we have a few youth players coming through looking to make their mark. In Will Hayhurst, Ben Davies and Alan Browne we have players looking to make the breakthrough but Josh Brownhill is the standout player with bigger clubs regularly linked with him. 30 appearances last season have been followed by 3 goals in 117 minutes of pre-season football so far. He could be instrumental in our midfield if given the responsibility.
And finally, some quickfire questions...
Premier League or League One?
League 1! Ask me the question again if PNE are in the Premier League and I might change my mind!
BBC, ITV, Sky or BT?
Sky; Gary Neville and Jamie Carragher speak a lot of sense and are the best pundits on TV.
Short passing, long and direct or "I don't care as long as we win?"
Tiki Taka football alongside a relegation battle would be disastrous so as long as we're winning it doesn't matter too much. Winning football is the best kind, whatever that might be!
Keith Treacy or Ross Wallace?
Loved them both when they were at North End and was gutted when they left. Remember Treacy sat in the stands at a pre-season game with his boots annoyed because he wasn't allowed to play because of Burnley's interest.
I'd probably say Ross Wallace though. Great goal against Birmingham to keep our play off hopes alive a few years ago.
Big tough defender or diminutive striker?
The striker because he will get you promotion!
Rugby or cricket?
Cricket – Something to keep you interested when you're counting the days until the start of the football season.
and finally...
BLACKBURN ROVERS or BURNLEY?
Blackburn Rovers are the lesser of two evils but annoyingly I quite like Sean Dyche and Danny Ings seems a decent fella too. I secretly rooted for your promotion last year because it showed that you don't need loads of money to get promoted to the Premier League!