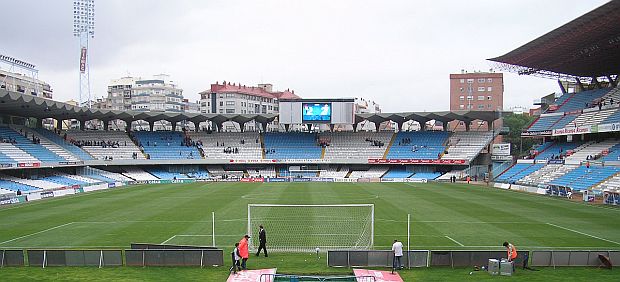 Twitter can be a wonderful thing. Up popped Manu and here we have an interview with a Spaniard. As you can see from the exchange, the English isn't bad for a Spaniard who claims that it isn't as good as he wants it. I feel it adds to the flavour of it to leave it rather than amend it to a grammatically correct piece.
Manu, tell us a bit about Celta Vigo...
Well, we are a humble team from the north-west of Spain, founded in 1923. Our greatest football period was between 1994 and 2004, in that period we reach in two times the final of La Copa del Rey (Spanish Cup), we participate in Uefa Cup six times beating rivals like Liverpool, Aston Villa, Juventus, Benfica... and one time in Champions League where we get eliminated by Arsenal.
Today, after a few bad years in Liga Adelante we have settled on Liga BBVA with a hopeful future, relying on our homegrown.
Vigo had a solid season last year, finishing in 9th place with 49 points notably beating Real Madrid 2-0 at home towards the end of the season. What are your aspirations for the coming season?
Last season was an amazing surprise, we do a fantastic second round, nobody expected these results. Last season target was remain at Liga BBVA. This season we have the same target, but who knows..
So far Burnley have had a couple of easy friendlies, with a tough workout at Preston sandwiched in between. What kind of test will Celta Vigo provide this week?
I think this is a great test for both teams, we are competitive teams and we play in two of the best leagues of the world. We are a team who plays a direct football, I think we have a lot of attack potential, right now our biggest flaws are defensive.
I've noticed on Twitter that there has been a bit of an outcry from some of the English teams who weren't prepared for Vigo's tough tackling approach to the friendlies. Is this something we can expect again?
Yes, I read about that on twitter, it really surprises me, maybe are the indications of the new coach, I don't know, I hope that nothing bad happens and all Burnley fans could watch a great game and enjoy it.
Who are the players to look out for?

Well, we got a lot of young players with a lot of future, our goalkeeper, Ruben Blanco who plays at the national team u19 and Santi Mina, our young striker, I think this two kids will be in a big team in a few years, they have a lot of potential.
We have five international players, Fabian Orellana and Pablo Hernandez plays for Chile's national team, Michael Krohn-Dehli plays for Denmark, Augusto Fernandez for Argentina and Levy Madinda plays for Gabon.
And finally, to end the interview, some either or questions:
English football or Spanish football?
English football, no doubt.
Short passing, long and direct football or "I don't care as long as we win"?

Short passing
Big tough defender or diminutive forward?

Both
Diego Costa or Fernando Torres?
Diego Costa, he is a Celta Vigo ex-player
and finally...BLACKBURN ROVERS or BURNLEY?
Leeds United!! (I tried to ban this answer, but I wasn't allowed!)
Big thanks to Manu for taking the time to answer the questions. It sounds like we could be in for a very competitive game on Tuesday night and it sounds like there might be a couple of young prospects to look out for too. The next Besart Berisha, maybe? Okay, maybe not...
Picture courtesy of jmsq