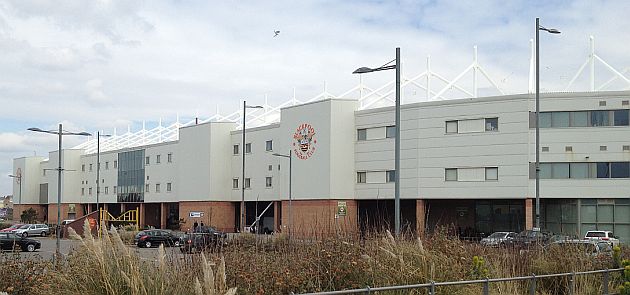 Not that I let that on whilst leaving Bloomfield Road on a sweltering Good Friday late last season. My memories of the game are rather hazy and rely more on Sky's footage than at the game. Mainly due to getting sizzled post-game, belting out the fantastic rendition of Dean Marney songs in the nightclub's of Blackpool.
Much has gone on since that fantastic day. For the better for Burnley. Not so much for Blackpool.
It's easy to laugh at your local rivals when everything is going Pete Tong. It isn't even going Pete Tong at Blackpool. It's worse. It's going Karl Oyston. When something goes Karl Oyston, you can't help but feel sorry for their supporters. I certainly felt sorry for Dublin based Blackpool fan Andy Williams, who I caught up with this week; as I felt a sheer sense of frustration in the answers to my questions.
It's been a tough summer for Blackpool FC so far; what are your current aspirations for the upcoming season?
If we manage to stay up it will be a massive achievement. Relegation under the current owners could spell the end of Blackpool. I would honestly take a relegation if the Oystons sold the club.

Is Jose Riga the man to take The Seasiders forward or is Oyston holding him back?
Oyston is clearly holding him back. You cannot as a manager have 8 players in your squad 2 weeks before the season. He is the right man for the job but it's a case of when he is finally going to snap and walk away.

You currently have 13 players on the books, with 3 more looking set to sign today. What other positions are you looking for and will this make you competitive?
We need a keeper badly. We currently only have a youth keeper available, ideally we need 2! We pretty much need 2 more players in each position.

Who is the key player in Blackpool's squad or is he yet to be signed?
One would have to think Ismael Miller will be if he signs. We will need goals this year to make up for our defence. The goalkeeper (whoever he may be) is also going to be vital, especially considering how much Gilks kept us in games.

Burnley are coming off the back of a 2-1 defeat at your arch-rivals Preston North End (sorry). What test will Blackpool pose Burnley this weekend?
No test. This will be a fitness test and allowing the players to get to know each other on the pitch. The players need to learn how to communicate etc on the pitch. It will be very tough.
And some quick fire questions…
Premier League or The Championship?
Premier League
As much as I love watching my team play you can't help but love the Premier League. Seeing the likes of Suarez and Rooney each week is brilliant, I loved our season in the top tier. My favourite football time of the year however is play off time! Nothing better than the play off finals in Wembley with an outrageous amount at stake over 90 minutes!
BBC, ITV, Sky Sports or BT Sport?
Sky
I'm a big Gary Neville fan so it would always be Sky for me. I will be keeping an eye however to see if Andy Gray begins commentating on matches in BT, I have missed watching matches with Andy Gray shouting " WHAT A STRIKE SON "
Short passing, long and direct or "I don't care as long as we win"?
Short Passing
Germany 2014 World Cup. Enough said.
Big tough defender or diminutive striker?
Striker
We all love seeing a no nonsense defender clatter into the back of a striker, but there is nothing sweeter than a world class goal!
And finally…
BLACKBURN ROVERS or BURNLEY?
Burnley
Was very happy to see you guys go up. If you can keep Ings and Vokes fit you have a real chance at staying up. Hopefully Gilks will get a few games next season, Heaton is a great keeper but my god if anyone deserves to be back in the Premier League based on attitude it's Matt Gilks.
I would just like to wish Andy and Blackpool fans all the best for next season. I'm sure most Burnley fans, except lakester, hopes for a resolution to their owner issues. It looks a long way away at the moment but football is a very funny game.