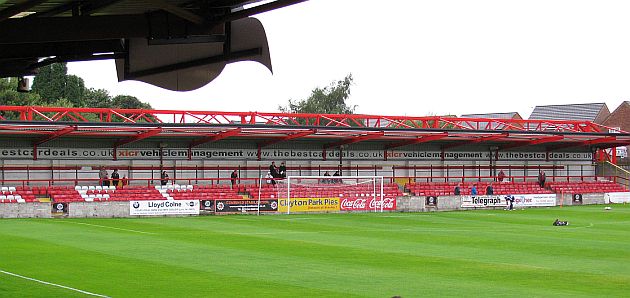 After last weekend's comprehensive 8-0 victory over FC Grossklein plus a few ringers, the Clarets will be hoping for a sterner test this weekend.
Ahead of the new season, I'll be presenting to you a new feature on Clarets Mad. Getting to know you. We speak to a fan of the opposition prior to each game to learn what we can expect ahead from the encounter.
What better place to start than our Lancashire neighbours.
I spoke to Tony Booth, a lifelong Accrington fan, to get his views ahead of the game.
James Beattie has completed his first season in charge as a football manager. How's he done?
He's done brilliantly well. I think with the seriously limited resources and the lowest budget in league football he has done a great job, especially after the worst start I can remember last season. He made a few decent loan signings but there was always a belief that the team would turn it around and start putting some results together. He is a local lad as well so I think he is looking to build something special here before he moves on to bigger and better things. He always speaks well and you never hear him criticise his players despite an awful start last year. The way in which he turned things around last year was testament to the fact that young English managers need to be given a chance and they will come good.
A 15th place finish with 57 points looks quite good on the face of it last season, particularly after the dreadful start you endured. Were you happy with how last season went?
Very happy in the end. I think we were all expecting the worst when we didn't win a game in 12 but we then went on a great run and beat some of the leading teams quite convincingly. If we had started the season with the kind of form we finished with, we could have been pushing for the play offs. The boss has built quite a young squad with some promising talent and despite the start they turned it around and ended the season very strongly, so all things considered we did very well.
What are your aspirations for the coming season?
I think he needs to add 2 or 3 players and to use the loan market wisely. We do know he has a lot of contacts in football and we need a few quality additions. Brett Ormerod has been training with the squad and might be worth a year long deal as he has looked very bright in pre season. I would like to think we will get off to a better start and I always say that safety is an immediate priority but we have retained the majority of the squad that ended last season so well. If we can get some good loan signings in then I do not see any reason why we cannot aim for play offs.
So far this close season you've signed Adam Buxton permanently from Wigan. Are you happy with the summer business or is there more to come?
We always struggle with the budget so permanent deals are always few and far between and Beattie will need to get some good loan players in and try to develop the young players to come in and do a job. Very happy with the Buxton signing. He is a very good full back who is solid, strong and good with the ball. There could potentially be a deal for Brett Ormerod so we will have to wait and see if he signs but I'm sure he will bring a few more in before the start of the season.
You drew 2-2 with Blackburn in a friendly in midweek, a result that caused a good few laughs amongst Burnley fans. What can we expect from your team tomorrow?
He will probably play 4-3-3 with a high pressing game. He has the lads very well organised and we will defend very well. Tom Aldred is a beast of a centre half who didn't give Rhodes a sniff in midweek. Danny Ings - be afraid! We try to get the ball on the floor and play from the back using the top 2 wide players in Naismith and Hatfield to provide the service for James Gray who is a promising young Northern Irish international who can score goals. He scored a cracker in midweek. We really gave Blackburn a good game in midweek and think we will do the same to Burnley on Saturday.
And finally, some quickfire questions:
What do you prefer?
Premier League or League Two?
League 2 every day of the week. No diving, cheating, biting foreigners earning stupid money. It means something to the players in League 2.
BBC, ITV, Sky or BT?
Sky for the coverage but I just wish they could distribute more money to lower league teams.
Short passing, long and direct or "I don't care as long as we win?"
Short passing, good attractive attacking play but sometimes winning is everything!
Big tough defender or diminutive striker?
Big tough defender, look out for Tom Aldred on Saturday.
Rugby or cricket?
Cricket
and finally...
BLACKBURN ROVERS or BURNLEY?
Sorry guys, but I was born in Blackburn so it's Rovers!
I think we all know not to take these answers seriously given the nature of the final answer! I jest.
Fitness is the aim of the game at the moment but we always want to win. Here's to a few thousand Clarets and a good performance tomorrow.