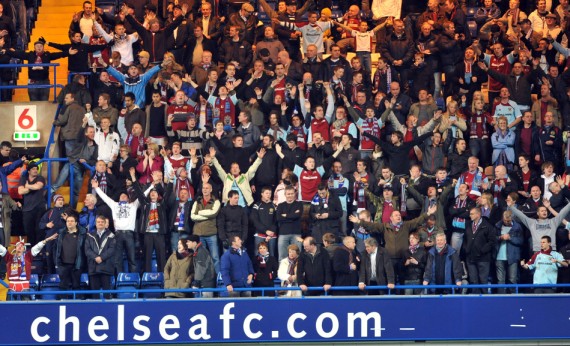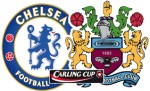 Michael Wells: As an exiled Claret - Great Harwooder to South West London - I loved the fact that Stamford Bridge was only a short bus ride from my house. Work that day was a weird experience as I could not concentrate, could only think about watching the Clarets and enjoyed winding up the kids and staff at school. After finishing my day at work, in Crystal Palace, I excitedly sneaked out and made my way to the Bridge. After meeting a London based mate and two lads from Great Harwood/Clayton we enjoyed a couple of pints in the Slug pub, cheered to the history of Burnley FC on the tele and talked about the potential score line...."2-0 Chelsea" "5-1" "I hope we score a meaningful goal" were our predictions and hopes.

I loved the walk to the ground, the beautiful entrance, the walk to the top tier, the buzz of the Burnley crowd - this is what my dad has spoke about of the 60's and 70's when he followed Burnley home and away. I was very calm yet vocal during the game and aimed to really enjoy the experience. Their goal and the aftermath was disappointing yet Ade's goal changed all that. I can only remember celebrating two goals as much in my 20 years following the Clarets - one was with my brother at Glanford Park and the other was on my own in an internet cafe when Micah put the ball in the net of those down the road.

I love Ade and loved the fact he'd scored...I loved the feeling between the Burnley fans...the constant songs....the togetherness...the fact we were playing well at the Bridge.

Extra time and pens - proud was all I can say....of the players for giving it their all...of Owen Coyle...Steve Davis..Sandy Stewart..Barry Kilby...Brendan Flood...all of them.

Beast and the boys did the rest during pens and pandemonium ensued; as I texted my brother shortly after the game. Singing, hugging, kissing and general and genuine love for Burnley FC was shown by all.

A few pints, a bus ride home a walk through the park and a Wandsworth neighbourhood awoken by cries of "Bxxxxxxd Rovers, Bertie Mee and Burn-er-lee" almost ended the evening before the Sky Sports News loop was watched at least three times.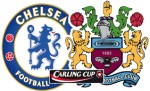 Mark Williams: After meeting my brother and a couple of lads he got talking to on the train down, we made our way to the White Horse at Parsons Green for a few pre match beers. After the obnoxious Manager had finished calling the Police because some people were singing in the vicinity of some very expensive houses, we made our way to the ground in good time for the kick off. Outside the ground, I bumped into J50 and also a Chelsea fan I have known for about 25 years from Nelson. He baited me about coming to see a proper team etc. I responded with hoping not to lose my 100% record against Chelsea, as I had seen us beat them 3-0 in 1983, 1-0 in a pre-season friendly in 1992 and tonight would be no different.

I have been to Stamford Bridge before, but not in the Shed like we were on Wednesday. After entering the ground, it felt good to be surrounded by in excess of 6,000 fellow Clarets, all there to cheer on the boys who thankfully were playing in Claret tonight. I always like our kit when we play in Claret shorts, my mind wandered back to another game in London on 29th May 1994, where we also played in Claret shorts and hoped that may be an omen.

When Drogba scored for Chelsea, it started to feel a little ominous, as they were looking dangerous on the counter attack, moving the ball to feet with pace as you would expect from one of the best and most expensive teams in Europe. But we weathered the storm, and just how good was the feeling when Ade buried the rebound after Cudicini had saved the shot from Eagles. The decibel levels were cranked up another notch in the Shed, and I have to say it was one of the best displays of support I have witnessed for many a year. Although it was fantastic to be in the middle of it, playing my part and willing the Clarets on, a voyeuristic part of me would like to have been sat in the stands at the side to witness the noise and support. Just have to wait for the DVD to come out!

90 minutes came and went, 30 minutes of extra time passed with Chelsea having a couple of good chances. One which the Chelsea fans to our right thought had gone in and celebrated, only for Jensen to place the ball for a goal kick and the miss of the night from Alex from 6 yards made me feel that maybe we could take it to penalties. Which of course we did. After the selection of ends and first dibs, we were first up and our Mr Reliable from the spot, Graham Alexander slammed the first penalty home, via the underside of the bar and we were off. Wayne Bridge stepped forward to take the second penalty for Chelsea with the score 2-1 to Burnley. He put it to the keeper's left, Beast guessed right and raised the hopes of 6,100 Clarets. At 4-3, all Wade Elliot needed to do was score and we had won it. Up he stepped, had a Chris Waddle moment and slammed it high over the bar.

I thought that was our chance gone, and there wouldn't be another. Up stepped Duff, I was screaming at him to smash it down the middle. Seems my voice carried 120 yards to the opposite end as Duff followed my advice to the letter and drove it hard down the middle as Cudicini hurled himself to his right. So, the second chance that you don't often get in these situations arose. Mikel to take the penalty, the formidable Beast stood in his way. Mikel put it to the keeper's right, the Beast flung himself in that direction and pushed the penalty to safety. And that was it. We had won. I was just screaming 'YES' time and time again, and then the players sprinted towards the Shed and joined in with the party that was now reaching its climax. After what didn't seem anywhere near long enough for us to applaud them, the players left for the dressing room and hopefully something fizzy, chilled and so well deserved. After countless phone calls, texts and trying to find the voice I had lost earlier, we arrived back at Parsons Green for the journey home. Thanks to the majority of Chelsea fans we spoke to, who were gracious in defeat and praised the support they had seen that night.

I challenge anyone who was there that night to admit they felt we had even the most remote chance of that happening. All I wanted was for us to do ourselves justice on the night. I guess you can say we did that with some aplomb!

Wednesday was one of those special nights, they don't come around often but when they do, the years of travelling the country supporting whoever dons the famous colours becomes worthwhile. This night is up there with York, Derby, Luton, Scunthorpe and Plymouth, and dare I suggest that with the possible exception of York, eclipses the rest?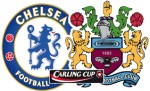 Brian O'Grady: Yes I was there, coming from London I was sitting in the West Stand surrounded by Blues fans so I had to contain my excitement when we scored. However even though I didn't jump up the fact that my arms shot up in the air and shouting YES! might have given me a way.

The other pleasing thing that night was my daughter who is a mad Chelsea fan admitted that we deserved our victory.

Unforgettable night and so proud to be a Claret.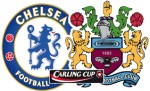 John and David Woolley: My son, David, and I went - what an atmosphere from start to finish. The whole team rose to the occasion to a man.

We stayed in a hotel in Bayswater - had a drink in a pub after the match called Brogans - the only Burnley fans there - had to keep our voices subdued. Then off to a bar where they asked for an ID and had to pay £3 just to get in. Got the last tube to High St Kensington with half a dozen other Burnley fans and then a walk back to the hotel - still on cloud nine.

As living away from Burnley a bit concerned about being able to get a ticket for the Arsenal game - whatever happens the Chelsea game will live in the memory banks for a long time.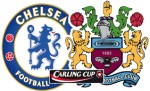 Steven Hill: I live in London and went to the game with my wife and my parents, who had travelled up on the day. We sat on the fourth row of the lower tier and when Akinbiyi scored the winner the whole stand erupted. I have never celebrated a goal as much as that one - even my wife went berserk (she's usually very restrained)!

At the end of the game she asked me if it had been the best night of my life. Luckily, I was on my guard, and replied: "The second best night…after our wedding, of course!"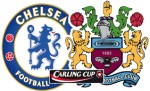 Gary Chadwick: The Chelsea penalty shootout was only the second shootout I have seen. The last time was when I was very young, so I can't remember it at all really. What struck me in the Chelsea match was how miniscule the players looked when the shootout was taking place. One Goalie, one penalty taker, one referee - they all looked so tiny and lonely in the face of the massive, mostly full stadium. After seeing countless penalty shootouts on TV, it really brought home why there is enormous pressure on the people taking part in the shootout and it did lend it an incredible drama that will possibly only be matched if we had one at Wembley.

What I still can't believe is how I wasn't really too nervous during the shootout. I think this was because of my shifting expectations as the game progressed. When we arrived I didn't want us to be humbled, I'd take a 2-0, 3-0 - I'd particularly treasure a goal if that came along! Then we survived the first 15 minutes, so I thought, let's just get to half time level. Then that didn't happen, so I thought let us get to half time 1 down. We achieved that! Come the start of the 2ndhalf I thought let us get to the last 10 minutes and maybe we can have a siege on the Chelsea goal and who knows? We did a little better than that.

After we scored I thought, let us get to extra time. We achieved that. After that I thought, let us get to half time of extra time. We did that. Get to penalties? No problem! It then changed to a penalty by penalty assessment of my expectations. Okay let's score this one and put them under pressure. YES. Let us score again so we can put them under more pressure. YES. Okay can Beast save this one? YES HE CAN.

After this moment I actually, for the first time on the night, believed we could win. Well, until Wade's miss anyway. I was not at all confident of Duff's penalty going in, but it happened. Then, as someone maybe once said, the rest is history. After Beast's winning save I can remember the ball sailing towards the touchline and feeling so in shock - like I couldn't believe what had just happened.

I will never forget the walk back to the hotel, seeing an endless stream of coaches down Imperial Road and talking about the game in the hotel bar until 2am.

Even writing this now, a week on, it makes me feel so proud of the team, so proud of the fans who sang endlessly and so proud of the town I was born in. Up the Clarets!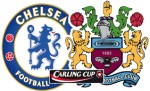 Steve Foster: I'm still suffering from an aching jaw. When Ade scored, the guy standing next to me leaped into the air as I was descending, his elbow caught me full on, I still have a wiggly tooth, but was it worth it?

I should say so. What a wonderful night.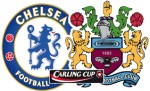 Peter Kilcoyne (GrumpyoldClaret): It is rare that I get on to The Turf these days. Not because I don't want to. Not because it is too expensive. Not because I have better things to do. The unfortunate fact is that it is just too much for my dicky ticker (seriously).

Had the damn thing been in its current state during the Orient game, I doubt I would ever have known that the club had survived - because I certainly wouldn't!

Then along comes the Chelsea game. In the overall scheme of things, this was not a vital match. It was 'only' the Carling Cup. Nevertheless it was a big game for all Clarets. We really had nothing to lose. The common (honest) consensus was we didn't have a cat in hell's chance. We were after-all, playing The Elite, the Premier league big boys who only lose at home when there is a z in the month. The fear was an absolute drubbing. The hope was to come away with a creditable performance and our pride intact.

So, I followed my usual routine for a mid-week game. Avoid it like the plague. No goal updates, no radio commentary, no Custard World, no TV news bulletins. All I do is check Teletext when the game is finished and it's all over and done with in a second.

At 10.20pm it was time to reveal all. All the results were shown - except Chelsea v Burnley! The fixture was there but no score shown. No mention of extra time, penalties, floodlight failure, crowd trouble, earthquake or terrorist attack. Nothing. What in God's name is going on? It couldn't be that they are still …………..no, surely not?

What to do? First, find my dicky ticker pills. Second, start eating them like crisps. Third, go and make a brew. Fourth, check again. Still no score shown. Walk round the room. Look at the clock. Tidy up a bit. Walk round the room. Look at the clock. 10.40pm. That must be long enough. Pick up the remote control. Hand is trembling a bit. An interminable wait for the Teletext page. All I see is Chelsea 1 - 1 Burnley. WHAT!? WHAT!?

And then I see it. 'Burnley win 5 - 4 on penalties'.

"UNBELIEVEABLE. UNBELIEVEABLE. UNBELIEVEABLE."

Mrs Grumpy comes dashing down stairs. "What's up? What's up?"

"Look at that" I said pointing at the screen "Just look at that"

"Ohhhhh" she sighed. "I'm going back to bed."

They just don't understand do they?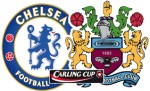 Philip Hart: I didn't go to the match, I listened to it on the radio. The opportunity to go was possible as I now live in Brighton but circumstances prevented me. I did however sense Burnley were in this match and an upset was on the cards after about half hour into the game. The fight for the ball, the quickening of pace and of course a large Burnley support would rattle Chelsea, as a team we had nothing to lose by attacking and fighting for the ball and that kind of game is an enigma at Stamford Bridge.

I didn't worry when we went one down, their confidence was being gradually eroded each time we had the ball and took the match to them. The Burnley support was that which said 'We ain't come here to draw, nor lose, we're going for a win'. The players sensed that and they upped their game.

Ade coming on that early was like lighting a firecracker and it paid quick dividends 1-1, The possession and the missed opportunities Chelsea had, then going down to ten men, we're still in the game then even again Caldwell off, extra time and then the penalties. At that moment I knew deep down we'd win.

Jensen had already made some excellent saves and I knew he'd stop at least one, when 'The Beast' is on form his instinct is awesome. The pressure was off Burnley, had we lost we would have still celebrated a great night. Chelsea should have bagged their chances and failed and that fear of failure was intrinsic and tangible.

I didn't expect Wade Elliott to score and I'm glad Ade didn't take a penalty. The rest is history, another historic day for Burnley. Listening to Phil Scolari say after careful thought, 'We've lost to Liverpool, Rome and Burnley', put the whole game into perspective. It was strange waking in the morning. I was born in Burnley in 1961 and it felt like that's what we're supposed to do.

Time had stopped and it felt kind of weird walking around Brighton with my Burnley jacket on.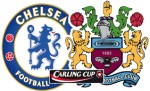 Tony Crossley: I flew in from San Francisco for the Chelsea and QPR games - it was a quick 5 day visit but worth every penny - I was at Derby and the Stockport game but I think Chelsea was the best ever.

I have been in SF for 23 years and miss the Clarets - I have told my wife and kids we are moving back home to the UK if we get promoted. Up the Clarets.