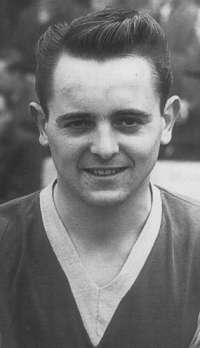 Brian Pilkington got the equaliser
Five games, ten goals, all played in just an eighteen day period that also included league games against Manchester United and Sheffield United and in conditions that would have the 'Match Postponed' signs up today.
This was the 1950s, the days before under soil heating, and such were the conditions that the local authorities in Burnley were warning children to be careful when skating on the frozen over boating lake in Thompson's Park in the town.
We'd played the first game at home on the Saturday and drawn 1-1 in front of a Turf Moor crowd of 44,857. Peter McKay had given us the lead but Eric Parsons equalised for the Pensioners with just five minutes to go.
It wasn't a pretty affair and the Burnley Express correspondent described it as more than a battle than a cup tie. He was so disappointed with Chelsea's approach that he wrote: "Such conduct as disgraced the first half at Turf Moor surely cannot be tolerated. Wembley is not worth it. If a team is to kick its way there, I prefer it should not be either Burnley or at Burnley's expense.

Something should be done about it, but if not the referee, then by whom?
"It is a long time since I heard a crowd stunned into comparative silence by the tactics employed by Chelsea, who over elaborated the 'they shall not pass' slogan and added to it 'at any cost'."
Whatever the tactics, a draw it was and that meant a trip to Stamford Bridge four days later on the Wednesday, 1st February. Left half Les Shannon had missed the first game and wasn't fit enough to resume for the game at Chelsea. We'd moved Jimmy Adamson into that position from centre half, moved Tommy Cummings into Adamson's slot with Harold Rudman deputising for Cummings at right back for the Turf Moor clash.
For the replay manager Alan Brown opted to return Cummings and Adamson back to right back and centre half respectively and brought in 19-year-old reserve teamer Brian Miller for his debut at left half.
It proved to be a difficult game played in farcical conditions because of the frozen pitch but after giving the game the go ahead referee Mr J S Pickles of Bradford was much more able to keep a grip on Chelsea's underhand style of play.
Albert Cheesebrough and Jimmy McIlroy were Burnley's outstanding players but this time it was the Clarets who had to come from behind to earn the draw. Frank Blunstone gave Chelsea the lead and when Burnley equalised it was youngster Miller who started the move.
The debutant played the ball to Bobby Seith who found McKay before he turned his defender and played in Cheesebrough. Cheesey got down the wing and his cross was met by a McIlroy header which was on its way into the net before Brian Pilkington made sure.
Both sides had chances in extra time but it ended 1-1 again and next stop was Birmingham for the second replay. Miller played in that game too, but with Shannon fit he returned for the subsequent games at Arsenal and Tottenham.
So how did Miller play on his debut? This is what the Burnley Express had to say. "The revelation of the reorganisation was Brian Miller, 19 last month. On this display Burnley have discovered another young wing half of high promise.
"His height, weight, anticipation and ball control made his debut one of the best I have ever seen and his contribution to the game an outstanding example of football intelligence. He also had the satisfaction of starting the move which led to the goal."
The teams for that game when Brian Miller played the first of his 455 games for Burnley were;
Chelsea: William Robertson, Peter Sillett, Stan Willemse, Alan Dicks, Stan Wicks, Derek Saunders, Eric Parsons, John McNichol, Roy Bentley, Les Stubbs, Frank Blunstone.
Burnley: Colin McDonald, Tommy Cummings, Jock Winton, Bobby Seith, Jimmy Adamson, Brian Miller, Billy Gray, Jimmy McIlroy, Peter McKay, Albert Cheesebrough, Brian Pilkington.
Referee: Mr J S Pickles (Bradford).
Attendance: 26,661, receipts £4,218.