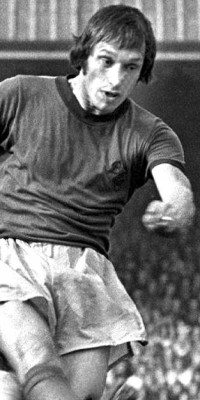 Frank Casper - walloped good and proper at Leeds
It was then I became a reluctant scribbler, reluctant because I was going insane having to spend night after night sitting alongside an infant daughter who would not sleep unless someone was in the room to watch her nod off. Sometimes I sat there for an hour and to while away the time thought what could I do. Start to keep a diary seemed a reasonable answer, and so it began. Sadly it was two years too late to record any of the feelings I had after the FA Cup semi final in 1974.
The early reluctance which I remember well, sitting there with the first blank page thinking what the hell can I write, and actually feeling silly doing it, eventually became an obsession and its been a rare day since when I haven't written about the day's events. At school after a day of chaotic, infuriating headmastering it was therapy, especially after you'd had a day of LEA advisers spouting their opinionated dribble at you. Or after a game I'd been to and it was bliss if we'd won or depressing if we'd lost.
Those of us who were around at the time will remember that the week before, we had stuffed Leeds United 4-1 at Elland Road. It was the game where Jimmy Adamson had informed the referee in his room that Mr. Revie had threatened to have one of Burnley's Doug Collins' legs broken. Revie was present when Jimmy told the ref and he stormed off. Collins was left well alone but every other Burnley player was walloped over and over again. Casper was walloped good and proper and it finished him. Yet still we humiliated them 4-1. We lived in Leeds and I remember going in the newsagents the next day and a couple of blokes were talking about the game and saying how they had just seen the next Cup winners at Elland Road and how brilliant they had been.
But it didn't happen that way and in a game that we dominated, we still contrived to lose. But I wasn't writing diaries at that time and wrote nothing down. Memories then are just hazy images and scrambled thoughts rather than fixed words and detailed descriptions. All I remember really is Malcolm Macdonald haring down the middle to score twice and thinking this just isn't our day.
There are turning points in all of our lives and these are the moments when we can always look back and ask the question 'what would have happened if…' What would have happened if I hadn't made that decision, or that choice? What would have happened if I'd done this or that differently? And in the life of a football club there are turning points when a result has such lasting consequences that the ensuing events take a course that determines the direction that club will go in for the rest of its future.
It's my contention that the result of that semi final changed hugely, irrevocably, damagingly, disastrously in fact, the rest of Burnley Football Club's life. I'll contend that winning the final game at Maine Road to snatch the championship wasn't such a turning point; it was just a culmination. I'll contend that losing the Final itself in 62 wasn't a turning point; it was just a huge disappointment, the predictable result of a team that had lost its legs and energy. I'll make the suggestion that another huge turning point was the quarter final at Watford we lost when Blake and Little sat on the bench. The financial implications of losing that game remain with us today.
But the semi final of '74, just think what might have happened had we won. Think of the resultant Wembley appearance, the joy in Burnley, and above all the financial rewards that we assume would have been put to good use. I say 'assume' deliberately because with Bob Lord you wouldn't have been too sure how he would have deployed the extra income. Would it have prevented the next player sale, would we have retained Dobson and James? Would Adamson's dream of managing the team of the seventies have become a reality? Would that team have been strengthened not weakened and gone on to truly compete for the rest of the decade if not dominate it? I like to think it would. Or, I like to think that old Bob could have built his new stand without having to sell players. "I want to build a team, but the chairman wants to build a stadium," Adamson once said. But defeat ended any possibility of doing both, and the rest as they say, the continued sale of players, the following years of decline, struggle and eventual poverty, is history.
It was a bright sunny day. The usual crowd we always met on the Longside at the Turf had gathered chez Thomas in Headingley, Leeds at around 11 for a 'bit of a do' that Mrs T had laid on. I have no diary notes but I can hazily remember the expectation, the optimism, and the banter and chatter before we set off in two cars. There was a huge sign we had pinned to the gates to the house.
Burnley FC Supporters Club Leeds Branch
, and amazingly nobody had ripped it down considering how we had wiped the floor with Leeds just a week earlier.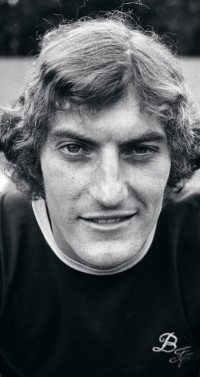 Martin Dobson - would he have been retained had we won?
The walk down to the ground was festive as it usually is at a semi final with fans of both sides drinking together, walking together, sitting on the grass verges, spilling over onto the road, mixing happily, exchanging banter and greetings. You'd have a hard time falling out with a Geordie.
And the game itself: We gave them a football lesson and managed to lose. It was something that Adamson's lovely passing team, always looking to move forward, was prone to doing.
I bought Malcolm Macdonald's book Supermac a few weeks ago because it has a few good pages describing the game and his own role in it. I'd forgotten that Newcastle had been so lucky to get to the semi. Their home game against Nottingham Forest in the previous round had been marred by a frightening pitch invasion with Newcastle losing heavily with just ten minutes to go. (Yeah I know who says you can't fall out with a Geordie). They were dead and buried, down to ten men, but the referee insisted those last minutes should be played even though it took an age to clear the pitch. The players expected him to abandon it. When they came back out, the Forest players, terrified, just froze and Newcastle from being 3-1 down, won the game 4-3 in a scarcely believable finale.
So instead of being booted out of the competition by the FA, Newcastle and Forest were told to replay the game on a neutral ground rather than Forest's ground. Football is full of injustices but this one ranks up there in the top three. The first rematch ended at 0-0, Macdonald scored the one goal that won the second game, again at a neutral ground. Not only were Newcastle amazed to be given a second chance; they were amazed that neither of the replays was at Forest. The FA has a long history of avoiding correct decisions and ducking appropriate severe punishments. This was one of them.
Macdonald to be fair was as amazed as anyone to progress to the semi and of that game, again he was amazed to win.
'Burnley, then in the old First Division, were our semi final opponents at Hillsborough, and they didn't half have a good side under Jimmy Adamson. But, good as they were, we always felt we had the upper hand. Because we also had to meet them in the two-legged final of the Texaco Cup, a competition for clubs from the four home countries that had not qualified for Europe, twice in the League, we played them five times that April if memory serves. And of those I think we won three, drew one, and lost one.
'We certainly looked like losing the FA Cup semi final. In the first half Burnley absolutely wiped the floor with us. We couldn't get the ball off them. They were brilliant. Their football just flowed down the right and the left, and our keeper Willie McFaul was on overtime. In fact Burnley did everything except put the ball in the net. The second half started in exactly the same vein too, with them camped around our penalty area, but then a cross from the left was cleared to the edge of the area, where John Tudor sort of flicked it on. It was met by Terry Hibbitt as he too emerged from the penalty area, and he half volleyed the ball with the inside of his left foot from about five yards outside our box. Terry had less flesh on him than my little finger, but this ball flew upfield as straight as if Jack Nicklaus had taken his driver to it.
'At that moment, I felt Colin Waldron, the Burnley centre had come tight because he expected the ball to drop in front of me. Suddenly however, he realised it was going to fly way over his head. I turned and Waldron got hold of my shirt; then he grabbed me round the neck. I was still running, but he was holding on. There was no one else to beat, other than the fourteen-stone centre half hanging on to my neck. I was thinking, 'don't go down, whatever you do! Don't go down, stay on your feet. Try and shake him off'. Gradually, his grip loosened and he started to sort of slide down me, still going for hand-holds in the way someone falling down a crumbling cliff would do.
'In the end, he went down in a heap, and then I began to catch up with the ball, which had bounced, gone on and bounced again. But having had Waldron's weight on my back while still trying to run at pace, I struggled to regain my balance, almost falling over to my right. Alan Stevenson, the Burnley keeper, was coming at me, so I volleyed the ball with my left foot, almost falling over at the same time. Stevenson parried the shot with his hands, but the rebound came back to me slightly to my right, which was the way I was falling. Managing to get myself upright again, I took the ball with my right foot and went square of Stevenson, putting him out of the game. The Burnley left back had tracked back by now and was trying to get to the goal line, but from about fifteen or sixteen yards I rolled the ball at a fair pace, and there was nothing he could do.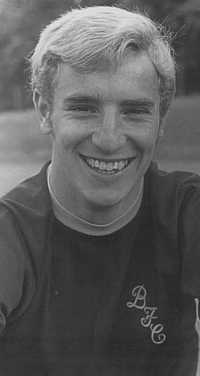 Colin Waldron - referee Hill didn't blow for a foul
'That I find amazing about the saga of having Colin Waldron on my back was that the referee Gordon Hill, didn't blow for a foul. After the game, I asked him why he had decided not to punish such an obvious offence, and he gave me a brilliant answer. 'I get to know the players I referee,' he said, 'and of all of them, if there's one who's going to stand on his feet and make a goalscoring chance, it's you. Despite the mauling you were getting, I backed you to stay on your feet and score. So I allowed you the advantage'. 'Thank you very much,' I said. 'I'm pleased that you did'. Now that's the kind of knowledgeable person football needs to referee it, somebody who knows and understands the players exactly for what they are. Eternally, I shall be grateful to Gordon Hill for that. It was a brilliant delaying of a certain decision in my favour that, in the end, never had to be made and allowed me to score.
'It was the first of two goals I scored that day. The second wasn't dissimilar, in that Burnley were again laying siege to our goal when Terry McDermott broke free from the area and knocked the ball straight down the middle. Away I went, and Waldron didn't get hold of me this time. Again Stevenson came out at me, but this time I drove the ball between his legs. So we took an absolute battering from Burnley and came off 2-0 winners.'
Turning points - you can even narrow it down to one particular moment and one particular decision made during the game. When referee Gordon Hill decided not to blow for the foul on MacDonald by Waldron prior to the first goal, you can say it was that one moment in time that decided the future of Burnley Football Club.
If Spielberg were to ever make a film about the day, it's a moment when the film and time would freeze still; the camera would linger on the whistle, Macdonald's face, then Waldron's despairing hands and arms and hands clutching at him. Then in very slow motion the play would continue, freeze on the whistle again, focus on expectant Newcastle fans' faces, cut to apprehensive Burnley faces, and then it would resume to its climax. The close-up of joy on Macdonald's face and crescendo of noise would then contrast with Waldron's dejection and the silence of stunned Burnley fans. I should imagine too that at that moment every Burnley player knew that the game was up.
Any other referee might have stopped play, booked Waldron or even sent him off, but this one let play go on and in doing that determined the course of events leading up to where we are today.
If only… what would have happened if…
those age old questions that people like me find fascinating. Conjecture, speculation, hypothesis continues in my head to this day. Gordon Hill was always in his time regarded as the best referee in the land. He made the right decision for Newcastle, but the wrong one for Burnley.
Of course it was ironic that Newcastle then went on to give one of the poorest ever, weakest displays by any team ever seen at Wembley and Macdonald is the first to say that. The opposition they provided on the day was minimal. They were an embarrassment. So too was our pathetic display at Watford in that quarter final not very long ago, but that's another story.
The teams at Hillsborough were;
Burnley:
Alan Stevenson, Peter Noble, Keith Newton, Martin Dobson, Colin Waldron, Jim Thomson, Geoff Nulty, Frank Casper, Paul Fletcher, Doug Collins, Leighton James.
Newcastle:
Iam McFaul, David Craig, Frank Clark, Terry McDermott, Pat Howard, Bobby Moncur, Tommy Cassidy, Jim Smith, Malcolm Macdonald, John Tudor, Terry Hibbitt (Alan Kennedy).
Referee:
Gordon Hill (Leicester).
Attendance:
55,000.