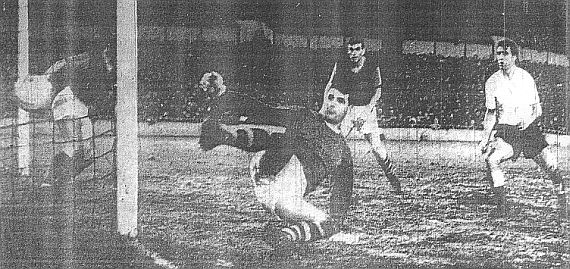 Burnley in defence with Blacklaw and Miller looking on as Smith puts his shot wide
It was good being a Burnley supporter. We had a good reserve team but the first team were having a fantastic time. We were Champions of England and we'd just been to Paris and beaten Reims in the European Cup and were now about to play Tottenham Hotspur at White Hart Lane.
Tottenham were a good side and had made a good start to the season. They'd only lost once, at Sheffield Wednesday who were second in the league. Already Tottenham had a nine point lead (in the days of two points for a win). We were fifth but only two points behind Sheffield Wednesday.
Everything wasn't perfect and we'd been reported to the Football League by another club. That other club was Brentford who were far from happy with our showing at Griffin Park in the Football League Cup.
It was only our second ever game in this new competition and Brentford were unhappy that we'd sent a full reserve team to play them; no sign of any first team regulars at all. Can you imagine it today? A First Division side sending the reserves to play in the League Cup at the home of a Third Division Team. We drew the game 1-1.
The Football League scratched their heads, couldn't find any rules about it but we did play the first team in the replay and beat them 2-1. I don't think Bob Lord was too impressed and we pulled out of the competition in the following four seasons.
But back to that reserve game against Huddersfield with the visitors fielding Chris Balderstone who went on to play for England - at cricket.
We were top of the Central League and started the game with such confidence that wasn't even dented when BALDERSTONE got on the end of an O'Grady cross to score the opener.
We continued to play with great poise and
FENTON
equalised after a pass from Lochhead. It was 2-1 to Burnley when the Town goalkeeper couldn't hold a
WHITE
shot that trickled in and then it looked all over at 3-1 as
HARRIS
scored a beauty from the edge of the box.
It wasn't to be unfortunately. BALDERSTONE scored again to reduce the arrears before BETTANY grabbed an equaliser with three minutes to go. So 3-3 it ended and the teams were;
Burnley:
Colin McDonald, David Smith, Mick Buxton, David Walker, John Talbut, Jimmy Scott, Ian Towers, Billy White, Andy Lochhead, Ronnie Fenton, Gordon Harris.
Huddersfield:
Fearnley, Atkins, Turner, Holden, Holt, Dinsdale, Conmey, Balderstone, Gibson, Bettany, O'Grady.
One feature of reserve team games fifty years ago was that you also received news of the first team game. It was the only way to get updates. There was no Jeff Stelling, not even local radio, and other than going to the game or the reserves the first news you would get would be via the Grandstand tele-printer after the game was finished.
And so, as well as enjoying the reserve team I was waiting for any news from White Hart Lane. Burnley apparently were finding it difficult in the early stages on a mud bath of a pitch. McIlroy was left limping after a two footed tackle by Norman and Pointer was left crumpled in a heap after a clash with Mackay.
Then the news came through at Turf Moor after 18 minutes play. The crackle of the PA system was followed by: "ATTENTION PLEASE, ATTENTION PLEASE, THE LATEST SCORE AT WHITE HART LANE IS TOTTENHAM HOTSPUR 1 BURNLEY 0".
It was NORMAN who had scored with a header after a long pass from Mackay. Burnley were up against it now against the league leaders.
One minute after that announcement came another: "ATTENTION PLEASE, ATTENTION PLEASE, THE LATEST SCORE AT WHITE HART LANE IS TOTTENHAM HOTSPUR 2 BURNLEY 0".
What a disaster. This time it was from a long throw taken by Mackay. Smith headed it on and there was JONES to convert.
Two goals in two minutes, and yet within a minute there was yet another announcement. "ATTENTION PLEASE, ATTENTION PLEASE, THE LATEST SCORE AT WHITE HART LANE IS TOTTENHAM HOTSPUR 3 BURNLEY 0."
I was with my dad, and he never swore, but some of those around is certainly did. Three goals in just over a couple of minutes had destroyed our hopes. It was JONES again, converting a left wing centre.
Thankfully it all went quiet for a while but even as a young supporter and new to it all, I knew the game was up.
It was ten minutes before the half time whistle when the next news came through. "ATTENTION PLEASE, ATTENTION PLEASE, THE LATEST SCORE AT WHITE HART LANE IS TOTTENHAM HOTSPUR 4 BURNLEY 0."
MACKAY had got this one when goalkeeper Blacklaw was deceived by the shot. It's hard to imagine how the small band of Burnley supporters who had gone to the game were feeling. I bet they thought it could be a cricket score by the end.
Within two minutes it looked to be getting even worse, or so we thought. "ATTENTION PLEASE, ATTENTION PLEASE, THE LATEST SCORE AT WHITE HART LANE IS TOTTENHAM HOTSPUR 4 BURNLEY 1."
Yes, a goal.
CONNELLY
had reduced the arrears with a goal following a link up down the left between McIlroy and Pilkington but it was a dispirited looking Burnley team who went in at half time with the score at 4-1 to the home team.
It was just a matter of enjoying the reserve game in the second half. This game was gone against what was now considered the best team in England (and I thought that was us).
Even so, we weren't prepared for what was to come just over ten minutes into the second half. "ATTENTION PLEASE, ATTENTION PLEASE, THE LATEST SCORE AT WHITE HART LANE IS TOTTENHAM HOTSPUR 4 BURNLEY 3."
Yes, three. They'd missed telling us about the second goal on 56 minutes when
ROBSON
nipped in to foot Pilkington's centre into the net but did let us know when the third went in as two minutes later
POINTER
took a return pass from Pilkington to take Burnley within one goal.
As we now stood patiently waiting we couldn't have known that Spurs hit the post before Connelly did likewise at the other end. We couldn't have known that Brown had made a great save to deny Miller.
What we did know was that the old PA system crackled again on 72 minutes and what staggering news for a team that had been 4-0 down. "ATTENTION PLEASE, ATTENTION PLEASE, THE LATEST SCORE AT WHITE HART LANE IS TOTTENHAM HOTSPUR 4 BURNLEY 4."
Norman had cleared the ball into the centre of the field but it was seized on by
CONNELLY
. He received a return pass from Robson before slamming it into the back of the net for 4-4.
Tottenham had the best chance to win it when White missed an open goal but surely no one could deny a side that had come from behind like that to draw 4-4.
The People newspaper rated the players out of ten in its report. Twenty players were given 9 and the other two (Blanchflower and McIlroy) were given ten. Another Sunday newspaper described it as 'The Greatest Show on Earth'.
The Burnley Express wrote:
"If there were a roll of honour whereon could be inscribed in golden letters the most meritorious deeds of any club, irrespective of whether they be in the competition embraced by Cup or League, then the performance of Burnley at White Hart Lane would be given most careful and special recognition.

"For a team to fight back for a draw away from home after being four goals down was remarkable enough. To accomplish such a feat against the all-conquering Tottenham Hotspur was something which can only be described as superlative.

"Team work, courage, the refusal to acknowledge the existence of the word defeat, made Burnley the most talked of League side on Saturday night in London.

"Burnley covered themselves with mud and glory. To the delirious Burnley contingent, every man in claret and blue - Blacklaw included - was a hero; and I believe that even the 58,000 Tottenham supporters who defied the rain and travel difficulties had to agree with them.

"It was a classic - a match of the season which for once lived up to its reputation."
The teams at White Hart Lane 50 years ago were;
Tottenham Hotspur:
Bill Brown, Peter Baker, Ron Henry, Danny Blanchflower, Maurice Norman, Dave Mackay, Cliff Jones, John White, Bobby Smith, Less Allen, Terry Dyson.
Burnley:
Adam Blacklaw, John Angus, Alex Elder, Walter Joyce, Jimmy Adamson, Brian Miller, John Connelly, Jimmy McIlroy, Ray Pointer, Jimmy Robson, Brian Pilkington.
Referee:
Mr R. H. Windle (Derbyshire).
Attendance:
58,737.