Thousands watch the Clarets at Christmas
Feature by Tony Scholes
Updated Thursday, 12th October 2006
This week our Game to Remember is going to take in two games against Everton, played just twenty-four hours apart whilst we were all still suffering from the effects of the Christmas turkey.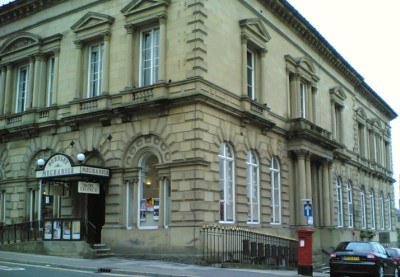 The Mechanics today - but in 1960 it was set to become the new home for the Mecca Ballroom
We're going back to Christmas 1960, Burnley were the reigning Football League Champions and those fortunate enough to own televisions were still trying to work out whether this new ITV programme called Coronation Street would last more than its initial month or two.
After a difficult period things were improving, the measles epidemic was waning and following a fire at their Empress Ballroom in Church Street, [across from the current Keirby Hotel] there was a boost for Mecca when they were allowed to take over the Mechanics Institute in Manchester Road.


For those out Christmas shopping there were lots of things to tempt you to part with your money. There were smoking gifts from J Duckworth, Frank Pick was the place to go for perfume whilst you could pick up a stylish Italian suit from A Simon. Maybe it was D Witt for a pair of carpet slippers, but if you really wanted to splash out for a loved one, then how about a modern typewriter from the Burnley Typewriter Co Ltd or a Grundig tape recorder from the Electron on Hall Street?


The Mayor revealed that the town had gone Christmas card crazy with over 300,000 having been through the sorting office whilst our favoured brewery were telling us that we could always meet our friends and neighbours in a Massey House.


We had to wait a while longer for a game of football – the Christmas Day fixtures had come to an end three years earlier and Burnley were one of six First Division clubs not to have a game on the Saturday, Christmas Eve.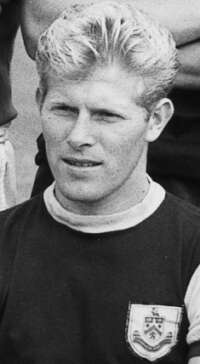 Ray Pointer - scored our Boxing Day goal
The talking point ahead of the games was whether we would boost our average crowd, the seasonal games were always guaranteed to bring in more spectators. There were suggestions that we could definitely top 30,000 for the Boxing Day home game against
Everton
, with a crowd of 50,000 expected the day after at Goodison Park.
Burnley and Everton were riding high, the Toffees were in third place with 30 points from 22 games, Burnley were two places below them with just one point less and with a game in hand after the
Nottingham Forest
game had been called off because of fog a week earlier.
Spurs were already a long way clear at the top, but these two games were very much going to be the games of the week and those who did go and watch them were not disappointed, and there were considerably more than the 80,000 expected for the two games.


Don Smith of the Burnley Express set the scene. "One of the pleasant events of Christmas is the home match," he wrote. "It is an occasion, and affair of new scarves, cigar smoke, good neighbourliness and seasonal greetings. They tell me that it has been known for turkey legs to be eaten, with the consequent temporary muffling of vocal support."


New scarves, cigar smoke, who knows? But they turned up in their thousands, over 44,000 of them to bring a massive boost to the club. All we needed to do now was go out and beat Everton but that proved to be more difficult.


Both teams were at full strength, the home grown Burnley team against the millionaires of Merseyside. Everton knew they had to shackle Jimmy McIlroy if they were to have any joy and although the local scribe didn't go as far as to say they nobbled him he did admit that our star man was subjected to a bad foul early in the game that left their wing half Brian Harris described subjected to some criticism by the home crowd.


There was some good inside forward play but both sides were struggling to finish the chances. Roy Vernon and Bobby Collins were starting to dominate and eventually they got themselves in front when Frank Wignall scored and shortly after that Billy Bingham latched on to a somewhat fortuitous ball from Harris to double the lead. Burnley were fighting an uphill battle now, with McIlroy struggling from the early injury, but Ray Pointer pulled one back just before half time when he got on the end of a left wing cross from Jimmy Robson.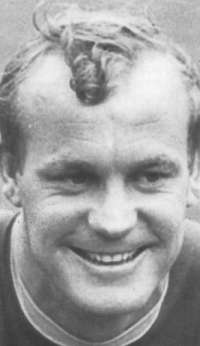 Gordon Harris - called up at the eleventh hour and went on to create the last two goals
The second half was something of a tough, niggly affair and Burnley never looked likely to get back into it, and when Collins added a late third following a foul by Walter Joyce it was all over with Everton recording a 3-1 win.
"Burnley were well beaten and perhaps surprised by the strength and speed of an opposition who could be ruthless in their scheming and unceremonious in its execution," wrote Smith, who added a real note of caution for the return game the following day.


Burnley had been beaten just once in their previous seven visits to Goodison Park, that was the good news, but we had to play Everton this time without Brian Pilkington who was ruled out and Harry Potts drafted Gordon Harris into the team at the eleventh hour. Everton meanwhile were unchanged from the side that had won 3-1 at Turf Moor.


There was a major problem ahead of kick off with the crowds on the terraces so big there was some concern for their safety. Almost 75,000 were at the game, an incredible number, and thousands were moved in front of the perimeter walls by the touchlines to prevent any possible accidents.


Everton started well, Derek Temple hit a post, Bingham missed a good chance whilst Adam Blacklaw twice saved well from Jimmy Gabriel. Again McIlroy got injured, this time damaging his nose in a clash with Irish team mate Bingham. He was off the field for over ten minutes getting treatment.


Everton were confident of doing the double but just past the half hour that all changed when John Connelly was played in by Brian Miller. Connelly's shot rebounded and Robson was there to give Burnley the lead with an accurately placed shot.


The game changed and Burnley were the better side now, and only some top goalkeeping from Albert Dunlop who made a string of fine saves. But with just over twenty minutes to go we doubled the lead and six minutes later got a third.


Harris, in for Pilkington, was the architect of both goals. For the first of them he crossed brilliantly for Pointer whose header looked to be heading for the net before Connelly run in to make sure. And then Harris again down the left won the ball back from George Thomson before crossing again for Pointer. This time the Blonde Bombshell turned the ball for Robson who scored his second of the game.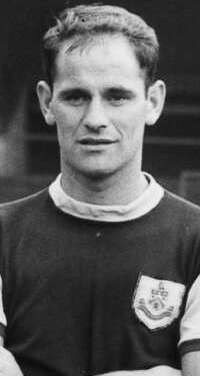 Jimmy Robson - two goals as Burnley turned the tables at Goodison Park
It was sweet revenge for Burnley, 3-0 winners and the massive home support all acknowledged the performance of the Clarets, and as the reporter Don Kendall said, "There was not a single spectator who did not agree with the justice of Burnley's victory and who was not thrilled by the manner of its attainment."
They had been two fantastic games, played by two of the best teams in the country, and now to that amazing turn out. With over 119,000 watching the two games it was a real boost with Burnley picking up a percentage of the receipts from the second game, and how it was needed with potential bad news around the corner.


In the build up to Christmas there was concern that the games might not go ahead with PFA Chairman, the bearded Jimmy Hill, threatening to take the players on strike as they fought to abolish the maximum wage of £20 per week.


Questions were being asked as to whether Burnley would be able to afford to pay the players if the wages went up, whether they would be able to continue as a top club should the top players be in a position to demand more money. Probably life as a top club for Burnley would come to an end if this was allowed to happen.


For now though, fans were flocking to see us play and we had Newcastle coming to the Turf in four days.


The teams for the games against Everton were;


Burnley: Adam Blacklaw, John Angus, Alex Elder, Walter Joyce, Jimmy Adamson, Brian Miller, John Connelly, Jimmy McIlroy, Ray Pointer, Jimmy Robson, Brian Pilkington.


Gordon Harris replaced Brian Pilkington for the second game.


Everton: Albert Dunlop, Alex Parker, George Thomson, Jimmy Gabriel, Brian Labone, Brian Harris, Billy Bingham, Bobby Collins, Frank Wignall, Roy Vernon, Derek Temple.


Referee: Jack Kelly (Chorley).


Attendances: Turf Moor 44,232, Goodison Park 74,867.
Interact with us
Sponsored links