It was played sixty years ago today at Turf Moor. Burnley were 14th in the First Division whilst their opponents Hartlepools (and it did have an S on the end then) were as high as 8th in the Third Division North. Such was the importance of the cup that the attendance was far higher than the preceding or the following home games.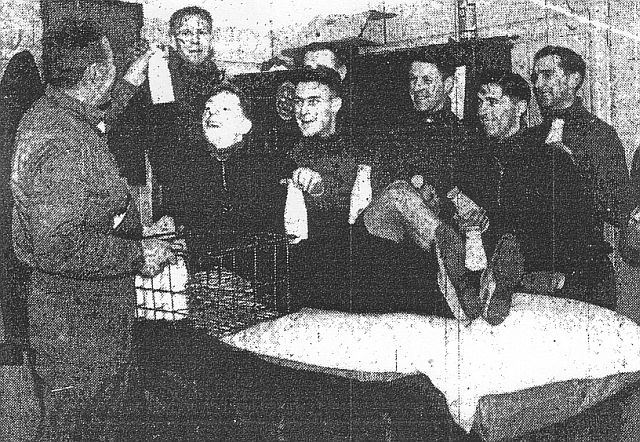 The Burnley players after the cup tie training
The previous game at Turf Moor, a 7-1 win against Middlesbrough, had attracted just over 26,000 and the next, a 2-1 victory over Newcastle, pulled in 33,700, but the cup tie against the lower league team from the North East attracted an attendance of over 38,500 to Turf Moor.
It might have even been one less on the day with one very agitated Burnley fan stuck at the Bank Hall Maternity Hospital hoping and praying his wife would give birth early enough for him to get to the game.
That Burnley fan, a regular for many years, was my dad and my mum was expecting her first born. I'm not sure I'd have ever been forgiven but my timing was perfect, arriving on FA Cup 3rd Round day just over three hours before kick off, just time for my dad to take a quick look and get down to his favoured spot on the Bee Hole End.
Burnley, of course, were favourites, but the Hartlepools arrived the day before the game with their official party claiming to have cautious optimism. They believed they had nothing to lose as, even in defeat, they would pick up a good share of the gate receipts, but hoped to get through with a big tie in the next round.
The Clarets hadn't met a team from that level in the FA Cup for four years and they had painful memories then of a Swindon Town team coming from the Third Division South and beating us 2-0. That meant they would not underestimate their opponents and realised they would be tough opposition.
Even so, Burnley knew that if they played at anything like their best then they should win through by a comfortable margin.
The biggest problem during the week was a mild form of influenza hitting the club with the three youngest first team players - Jimmy Adamson, Tommy Cummings (the captain) and Jock Aird being hit the hardest.
Aird did make cup tie training on the Friday, Cummings was confirmed as fit with only Adamson considered a doubt although he did in the end make it to line up at right half.
Hartlepools arrived well supported. There were no less than 80 motor coaches whilst a further 600 travelled to Burnley by train. They enjoyed themselves too. They brought with them their monkey mascots, one of which was left hanging from some gallows they'd also brought. Another was left in the centre circle but was rescued (as the picture shows) by a local police constable.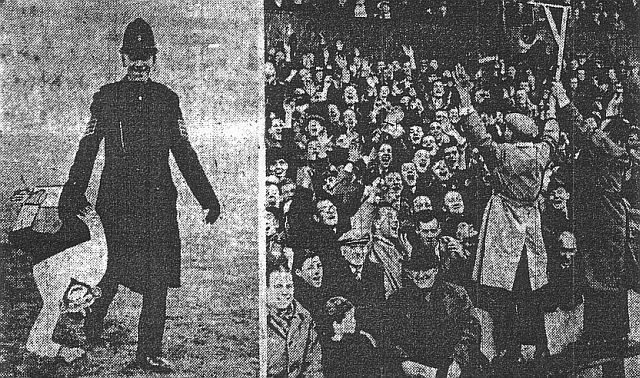 Monkeys in the centre circle and on the gallows
All credit to them. They had come to have a good day out and they even joined in with the community singing as they waited for the match to start.
It wasn't to be there day. There was to be no giant killing; no cup upset and after various alarms Burnley won through but not without a fight.
Burnley were not up to their usual standard, but that was not derogatory to their dour and gallant opponents. Terrier like tackling and the will to challenge and move to the ball brought moments when Burnley looked as if they would be shaken out of their stride.
Call it class, call it training, call it superiority, but Burnley nearly always held that little more football efficiency which extricated them from tight corners and neutralised the effects of stout-hearted and gallant endeavour.
As Burnley had been led to expect, Hartlepools tried to play the off-side game, and the Burnley forwards were placed in this invidious position three times very early in the game. Thereafter they used more care and craft and employed the diagonal pass with a commendable frequency to outwit the play of Willetts, Moore and Thompson, who soon found that such tactics were dangerous to themselves.
Shannon took all the honours of the supreme artist in opening out the game or distributing the ball to the best advantage. He had one of his finest matches, harrying in defence, scheming in attack. It was his good fortune too, to crown such an excellent display with what proved to be the winning goal - one of his famous rocket headers of a similar calibre in style, angle and velocity to the one disallowed at Preston for a colleague's pushing.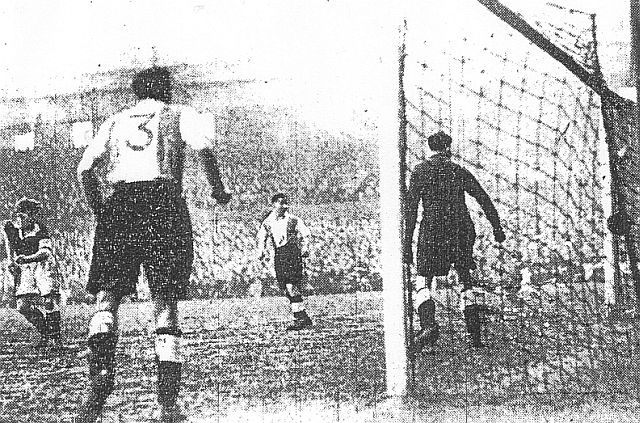 Les Shannon scores the goal
The centre came from Elliott who had move over to the right wing. He sent across a hard cross, SHANNON adding the finishing touches.
The Elliott-Shannon link up was even better than the previous week and held more potential than the Chew-Morris partnership with much of Morris's work coming to nought as Chew had one of his disappointing days. He had developed a dither when in possession, and this hesitant dawdle proved confusing to his colleagues.
Holden had a moderate first half and a poor second owing to the watch-dog vigilance of Moore, one of the smallest and soundest centre-halves in the game and a United stalwart. No Burnley forwards, apart from Shannon, were at their best, particularly after the game.
Adamson gave the impression that he had not fully recovered from his 'flu and throat infection but Attwell did some fine work in the air with Mather always on hand to lend support.
The game proved more in the general conception of that overworked phrase 'a typical cup tie' than redolent of good football, but in this latter respect Hartlepools had their moments. They enjoyed periods of midfield domination which had the Clarets worried if not actually troubled. Their forwards, however, failed to take advantage of some useful service from behind.
There was one late problem as the Burnley players protested that the ball had lost its shape but referee Luty came to the conclusion that what was good enough for one team was equally good for the other.
Burnley could be thankful as they won the game against a team whose supporters gave their all, and these supporters were supporters. They gave everything they had in the way of lung power, rattle power and encouragement, and must have been an inspiration to a team which did their best to oblige.
The teams at Turf Moor were;
Burnley: Jimmy Strong, Jock Aird, Harold Mather, Jimmy Adamson, Tommy Cummings, Reg Attwell, Jack Chew, Billy Morris, Bill Holden, Les Shannon, Billy Elliott.
Hartlepools United: Robert Brown, Joe Willetts, Ray Thompson, John Newton, Watty Moore, Lionel Richley, William Burnett, Frank Stamper, George Wilton, Tom McGuigan, William McClure.
Referee: Mr. A. W. Luty (Leeds).
Attendance: 38,608.
So my dad got to see the game and watch Burnley win through to the next round of the cup whilst my mum recovered from the shock of my arrival.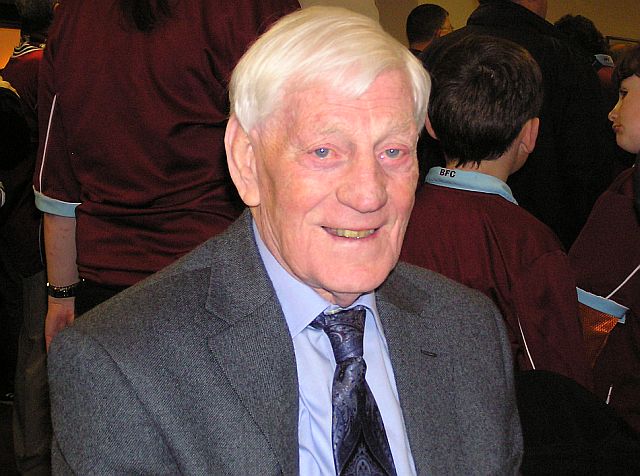 Les Shannon at Turf Moor for the last time in April 2006
Les Shannon got the goal on the day I was born and by chance, in 2005, I was able to make contact with his family. That led to me having the opportunity to meet him when he paid a final visit to Turf Moor for the Burnley v Luton game in April 2006. He sadly passed away in December 2007 at the age of 81.
The first message I received as I left Wembley after the play off win in 2009 came from Les Shannon's niece Caroline. The family had watched the game on television and were thrilled. "Uncle Les would have been so pleased," she said.