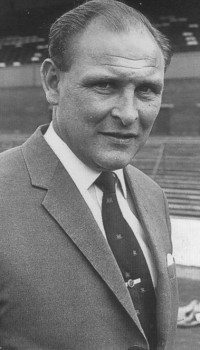 Harry Potts was set for his first home game in charge of Blackpool
The main talking point in town centred on the decision for the schools to move to a comprehensive system, and not everyone was happy with that. Nobby Stokes and Dolly Dearing, headmaster and headmistress at the Grammar School and High School respectively spoke out against it, Dearing claiming that girls should not have to attend the same school as boys.
There was brighter news with Radio 4's Wilfred Pickles in town to record a Christmas special of 'Have a Go' and the town's mayor Councillor Abel Bridge called for all to show goodwill at Christmas.