Goodwill to all men – but not at the seaside
Feature by Tony Scholes
Updated Thursday, 28th September 2006
Christmas was on its way in 1972 and everyone in Burnley was preparing for the festivities whilst the football fans amongst us were looking forward to a promotion clash at Blackpool on Boxing Day.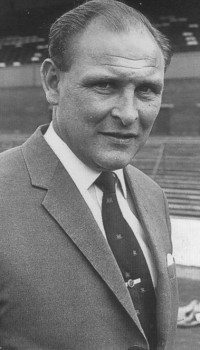 Harry Potts was set for his first home game in charge of
Blackpool
The main talking point in town centred on the decision for the schools to move to a comprehensive system, and not everyone was happy with that. Nobby Stokes and Dolly Dearing, headmaster and headmistress at the Grammar School and High School respectively spoke out against it, Dearing claiming that girls should not have to attend the same school as boys.
There was brighter news with Radio 4's Wilfred Pickles in town to record a Christmas special of 'Have a Go' and the town's mayor Councillor Abel Bridge called for all to show goodwill at Christmas.
For one young Burnley fan, Christmas was going to be special and that was ten years old Mark Jones who suffered from spinal meningitis. It was feared Mark would never walk again but he was adopted by the Burnley players who supported him and gave him the will to walk again and he had done just that. His mum paid tribute to the entire squad in a moving article in the Burnley Express, and singled out Leighton James for special praise.


Blackpool v Burnley – Boxing Day, that's what we were waiting for and Bloomfield Road was expected to be full for a game that looked to be between first and second in the league, but just three days earlier, after Burnley won 1-0 against a
Bristol City
side fielding record signing Bobby Gould for the first time and followed it up with a draw at home to Oxford, the Seasiders fell to a shock 4-0 defeat at
Nottingham Forest
and had fallen behind QPR into third place.
That crushing defeat provided Blackpool's new manager with a poor start having taken over just days before, and the Burnley game was set to be his first home game in charge. He was of course a familiar figure to Burnley fans, our former boss Harry Potts who had left the club in the summer. It was fitting that Harry should have this game as his first home game and he was really looking forward to it.


"I'm delighted to be back in football," Harry said. "And the game should be a real Christmas cracker. Both teams are playing well at present and it promises to be a great match." He added that he hoped he would start with a home win, wanting a Burnley defeat must have proved difficult for him.


Potts had witnessed his replacement at Burnley Jimmy Adamson suffer a demonstration outside Bloomfield Road in the previous season following a 4-2 defeat, but now Adamson (who just over three years later would see his Burnley career crumble after an FA Cup defeat at Blackpool) was returning with his side three points clear at the top of the league with only one defeat, at home to strugglers Orient, all season.


Despite the hectic schedule we went into the game with a full strength side, we weren't subject to making too many team changes during that particularly season, whilst Potts gave young Kevin Tully a debut in midfield, a debut that was to prove dramatic for him.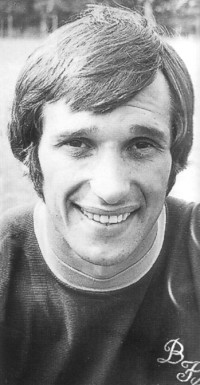 Frank Casper - ended his goal drought with both Burnley goals
I think it is fair to say that the game proved to be one of two halves, in that the first forty-five minutes proved to be a classic only to be followed by a controversial second period that saw a number of bookings, rare in the early 70s, and two sendings off. "The tragedy of this clash was that, until it degenerated into a second half shambles, the match had been a magnificent feast of football," wrote Peter Higgs the new man at the Burnley Express.
Burnley's Frank Casper went into the game without a goal in fourteen games, but he soon removed that statistic in what was an outstanding performance from the Burnley forward. With just ten minutes gone he put the Clarets in front with a goal that came straight from goalkeeper Alan Stevenson.


Frank latched onto his long clearance, forced his way past defender Terry Alcock and slotted the ball home past Blackpool keeper John Burridge to the delight of the packed Burnley support, mainly in the massive spion kop.


We'd started so well and were dominated proceedings in the midfield, but we needed to be wary. In the home game earlier in the season we led 4-0 with less than ten minutes to go and ended the game hanging on at 4-3 before clinching the points.


And Blackpool eventually came storming back at us again and we were thankful for Alan Stevenson, that week called up for the England Under-23 team, for keeping us in front. He made a top save to keep out an Alan Suddick free kick before surpassing that with a stunning save after a Tully shot was deflected.


There was nothing he could do midway through the half though when the home side got the ball down their right wing with Micky Burns. He crossed to the far post where Billy Rafferty, their big striker, headed in to bring Blackpool level.


The rest of the first half was classic stuff, with both sides coming close to taking the lead. We had the edge, and surely should have been awarded a penalty when Dave Hatton tripped Paul Fletcher in the box. Incredibly Middleton referee Ted Jolly, who was to take centre stage in the second half, waved play on.


All square at half time and the two sides left the field to rapturous applause, but the second half got off to a stunning start. Within nine minutes of the restart, Jolly had got his book out on no fewer than three occasions. That might seem nothing today but then was so rare it became a big talking point.


Hatton was first in the book for a foul on Leighton James with just two minutes gone, and a couple of minutes later Alcock followed him after fouling Fletcher. Not wanting to miss out Jim Thomson was booked for a challenge on Keith Dyson, the former Newcastle striker who had hit a hat trick in the same fixture the season before.


The game continued with both Fletcher and Rafferty coming close to scoring before the whole thing exploded twenty minutes in to that second half. The young debutant Tully got himself involved in a touchline skirmish with Mick Docherty, lashed out at him, and was promptly sent off. The home crowd didn't like it, pointed the finger at Docherty, and shamefully started booing him every time he touched the ball.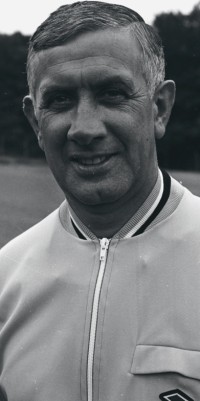 Jimmy Adamson - not one weakness in the side
Some of the Blackpool players showed a less than charitable attitude towards our full back as tempers did anything but cool and Doug Collins became the fourth player to be booked for a foul just before the inspirational Martin Dobson came close after a fine run ended with a shot that went inches over the bar.
Ten man Blackpool were second best now and Burnley seized their chance. Casper got hold of the ball in the middle of the field and played it out to Keith Newton on the left hand side. The full back got down and his cross was met by Burridge who punched clear, but only as far as Casper on the edge of the box. He hit a first time inch perfect lob over the keeper and in for the winning goal.


"E-I-E-I-E-I-O, Up the Football League we go," cried the Burnley fans as we wrapped up another two points, but Blackpool and Jolly weren't finished yet as Alcock was sent off for a foul on Casper. Home captain Hatton was so incensed at this decision that he threatened to take his players off the pitch. He didn't and Fletcher came within inches of adding a third before the controversial Jolly blew for time.


There was no love lost between Adamson and Potts, so the Burnley manager felt the need to make reference to their sendings off. After the game he said: "I thought we played well and always looked as if we were in control. We always looked the likelier side. I was pleased we kept our cool when they lost theirs. We showed our experience in not getting involved.


"I thought Martin Dobson had an outstanding match, but the player who got more delight from the game than anyone else was Frank Casper. In general I thought it was a good all round team performance with not one weakness in the side."


Harry Potts said after the game: "I thought it was a great first half, very entertaining and attractive. Unfortunately it did not go the same way in the second half but I don't want to say anything about the sendings off until I have seen Mr. Jolly's report. I thought we had given a good account of ourselves until then and if we had stayed at eleven men I think we might have just clinched it at the end."


The teams were;


Blackpool: John Burridge, Dave Hatton, Peter Hardcastle, Terry Alcock, Peter Suddaby, Kevin Tully, Micky Burns, Alan Suddick, Billy Rafferty, Keith Dyson, Alan Ainscow. Sub not used: Bill McGrotty.


Burnley: Alan Stevenson, Mick Docherty, Keith Newton, Martin Dobson, Colin Waldron, Jim Thomson, Geoff Nulty, Frank Casper, Paul Fletcher, Doug Collins, Leighton James. Sub not used: Billy Ingham.


Referee: Ted Jolly (Middleton).

Attendance: 25,277.


On the same day the reserves drew with Wolves at the Turf with a sixteen year old defender making a brilliant debut at left back. The player was Terry Pashley who went on to have a long playing career with Blackpool, and has been back at Burnley for well over a decade as youth team coach.
Interact with us
Sponsored links