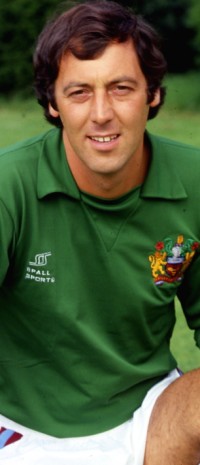 Alan Stevenson - two brilliant saves
A win over Liverpool on Boxing Day had seen us go third, just a point behind the Merseyside team. We'd proved a lot of people wrong on our return to the top flight, many had predicted immediate relegation, and instead we were pushing for a place in Europe.
Things started to go wrong both for Burnley and away from football. It was a winter of power cuts and the three day working week, and a period that forced Burnley into playing a league game on a Saturday evening.
Our Member of Parliament Dan Jones was in the news; he was slammed by local retailers who believed some of his comments during the crisis had had an effect on trade. He was also in the news claiming that recent vandalism and break-ins on the Hargher Clough estate had reached epidemic proportions.
Games had been kicking off early because of the restrictions but we were set to return to the normal 3:00 p.m. starts as we looked to get ourselves moving again in the league, although there was good news with us in the semi-finals of the FA Cup.
We'd beaten Wrexham in front of a crowd of over 35,000 to get through, but the club had upset many supporters at this game. In their wisdom they decided that there would be no ticket sales ahead of the game and some thirty minutes before kick off they closed the gates with many still outside and the ground well short of capacity.
Having won through we were drawn against Newcastle, but that was suddenly changed. Because of crowd trouble at St. James Park the FA were considering whether to take sanctions against Newcastle who had beaten Nottingham Forest. Ted Croker of the FA said: "We do not have the power to order the match to be replayed. But if Newcastle are found to be in breach of FA Rule 26 they could be disqualified from the competition."
So, the FA, who did not have the power to order it to be replayed, went ahead and ordered it to be replayed, and after two more games between the sides it was Newcastle who won through at Goodison Park. They had met three times and Forest had not been allowed to play any one of the games at home.
We'd that semi-final to look forward to in two weeks, before that we had a trip to Leeds, but now on the back of three successive league defeats, and a run of ten games without a win that had yielded just four points, we faced an Everton side who had beaten us 1-0 earlier in the season at Goodison, the goal scored by Dave Clements from the spot after an appalling penalty decision from referee Clive Thomas against Keith Newton for handball.
Three days earlier, on a Wednesday afternoon, we had gone down 3-0 at Chelsea in a game that goalkeeper Alan Stevenson missed because of England Under-23 duty. He was back in the side, as was Peter Noble who had missed the trip to London serving a two match suspension.
The bad news for a side that was struggling to score goals was that Paul Fletcher was ruled out with flu and to make matters worse midfielder Doug Collins was rated as doubtful as he was suffering from sinus trouble. The better news was that Frank Casper had been back in the side for the past few games having been out injured for a few months.
Collins did make it in the end, and that proved to be vital for the Clarets on a day when for so long it looked as though the poor run and lack of goals was to continue. Trailing by one goal to nil, we finally equalised with just under a quarter of an hour to go, and less than three minutes later we'd wrapped it all up as we took a 3-1 lead. Yes three goals in under three minutes and as Peter Higgs of the Burnley Express reported we'd scored as many goals in three minutes as we had done in the previous 653 minutes of league action.
There was no sign of all this in the opening period of the game when we had to take second best to a slick moving Everton who at times were over running us. And it came as no surprise at all when they went in front. It was a poor goal from Burnley's viewpoint as Bob Latchford got above Stevenson and Colin Waldron far too easily to head home a cross from John Connolly.
It wasn't the sort of return to Burnley action that Stevenson was hoping for, but he more than made up for it either side of half time with two brilliant saves to keep the visitors' lead down to one.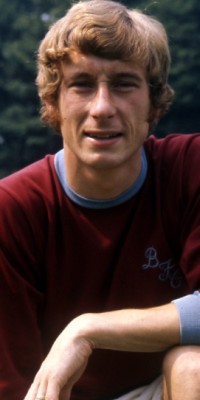 Geoff Nulty put us in front
Just past the half hour a long run from full back Steve Sergeant ended with a short cross that was handled by Jim Thomson and referee Biddle had no hesitation in pointing to the spot. Clements had scored that penalty in the away game but this time Mike Bernard stepped up only to see Stevo make a superb stop down to his right, pushing the ball away.
Just after the start of the second half he bettered it with a breathtaking stop from a low Mike Bernard shot and that proved to be the turning point of the game as the Clarets got on top and even when forced to make a change when Keith Newton, a former Evertonian, went off injured we continued to dominate the game.
Collins was in inspirational form, his distribution setting up attack after attack, and he played an important role in our equaliser. We won a free kick on the right hand side following a foul on Noble, Collin's inch perfect cross was met by Waldron who gave Dave Lawson no chance with a powerful header.
That goal came on 75mins, 25secs, and on 77mins 10secs we were in front. Again it was Collins, this time from a right wing corner. He found Ray Hankin at the far post who headed back into the middle for Geoff Nulty to head home from close range.
It was amazing stuff and with the clock showing 78mins 20secs we incredibly scored again. No Collins this time, just a fantastic run from Leighton James as he beat three men before hitting home from just inside the penalty box.
There was nearly a fourth as Lawson failed to hold a Hankin header, but it dropped on the line before it was hastily cleared, and with that the referee brought the game to an end. We'd had twelve corners in that second half, six shots on target with three of them going in. That last forty five minutes was like the Burnley of earlier in the season.
Manager Jimmy Adamson was delighted. "We badly needed a win today no matter what the score," he enthused after the final whistle. "It is nice to get that win under our belt." The result had taken us back up to eighth in the table and really had set us up for the most difficult game of the season a week later against runaway leaders Leeds at Elland Road.
Now that's another story for another day, a game I am sure will eventually feature in our Games to Remember.
The teams were;
Burnley: Alan Stevenson, Peter Noble, Keith Newton (Billy Ingham 65), Martin Dobson, Colin Waldron, Jim Thomson, Geoff Nulty, Frank Casper, Ray Hankin, Doug Collins, Leighton James.
Everton: Dave Lawson, Terry Darracott, Steve Sergeant, John Hurst, Roger Kenyon, Dave Clements, Mike Bernard, Mike Buckley, Bob Latchford, Mike Lyons, John Connolly. Sub not used: Dave Jones.
Referee: D. J. Biddle (Bristol).
Attendance: 19,319.