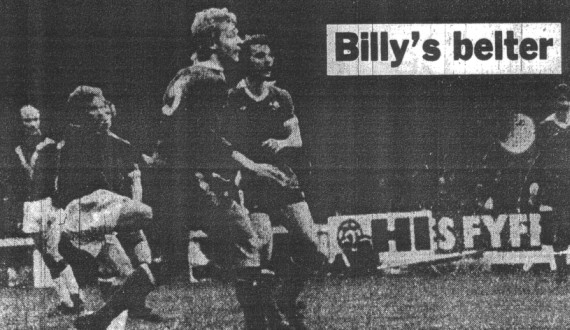 Defenders Steve Wicks and John Sparrow can only watch in dismay as Billy Ingham's shot heads for the net
The 1976/77 season had been a difficult one for Burnley. Relegated from the First Division there had been real hopes of us bouncing straight back at the first attempt but instead we found ourselves in another relegation battle.
In February manager Joe Brown paid the price for the club's predicament and was sacked. Chairman Bob Lord immediately handed the responsibility to Harry Potts who had returned to the club in the summer as chief scout.
There wasn't an immediate improvement but when Chelsea arrived at Turf Moor on St. George's Day we'd enjoyed a run of three wins, three draws and just one defeat in the previous seven games.
We were still only one point above the drop zone and were facing the league leaders who weren't too far from claiming a place back in the top flight. This was going to be a difficult afternoon for the Clarets but it all went right with a sensational goal winning it for us five minutes from time.
"It could not have gone more to plan if the Clarets had written the script," wrote Burnley Express sports editor Peter Higgs. "To hold Chelsea for most of the match and then knock them senseless with a late winner was the perfect formula."
Burnley had started the game really well, taking the game to Chelsea, but we couldn't get ourselves in front and as the first half wore on so Chelsea came more into it. They got so much on top they threatened to run riot as they sliced through us time and again.
Thankfully we held on at 0-0 until half time and the game had a dramatic change after the break. We got on top almost from the start and put their goal under siege as we attacked in waves towards the Bee Hole End of the ground.
Paul Fletcher, who had forced a stunning save out of Peter Bonetti in the first half, missed a chance early in the second half from a Tony Morley cross and then both he and the inspirational Peter Noble had half chances with headers.
It looked as though Chelsea would survive and had they done so they would have owed much to Bonetti and Ron Harris. Then Billy Ingham had the final word, and what a word, with his first goal of the season.
It was a moment to savour as Ingham took a pass from Noble on the edge of the Chelsea penalty area. He flicked the ball over the head of Steve Wicks and then volleyed it towards the top corner. Bonetti got a hand to it but could do no more than help it into the net.
Higgs said: "The goal was an important one and will be talked about for a long time to come," and how right he's been proved.
In the dressing room after the game Ingham's team mates dubbed him 'The Ginger Pele' and it was a name that stuck with players and fans alike.
A beaming Harry Potts said: "What a magnificent goal it was. It deserved to have the setting of a big occasion and a 50,000 crowd," and on the performance he added: "We had to stop them playing the way they had done in the first half, and we stopped them better than they stopped us."
Burnley had defended brilliantly when they had to with both central defenders, Billy Rodaway and Peter Robinson, in outstanding form as was goalkeeper Alan Stevenson. But the stars of the second half show were Noble and Ingham who just run the show in the second half.
"It must be one of the best goals I've scored," Ingham said after the game. "There was one I got two years ago against Luton, which I thought was a better build up, but I was still delighted about this goal. It didn't matter who scored as long as someone did. The team is playing well and it was great to get the win we deserved."
The win didn't take us away from the relegation positions with all the bottom teams winning, but two wins from the remaining four games ensured we wouldn't suffer successive relegations.
The teams were;
Burnley (4-3-3):
Alan Stevenson, Keith Newton, Peter Robinson, Billy Rodaway, Ian Brennan, Billy Ingham, Peter Noble, Brian Flynn, Malcolm Smith, Paul Fletcher, Tony Morley. Sub not used: Terry Cochrane.
Chelsea (4-4-2):
Peter Bonetti, Gary Locke, Steve Wicks, Ron Harris, John Sparrow, Ian Britton, Charlie Cooke, Ray Wilkins, Ray Lewington, Steve Finnieston, Tommy Langley. Sub not used: Clive Walker.
Referee:
Mr T. Farley (Co. Durham).
Attendance:
14,927.