Two weeks earlier, in that previous home game, we'd been hammered 5-1 in the fog against Liverpool prompting manager Harry Potts to make the changes. The fog was so bad at the game that, thankfully, most supporters at the ground weren't able to see what was going on.
We were 1-0 down at half time with Johnny Price equalising early in the second half, but Bill Shankly's team hit us with four goals in the last seventeen minutes to win easily.
Back then, a string of team changes were unheard of but Potts wielded the axe like he'd never done before. Out went John Angus, John Talbut, Willie Morgan and Arthur Bellamy a week later for the trip to Blackpool to be replaced by Fred Smith, Sammy Todd, Ian Towers and Willie Irvine. It worked; we won 4-2 with Andy Lochhead getting a hat trick and Irvine also on the scoresheet.
Now it was Sheffield United at home and the hopes of a win to help the town celebrate Christmas and lift us from 18
th
in the league, our lowest position for some number of years.
Chairman Bob Lord had been in the news earlier in the week as rumours swept town that he was suffering ill health and would be moving to Bournemouth. When asked about it by the Burnley Express, Lord was in typical forthright mood.
"Yes, yes, I'm dying, but not fast enough for some people. Is this rumour the best they can do?" he said. "So many people seem very concerned about my health. Why don't you ring my doctor?"
Lord added: "What if I say it's untrue and then I decide to go there in six months time? I would like to live there, but there are other places where I'd like to live also.
"I have ramifications and responsibilities in Burnley. What about them? I suppose I could travel daily, because it's only just over an hour from Bournemouth by air and I'm thinking of buying an aeroplane. "Didn't you know?
"And I already have two - or is it three houses in Bournemouth. Hadn't you heard?"
By Saturday, many townsfolk were looking forward to a good day. After the football there were some really top entertainment options. Shane Fenton and the Fentones were appearing in Rosegrove whilst at St. Stephen's Church the Mothers Union were giving 'Black and White Mother's concert which would see half the mothers black up in a show similar to television's Black and White Minstrels. They were being supported by the beat group 'The Schemers' formed by five boys from the church.
During the night, for those interested, a telescope had been set up at Towneley school for the eclipse of the moon.
But back to the football, and Harry Potts had injury problems with both Lochhead, the scorer of that hat trick at Blackpool, and inside-left Gordon Harris ruled out through injury.
Bellamy won a quick recall to replace Harris but Lochhead's place went to young reserve team centre-forward Ralph Coates who had been making a name for himself in his first full season in the Central League.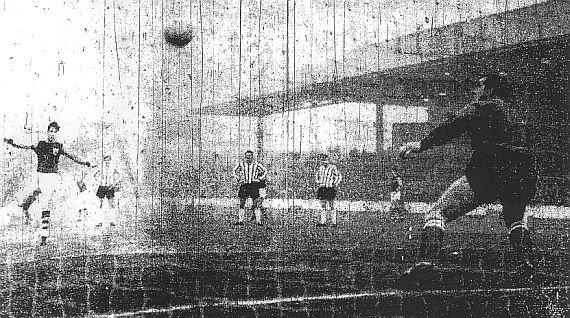 Alex Elder blasts home the penalty to draw Burnley level
Burnley and Coates got their Christmas tonic with a 3-1 win, despite having fallen behind during the first half, and it was an Irish celebration with Alex Elder bringing us level from the penalty spot and Willie Irvine scoring two brilliant second half goals to complete the scoring.
Conditions weren't good. The area was in the middle of a cold spell and the pitch was rock hard which made it difficult for all the players on a surface that would not be passed fit in today's football.
It was the conditions that cost us too on 18 minutes when both Smith and Miller struggled on the surface and were unable to deal with a ball through from Jones. It found outside-right WOODWARD who had drifted over to inside-left, and his curling shot gave Blacklaw no chance.
Burnley were the better side in the first half and deservedly drew level five minutes before half time. Shaw upended Price as he looked to find new boy Coates and
ELDER
made no mistake from the penalty spot. In typical Elder fashion he blasted the ball high into the corner past former England goalkeeper Hodgkinson.
It was still Burnley in the ascendancy in the second half but it took until fifteen minutes from the end for the goal that gave us the lead. Towers and Bellamy linked up down the right and when Bellamy found
IRVINE
he side footed the ball home in no nonsense style.
Five minutes later the game was safe when
IRVINE
got his second with a vicious header following a Towers free kick.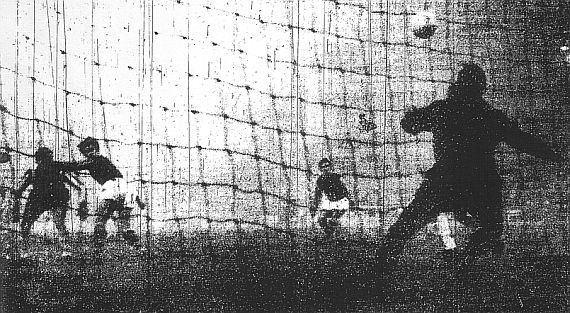 It's 3-1 as Irvine gets his second
There was no comeback for the Blades who had been well and truly blunted by Burnley with Irvine getting the Man of the Match award from Burnley Express reporter Keith McNee. He claimed his two goals were goal of the season contenders and said of the centre-forward who had been nursing an injury during the season:
"Burnley centre-forward Willie Irvine has scored three goals in two games on his comeback after injury to make his season's total nine in fifteen appearances. In this mood he is going to be an asset to club and country for the rest of the season.
"He has allied a new found strength to his skill, as he showed in this match by not allowing the buffeting he took to distract him for the job of goalscoring."
The young Coates did well in his first game and he showed he had the potential to be a valuable asset to Burnley and on three occasions he came within a whisker of joining those players who have scored on their first team debut.
The teams were;
Burnley:
Adam Blacklaw, Fred Smith, Alex Elder, Sammy Todd, Brian Miller, Brian O'Neil, Ian Towers, Ralph Coates, Willie Irvine, Arthur Bellamy, Johnny Price.
Sheffield United:
Alan Hodgkinson, Len Badger, Graham Shaw, Brian Richardson, Ken Mallender, Reg Matthewson, Alan Woodward, Keith Kettleborough, Mick Jones, Tony Wagstaff, Barry Hartle.
Referee:
Mr Jack Taylor (Wolverhampton).
Attendance:
10,295.