Our Game to remember this week takes us back over eighteen years, to a Burnley FC that were still recovering from the Orient game the previous year and one of those wonderful nights that those there will never, ever forget.
Around a year earlier hardly anyone cared about the Football Club, it was dying on its feet in front of crowds that could be fit into a couple of sections of the Bob Lord Stand. We'd survived, brought in some new players, improved, but no one quite expected this within a year of our survival.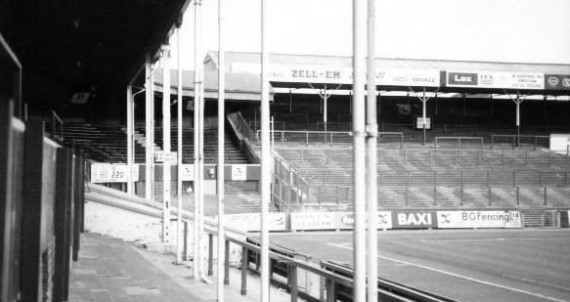 A look at the local papers during that week suggested there was very little going on in the town other than the build up to the game at Deepdale, the second leg of the Northern Final of the Sherpa Van Trophy. No one took much notice that the Cats Whiskers was set for a £1 million new look and even a police enquiry into the actions of a rival goalkeeper hardly caught the eye.
That goalkeeper was Mark Kendall of Wolves, I think most of you will recall him. He'd been gesturing to those in the Bob Lord Stand during a recent league game against the Molineux club and had been reported by some Burnley fans. Kendall was angry about it; some reckon he got his own back almost four years later.
Preston were a division higher than us and had two more huge advantages ahead of the game. They had already done the hard work by drawing 0-0 in the first leg at the Turf and the second leg would be played on their ridiculous artificial surface.
A year earlier we had been playing in front of crowds of less than 2,000 but not far short of 16,000 had witnessed the first leg, when we probably felt that our chance of a visit to Wembley had gone.
The team had gone off to Blackpool ahead of the game for training and would travel straight to Deepdale from there. I'd spent the day a couple of miles away from the ground at work, although I'm not sure on such an important day I got too much work done. I decided to take the long route to the game, travelling back to Burnley and returning on one of the Supporters Club coaches.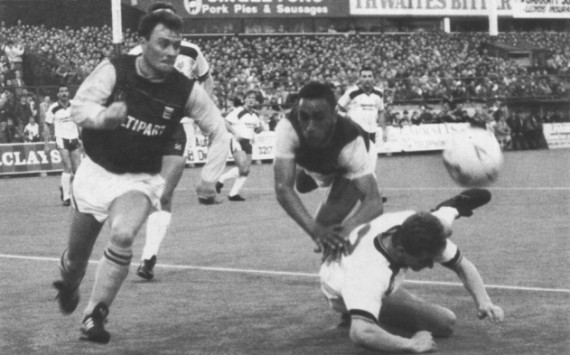 Manager Brian Miller reported that he had a fully fit squad but would probably not risk Peter Daniel who had been out for six games with a thigh injury. "It seems a big risk to ask him to come straight back into the side for such an important game," Miller said. He recognised that Preston were big favourites but said his Burnley side would give it everything for the 5,000 plus travelling fans to try and give them a good night.
The Burnley fans were pouring into the ground long before kick off and you wondered just how they were going to get us all into that town end of the rickety old ground. The solution was to squash us in like sardines, but there were no complaints, as long as we all had a view of the pitch.
Well over 17,000 were packed into the ground when the teams came out, all in trainers and being asked to run around on something that was akin to a sand pit. It was going to be a tough ask for the Clarets.
Preston put us under some pressure, but as in the home leg we defended well and anything that did get through was dealt with by goalkeeper Chris Pearce. He'd made a couple of good saves to deny both Gray Brazil and Brian Mooney but when Brazil played Gary Swann through with a good ball it led to the first goal.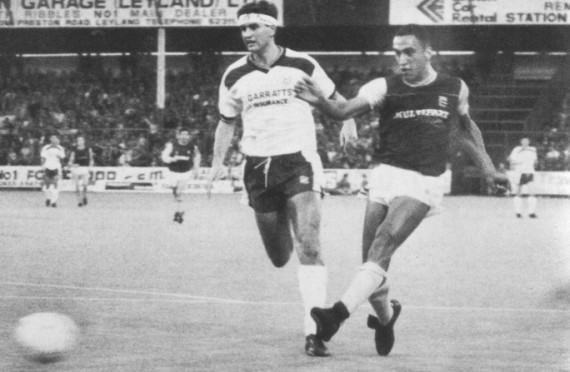 Pearce came out to block the shot, ended up down and in need of treatment but referee Barratt waved play on. Ian Britton picked up the ball and moved forwards before playing a superb ball through for George Oghani. The striker took the ball in his stride and beat David Brown with a cross shot right in front of the home fans.
We'd broken the deadlock, and early in the second half Paul Comstive was inches away from doubling the lead but his shot went agonisingly wide. It was a good chance missed, and a miss that we hoped wouldn't come back to haunt us as Preston came back at us.
On 66 minutes that's just what did happen, they won a free kick, Brazil got on the end of it and it was 1-1, and the battle was back on. Both sides could have won it, both had chances, but when the final whistle blew it was still level and that meant extra time.
With just three minutes of that extra time gone we won a free kick on the left which captain Ray Deakin took. Steve Davis got his head to it and knocked it down to Oghani who in turn back heeled it for Ashley Hoskin but his first shot was blocked. He was back onto it in a flash and blasted the ball past Brown to put the Clarets back in front right in front of the 5,000 fans.
The whole end lifted as the players celebrated, could this be the one that counted, would we keep Preston out? Some Burnley fans thought so and suddenly the most massive of banners appeared just to my right. It read, "Wembley 1988 Burnley FC". Were we really on our way to Wembley?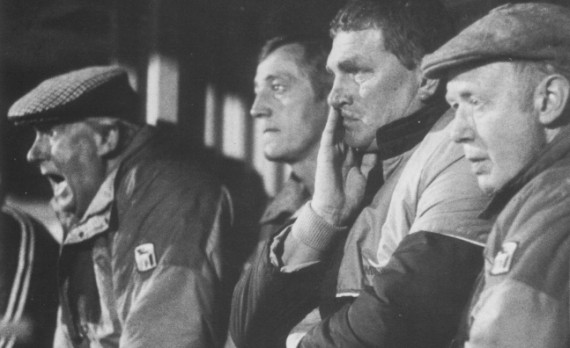 It was far from over and Pearce saved well again from Mooney, but you sensed the home side were getting desperate, we were dealing with just about anything they could throw at us. The noise in that away end was deafening but with three minutes of extra time to go those noise levels lifted again as Comstive and Oghani shared passes down the far end before Commy hammered the ball home for number three.
The scenes were incredible and watching those last three minutes, knowing where we were heading in May, was just wonderful. The home fans were beginning to drift away, the Burnley fans were getting louder and louder and it's a surprise anyone could hear that long final whistle from the referee.
It signalled the most amazing scenes as both players and fans went crazy. For some fans it would be a first visit to Wembley, I'd been very fortunate in that I'd seen us there in the 1962 FA Cup Final. My dad had taken me and I suddenly had a sad thought knowing he wouldn't be well enough to go this time, but I knew he'd have been there celebrating with the rest of us given the chance.
An emotional Brian Miller came over to salute the fans, what a moment for Brian who had played in that last FA Cup Final but would now lead his home town team out at Wembley as manager. He'd had a nightmare a year ago, how he deserved this on what had been a big family occasion with son David in the Preston team.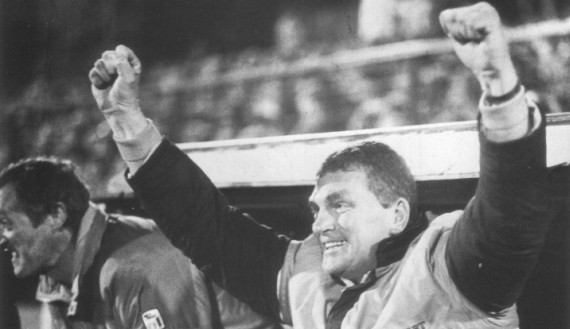 "It's a very emotional night for me," he said. "It was a shambles at this club when I came back two years ago, but we have gradually clawed it round and are starting to get the club back where it should be. It is going to be a fantastic end to the season but tonight I am especially pleased for our fans who really love Burnley Football Club."
The home stands were empty, the away end was still packed as Chairman Frank Teasdale came out of the players' tunnel. "Obviously this result has been great for the lads and the club, but I am especially happy for our fans out there," he said pointing at the wild celebrations. "Those fans have stuck by us through some difficult times and now we've given them something back. I couldn't be happier for them," he added.
Plans were being put in place for Wembley even before we reached home, Brian 'Box Car' Lucas was already making arrangements for the Supporters Club coaches to Wembley, with suggestions that the whole town would want to go.
It had been an exhausting night but I was still up bright and early to make my way to Preston for work the following morning. I was surprisingly subdued, I don't think it had really sunk in. Early that afternoon a part time Preston fan, I think it had been his first game of the season, started telling me how we'd been lucky and got all the refereeing decisions our way, you know the sort of thing.
It was a real sour grapes story, pathetic to be honest, so I just looked up at him and said, "Have you got any plans for the Bank Holiday weekend?" "No, he said, have you?" I smiled, it had sunk in now. "Yes, I have as it happens, I'm going to Wembley to watch the Clarets – now **** off."
The teams on that wonderful night were;
Preston: David Brown, David Miller (Les Chapman 115), Warren Joyce (Oshor Williams 109), Bob Atkins, Alex Jones, Jeff Wrightson, Brian Mooney, Gary Swann, Tony Ellis, Gary Brazil, Ron Hildersley.
Burnley: Chris Pearce, Shaun McGrory, Ray Deakin, Ian Britton, Steve Davis, Steve Gardner, Andy Farrell (Phil Malley 78), George Oghani, Steve Taylor, Paul Comstive, Ashley Hoskin. Sub not used: Phil Devaney.
Referee: K Barratt (Coventry).
Attendance: 17,592.