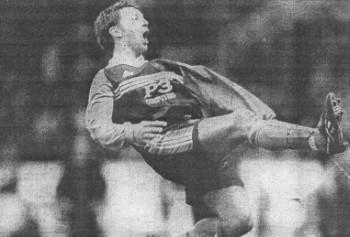 Tom Cowan celebrates his spectacular goal
We'd been in two of them in the previous three seasons, and now in 1999 with ten games to go we were even worse off than in the previous season under Chris Waddle at the same stage, and this despite spending what could only be described as big money for Burnley.
Since December we had brought in no fewer than seven new players, spending not far short of £1.5 million in transfer fees but things had hardly improved. On the previous Saturday, one of those new signings Micky Mellon scored a late equaliser at Wrexham to give us a point, our first point in five games. We'd gone eight games without a win and suffered two embarrassing home defeats to Gillingham and Manchester City when we conceded no fewer than eleven goals without reply.
It was transfer deadline week and manager Stan Ternent, in his first season in charge, had again tried to bring in reinforcements but missed out on three targets. Derek Lilley was one of those targets, but he moved from Leeds to Bury, opting to join a club in a higher division than ourselves. Paul McGregor of Nottingham Forest signed for Preston as did our third target, full back Graham Alexander, who made the move to the North West from Luton.
Just a few days after the deadline closed, we were to meet fellow strugglers Macclesfield Town. The game had been put back to the Sunday because of England's European Qualifier against Poland at Wembley, a game England won 3-1 courtesy of a Paul Scholes hat trick.
Oldham did us no favours the day before, they went down 3-0 to Wycombe, and as we went into the game we had 35 points, Wycombe had 34 and both Northampton and Macclesfield had 33 points with Macclesfield in bottom place.
There was some needle following the game at Moss Rose, a game played on a waterlogged pitch that helped referee get his title of Flood Warden. It should never have gone ahead, but they beat us 2-1 and there was an unsavoury incident that saw Andy Cooke sent off for elbowing central defender Efe Sodje.
We couldn't afford to lose this game, but most supporters were saying that relegation would be a certainty if we didn't win it. With less than a quarter of an hour gone those fans must have been preparing for life in the basement division again as Macclesfield got themselves off to a dream start.
Nothing much had happened but with nine minutes on the clock the visiting goalkeeper Ryan Price kicked the ball down field. Left back Tom Cowan, one of our newest recruits and playing just his third game, made a hash of heading it back to Paul Crichton and it fell for Kieron Durkan who chipped the ball over the advancing Burnley goalkeeper.
Turf Moor went silent, but we came storming back at them. Glen Little should have equalised but blazed a shot over the bar and then Cowan almost made amends for his mistake only to see a brilliant header cleared off the line.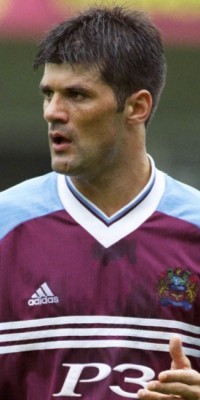 First goal in 11 games for Payton
Burnley were on top now but just five minutes after taking the lead, Macclesfield went down and got a second. They were able to walk though our defence, got a ball across the box, and as Chris Brass looked set to clear he was beaten to it by John Askey who scored from close range.
At that moment had you offered anyone a bet on Burnley staying up I'm not sure many inside the ground would have taken it. Burnley 0 Macclesfield 2 was really hard to take and with those 5-0 and 6-0 defeats still just a few weeks earlier we feared yet another humiliating scoreline.
Thankfully we were only two behind for three minutes. Graham Branch, another of the recent signings, got down the left. Goalkeeper Price failed to hold his cross and Little bundled it home off the post. It wasn't pretty but who cared, we were back in this game.
It signalled a spell of Burnley pressure and goalkeeper Price was feeling it so much he twice came out of his box with the ball but both times referee David Laws chose not to give anything. He did save from Paul Cook, he saw a Mellon effort go wide but there was nothing he could do with a Cowan header that fairly hammered against the bar. Just after that Branch missed the best of the chances, through one on one he tamely lifted the ball straight into Price's hands.
We seemed to have lost some of that momentum and the opening stages of the second half were quiet with neither side stamping any authority on the game. But a move involving Little and Branch changed all that. It came to nothing when Andy Payton shot wide but it gave us the lift we needed and Macclesfield were about to face another onslaught.
Back at the beginning of the game it was Cowan's mistake that gave Macclesfield the lead. Since then he'd turned in a faultless performance, had one header cleared off the line and then seen another rattle the bar. But just before the hour he lifted the roof off the place with a spectacular equaliser.
It came from a corner taken by Mellon. It was headed back into the middle by Lenny Johnrose, just on as a substitute, and Cowan stunned everyone with a brilliant overhead kick that flew into the net. It really was a special goal, and the full back celebrated in front of the Bob Lord Stand by re-enacting the move.
Surely this was all we needed to go on and win the game. We were head and shoulders better than this Macclesfield team, but even before the goal celebrations had died down they got themselves back in front. Crichton was beaten by a headed and as it came back off the bar Durkan volleyed home for his second goal of the game.
That left visiting boss Sammy McIlroy dancing down the touchline with glee, without doubt to the annoyance of Ternent. There was clearly no love lost there, presumably due to the game earlier in the season.
Burnley had a fight on their hands now, but it was a fight we were determined to win, and win it we did. Right from the restart we hit Macclesfield with a wave of attacks that only came to an end when referee Laws blew his final whistle. For almost half an hour we murdered them.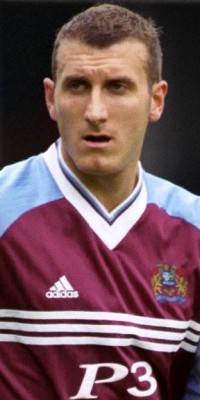 Glen Little tormented them
They held us at bay, one way or another, until eleven minutes from the end. Steve Davis moved forward out of defence but looked to have played a poor ball towards Mellon. He got in a tackle and the ball looped up and fell invitingly for Payton who was onto it. His run took him to the edge of the box, he was up against goalkeeper Price, and Payts just didn't miss these. He wasn't about to start either and lobbed it over the goalkeeper to bring us level again.
We just kept going and going. They couldn't stop us. Little was tormenting them to death down our right and setting up chance after chance, but we didn't take them. When Davis hit a shot wide it looked as though it would be a draw, but there was to be one last chance.
In the 89th minute, from another Mellon corner, Davis got above Sodje and fired a powerful header into the net past Price. Incredibly, we were in front. The players celebrated, the fans went crazy, and down on the touchline the dug out surpassed anything that McIlroy had managed when his side went in front.
Ronnie Jepson, on as a second half substitute, did what he did best and run the clock down until Laws blew his whistle for the last time with Burnley winning it 4-3. Finally we'd got that win, and it had taken us up two places in the table and out of that bottom four.
There was a skirmish on the touchline at the end as McIlroy rushed across to pull his centre half Sodje away as things looked as though they were going to get ugly and there appeared to be a confrontation between the two managers.
It was Ternent who had the last word on it. "When we played at Macclesfield, Sodje, in my view, cheated and got Andy Cooke sent off. The incident was a roll on from that. The lads told him they were incensed and asked him how he felt," the Burnley boss explained.
"Sammy McIlroy accused me of calling them a pub team but I never said that, but I do think Sammy could have done something about Sodje at the time. We reported him to the PFA because he bragged that he got Cooke sent off, and players have long memories. But I shook hands with Sammy, I have no axe to grind, and he runs his club the way he sees fit."
Payton, who had scored for the first time in eleven games, summed it all up. "My goal gets the ball rolling for me again," he said. "It was a deserved winner from Steve Davis. We had hit the bar, had one off the line but eventually it went in.
"It felt like the Plymouth game today, it was that sort of atmosphere. It's bad to concede three goals at home but we can take a lot out of scoring four. There's a long way to go but we will take some confidence from this win."
Wins are wins, but some always appear more important than others. This win got us out of the bottom four. We didn't return and we've never been that low since. It was a major turning point that led to safety, a promotion the following year and where we are today.
The teams were;
Burnley: Paul Crichton, Ally Pickering, Chris Brass, Gordon Armstrong (Ronnie Jepson 63), Steve Davis, Tom Cowan (John Williamson 72), Glen Little, Micky Mellon, Paul Cook, Andy Payton, Graham Branch (Lenny Johnrose 55).
Macclesfield: Ryan Price, Darren Tinson (Rae Ingram 43), Steve Hitchen, Steve Payne, Ben Sedgemore, Efe Sodje, John Askey, Neil Sorvel, Richard Landon (Pedro Miguel Matias 55), Steve Wood (Steve Soley 83), Kieron Durkan.
Referee: David Laws (Whitley Bay).
Attendance: 10,500.