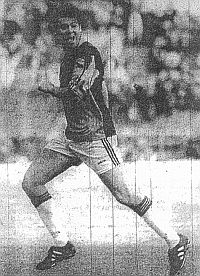 Chris Waddle celebrates his first Burnley goal
We hadn't scored a goal in any of the first six games and it took us until game eleven to record our first league win. That win was included in a run of four games unbeaten as we went into this game against a Bournemouth side that were considerably higher in the table.
We were still bottom going into the game, behind Plymouth on goal difference after we'd drawn with them at a virtually closed down Home Park during the week. Visitors Bournemouth were eighth with goal difference keeping them out of the play offs.
Ahead of the game Waddle confirmed that no players would be going out on loan. Notts County had enquired about Glen Little, who had played mainly in the reserves since he was signed by Adrian Heath in the previous season from Glentoran, whilst Jamie Hoyland had attracted interest from Shrewsbury.
"Letting players go out on loan is not the way forward for us at the moment," Waddle said. "If someone wants to but a player, that would be a different matter, but the squad is a bit limited at the moment for a variety of reasons and loans are not the right thing for me to be doing. If we had a bigger squad I would love to be in a position to help people out, but that's not the case at the moment."
The squad was down by one for three games with midfielder Mark Ford serving a suspension with Waddle admitting: "Mark has shown good form in recent games and losing him is disappointing. Michael Williams is fit and has had to put up with a place on the bench. He now has three games in which to grab a shirt and make it difficult for Mark to get back in when his ban is over."
Waddle stressed the need to start putting a run of wins together at home, but whilst we failed to get that second home win the undefeated run did continue with a third successive draw as we shared the points with two goals apiece.
The game was described as a bizarre affair by Edward Lee of the Burnley Express who wrote that both teams must have known they had done enough to win the game and both must have also known how close they came to losing it.
Burnley were the better side in the first half when Bournemouth hardly got a kick but it was so much different after the break when the visitors looked threatening every time they went forward.
We were very patient as we held the ball for long spells, knocking it around whilst looking for an opening against Mel Machin's well organised back line but we got the breakthrough on the stroke of half time, giving the manager his first (and only) goal in Burnley colours.
He'd played better than at any time previously for the Clarets and the, still popular at the time, manager lifted the roof off when he scored. He played a neat one-two with Gerry Creaney down the right with Bournemouth expecting him to get to the line.
But
WADDLE
did what Waddle always did. He dropped his shoulder, went inside and curled it into the far corner.

Gerry Creaney scores Burnley's second
It was the least Burnley deserved having dominated but it all changed after the break when Machin made a tactical switch.
Bournemouth had been well marshalled at the back by the central defensive pairing of Ian Cox and Eddie Howe. Youngster Howe was showing such promise that he'd signed a new six year deal with the club earlier that week.
At half time Machin opted to give him a free role and he became the central player in the second half. He clipped a header onto the bar just four minutes in and later in the game he forced Marlon Beresford into a finger tip save from a thunderous shot but between those two, it was HOWE again who equalised with a powerful header for his first ever goal for Bournemouth.
It forced Burnley into action and we were back in front three minutes later. Creaney headed the ball down in the box for Paul Barnes whose shot was saved by Jimmy Glass. It was an outstanding save from the keeper who was unfortunate to see it hit the post and roll along the goal line where
CREANEY
beat Cox to the ball to score.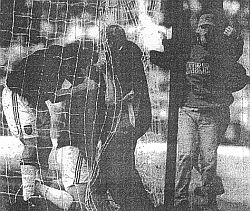 Creaney celebrates his goal with Paul Barnes
He was injured scoring and had to be substituted three minutes later. By then it was all square again. Howe won a free kick outside the box and VINCENT drove it into the top corner.
Howe almost won it with that shot referred to above before Burnley's best chance to go on and win it came in stoppage time and it would have all been down to the goalkeeper. Glass failed to clear a back pass and gave the ball away to Andy Cooke, but he was off balance and shot over the bar.
It was a point in the end and a point that saw us go above Plymouth and therefore off the bottom of the league.
Assistant boss Glenn Roeder believed it was two points dropped. "We got to a winning position twice and didn't capitalise," he said. "We have our moments, but again we didn't dominate the opposition for long enough. We can do better and it is frustrating."
The game brought to an end one Burnley career with club captain David Eyres, who had scored from the penalty spot in the draw at Plymouth four days earlier, sold to Preston in the following week.
The teams were;
Burnley:
Marlon Beresford, Chris Brass, Lee Howey, Neil Moore, Chris Vinnicombe (Paul Weller 63), Chris Waddle, Gerry Harrison, Michael Williams (Glen Little 80), David Eyres, Gerry Creaney (Andy Cooke 68), Paul Barnes.
Bournemouth:
Jimmy Glass, Neil Young, Jamie Vincent, Eddie Howe, Ian Cox, Jon O'Neil (Franck Rolling 65), Russell Beardsmore, Steve Robinson, Chris Warren, Steve Fletcher, Mark Rawlinson (Jason Brissett 65). Sub not used: Justin Harrington.
Referee:
Mike Dean (Wirral).
Attendance:
9,501.