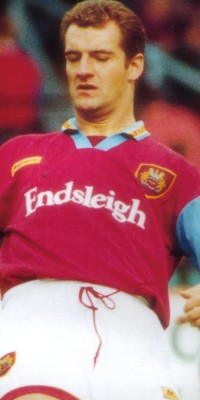 Peter Swan failed to deal with a nothing ball
This season has so far been pretty special as far as away form goes, to the point where I was wondering whether or not I should have forgotten about the season ticket and put the £300 quid towards 23 away trips. Four away wins by the middle of November? For most of my time watching Burnley four away wins in a season has been par for the course.
The mid-1990s in particular weren't just dark times for away travellers; they were as black as the Earl of Hell's waistcoat. Our inability to pick up points away from Turf Moor had almost scuppered our promotion bid in 1993/94, and in 1994/95 we'd rewritten the book on how not to survive at a higher level. The promotion campaign never seemed to gain momentum in the following season but we were fifth in January before a horrible run of results saw us slip out of the play-off slots, pressure on the board grew to ridiculous levels (residents of Brunshaw Road must have been hearing "Teasdale Out" in their sleep) and Mullen departed in a manner wholly unbefitting what he'd done for us. With Mullen gone the team was left in the hands of his assistant, Clive Middlemass – and following on from our textbook lesson in not coping with the step-up in class in 1994/95, Middlemass gave a near-flawless demonstration of how not to impress a potential employer in his three-game stint. Home defeat to Blackpool wasn't good. Three-all at home to a York side who'd end the season relegated was bad. But these were as nothing compared to Clive's only away game in charge at Hull…
Our relatively good position in the League, combined with the knowledge that Hull hadn't won at home in the League in six months or anywhere at all in two, meant a fairly decent number making the trip to Humberside. Things started going wrong from an early stage though - the supporters' coach, as was their wont, got us to the ground ridiculously early. This gave us the opportunity to avail ourselves of the delights of the area surrounding Boothferry Park, which mainly seemed to consist of rain. It was absolutely lashing it down and the car park was gradually filling up with people looking in serious danger of drowning on dry land.
I can't remember now why we decided against a pub visit but anyway, there we were for over an hour having to entertain ourselves on a wind-swept, rain-lashed expanse of concrete under a leaden sky. A rudimentary kickabout was improvised after some young lad produced a football, only for an errant volley to see the ball caught by the wind and never seen again. Damn. What to do, what to do… aimless milling about filled a couple of minutes, a discussion of the merits of our last few performances filled about thirty seconds, a discussion on the flaws in our last few performances would have taken about a week so we didn't even attempt it. Analyse a two-nil defeat at home to Oxford? Masochism only goes so far and had been adequately sated by having to sit through the game itself.
Ah-ha, a light in the distance. A palace of glittering delights? No, just the Hull club shop, but at least it was indoors and offered a slightly more enjoyable way of spending the time than wondering whether the increasingly uncomfortable feeling in my feet was my shoes filling up with water or the onset of trench foot. In we trooped, bringing a gleam to the eye of the bloke behind the counter as he saw half-a-dozen potential customers all at once – a gleam that died fairly quickly as it became apparent we were in there purely and simply to escape the monsoon outside and had no intention of actually spending any money. The shop itself was just a counter with the range of merchandise hanging from the back wall – pretty standard stuff apart from some (of all things) underwear embroidered with the legend "I've Scored At Boothferry Park!". Bearing in mind Hull's abysmally inept home form, I quipped that they obviously weren't official team kit. A fairly feeble attempt at a joke at the time, if truth be told, and one which looked even less amusing three hours later…
At this point someone decided to take pity on the sodden mass of humanity in the car-park, and opened the turnstiles. The entertainment possibilities of the Boothferry Park exterior having been thoroughly exhausted, we handed over our cash at the turnstiles in the hope that the Boothferry Park interior would be better. Not for the first or last time that afternoon, optimism proved to be horribly misplaced – the rain intensified and now we were stuck on an open terrace. Well, mainly open. There was an overhang at the back of this terrace which offered a semblance of shelter, and gave the assembled Burnley fans a chance to cease their attempt on the dry-land-drowning world record, and have a bash at the "Most People Standing On One Stair Of Terracing" crown instead. I watched penguins huddling together for warmth in Antarctica on 'Planet Earth' the other week, and the similarity was overwhelming. All that was missing were claret and blue scarves. And fags. And swearing.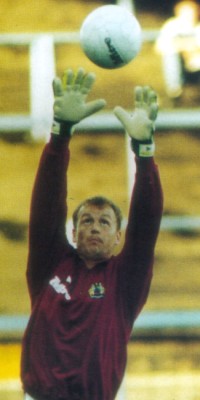 Wayne Russell cleared straight to a Hull player
Three o'clock draws near and Lord have mercy, a miracle: the rain stops. The atmosphere in the away end undergoes a palpable change for the better. People start to spread out into the whole away terrace, easing the pressure on the poor souls up against the wall who can now breathe out in comfort having spent the last half-hour being laminated into the brickwork by the press of people trying to avoid the torrential downpour. Optimism stalks the away terrace at Boothferry Park like a big claret and blue stalking thing, as memories of our recent abysmal performances are seemingly cleansed from the collective consciousness. "Ah-ha," I thought, "the Gods smile upon us!"
Having decided to give us 90 minutes to dry off however, the Gods decided that they'd done their good deed for the day and the game that followed was – and by some distance – one of the worst experiences I've ever had in 20 seasons of regular match going. Mere minutes into the game Peter Swan made a complete Horlicks of dealing with a nothing ball into the box, and instead of chesting it back to Wayne Russell allowed the ball to roll down his chest, gut, and thigh into the path of a forward who was so stunned at our ineptitude he slammed the ball home then looked around to seemingly make sure he hadn't been the victim of some bizarre "Beadle's About"-type stunt. Having established that no, it wasn't a joke and yes, we had just gifted him the easiest goal of his career, he took the applause from three sides of the ground while the Burnley contingent stood dumbstruck at our ability to shoot ourselves in the foot.
The rest of the game was entirely typical of most of the mid-90s as we contrived to make a poor team look like world-beaters. Defensively shoddy, virtually non-existent in attack, almost invisible in midfield… it spoke volumes that probably our best performance on the day came from Steve Thompson, just back from injury and seemingly as stunned as the travelling fans at just how rubbish we were. Thompson's midfield partner was Gerry Harrison, and his one spark of aggression in the 90 minutes was telling my mate to "**** off" after he'd told him to pull his finger out - there'd have been calls for him to be shot at dawn if he'd tried that at Goodison this season. When Russell came to the edge of his area and put his attempted clearance straight to the feet of a Hull player who returned it with interest over his head and into the net, it just summed up perfectly the whole, sad, sorry, miserable experience.
Other games have been almost as bad – Port Vale in 94/95 and Macclesfield in 98/99 – but they don't stick in the memory as much as this one. The appalling weather and shambolic performance just combine so horribly perfectly. A game to remember, unfortunately…
The teams were;
Hull: Roy Carroll, Simon Trevitt, Jimmy Graham, Gary Hobson, Neil Allison, Greg Abbott, Richard Peacock, Chris Lee (Craig Lawford), Bobby Davison, Neil Mann (Kenny Gilbert), Andy Williams.
Burnley: Wayne Russell, Gerry Harrison, Peter Swan, Mark Winstanley, Chris Vinnicombe, Liam Robinson, Warren Joyce, Steve Thompson, Jamie Hoyland, Kurt Nogan, Ian Helliwell (John Francis).
Attendance: 4,206
Scorers: Hull 3 (Peacock 2, Davison) Burnley 0