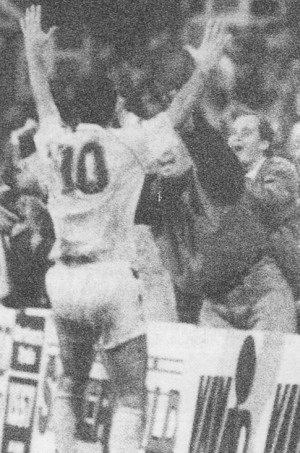 Mike Conroy celebrates the late winner at Northampton
We were into February and things were going well, we'd beaten Lincoln on the Saturday and gone back to the top of the league with a two point lead over Barnet, Blackpool and Mansfield and now it was a Tuesday night encounter with the Cobblers.
You would have thought everything was perfect, and it almost was, although that very week we'd heard that there would be a 30% increase in the dreaded poll tax because of the non-payers. I suppose that could have angered me, but it was only my cowardice at the court threats that had forced me to finally pay up.
For manager Jimmy Mullen, it was a time of highs and lows. Apart from being top of the league, just over a fortnight earlier he had witnessed that incredible show of support at Derby as we went out of the FA Cup, but since then he had suffered a day in court himself when he was convicted of drink driving when over four times above the legal limit. He was accused in court of bringing shame on football and Burnley FC, but escaped with just a fine and a three year ban.
One supporter, a Mr. Danny Lord, hit out at the club over their support for the manager and suggested they should have either kept out of it or taken some severe action against him themselves.
Jimmy was back smiling though after the Lincoln win, a scrappy affair, and said that from now on winning was all that mattered, promotion was that important. "The most important thing about the situation we find ourselves in at the moment is winning games," he said.
"Nobody would like to see Burnley playing the most attractive football ever seen in the Fourth Division more than I would. But the fans have seen seven years of pretty football and the club has got nowhere. I have said right from the beginning that I would try to do the right things to get this club out of the Fourth Division.
"I understand the frustrations of the fans and everyone in the town and I know that Burnley Football Club is steeped in the very finest footballing traditions. But what is in my mind is doing what's right to get us out of this division."
So maybe we could expect another dour ninety minutes against Northampton, a side that had gone unbeaten since our win at the old County Ground back in November, a run of nine league games which had seen them climb to tenth in the table.
That win at Northampton was Andy Marriott's last game, saw us win 2-1 with a second goal and late winner from Micky Conroy, but I'll always remember it for the crutch waving in the away end as Conroy celebrated.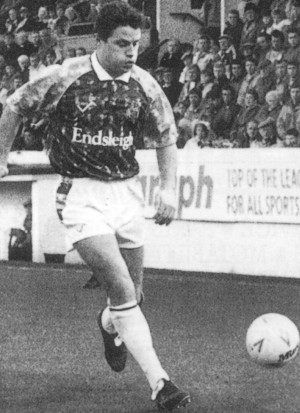 John Deary opened the scoring
Managed by Theo Foley, who had once scored an own goal in a First Division game at Turf Moor playing for Northampton, they soon made their intentions clear, that they were here to spoil the party and to stop Burnley playing. On nights like this, you need some inspiration, and although it took some time in coming it left the visitors to travel home shell shocked after they had taken a hammering from a rampant Burnley.
There was no sign of anything exceptional to come during the first half hour, and Northampton probably came closest to taking the lead with a couple of efforts that Chris Pearce, once again in goal, dealt with comfortably.
Eventually we started to get into the game and John Deary came close before we finally took the lead on the half hour. A long kick out of defence was flicked on by Roger Eli and it dropped to Deary. At this point you could take a look across the pitch and you would not find another player who you could rely on more in a one-to-one with the keeper than Deary. He just never seemed to miss out and he didn't here as he teased goalkeeper Barry Richardson before sliding the ball past him.
That lifted Northampton and they came storming back at us with Christian McClean robbed of an equaliser when Pearce made a stunning save. McClean got above the defence to head at goal only for the Burnley keeper to get across to it to keep it out.
A goal up at half time, just about deserved, but all the fun was about to come in the second period as Burnley attacked the cricket field end, it left poor Northampton wondering what had hit them, and it was all inspired by John Francis playing on the right wing.
We were just five minutes into the second half when Andy Farrell played in Francis on the edge of the Northampton penalty box. He in turn played a superb ball for Eli to run onto and the striker hit a rocket of a shot that hit the keeper but went in off him.
That was just the goal Burnley needed and within six more minutes it was 3-0 and again it came when Farrell played the ball forward, this time to Conroy. Now Trevor Quow was never the quickest of defenders but the Burnley number 10 left him for dead, rounded the keeper and slotted the ball home.
They were beaten now, and Burnley were on the rampage. There were some strong challenges going in on our forwards bringing about a few yellow cards and a fourth goal saw the visitors go down to ten men but it was all self inflicted.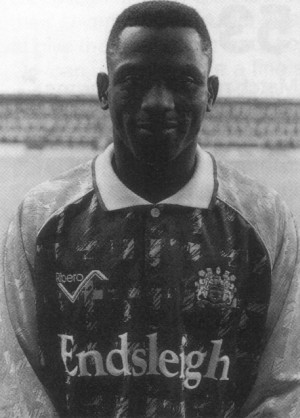 Man of the Match John Francis
From a throw in the ball reached Francis, who was now having the game of his life. This time he got in a brilliant cross that was met by fellow winger Steve Harper who headed home. McClean, who had come close to equalising before half time, was distraught. He wrongly thought it was offside and decided to have a word with the linesman who reacted by waving his flag to attract referee Alan Wilkie and out came the red card.
They were struggling with eleven so it was going to get more difficult with ten and still just over twenty minutes to go. In the end they conceded just one more, and how fitting that Super Johnny Francis finally got on the scoresheet. Richardson had just saved from him but there was nothing he or any other keeper could have done when he played a 1-2 with Conroy on the edge of the box before releasing a howitzer.
"We want six," cried the Longside, but we had to settle for five, and (in the days before squad numbers) the goals coming from the players wearing numbers 7 to 11. Francis had been having a difficult time but Edward Lee of the Burnley Express wrote: "Francis silenced his critics with a breathtaking display. It was 'Roy of the Rovers' stuff."
Winning was all that mattered said Jimmy Mullen ahead of the game but he was purring at the performance from his team after this win, and particular John Francis. "John proved tonight what we all knew him to be capable of. Sometimes he needs too many touches but his control of the ball tonight was perfect, his first time passes were spot on. He was brilliant and the goal he scored would have won any game.
"Having said that, you will go a long way to see five goals as good as that in any one game. Everybody knows we can score, but who would have thought that we could have done it in such devastating style?"
Results elsewhere meant the Clarets went four points clear at the top, Jimmy was getting things just right.
The teams were;
Burnley: Chris Pearce, Ian Measham, Joe Jakub, Steve Davis, John Pender, Andy Farrell (Adrian Randall 81), Steve Harper, John Deary, John Francis, Mike Conroy, Roger Eli (Graham Lancashire 81).
Northampton: Barry Richardson, Irving Gernon, Steve Terry, Trevor Quow (Daniel Kiernan 57), Terry Angus, Jason Burnham, Stuart Beavon, Michael Bell, Greg Campbell, David Johnson, Christian McClean. Sub not used: David Scope.
Referee: Alan Wilkie (Chester-le-Street).
Attendance: 8,825.