The biggest flop of the lot
Feature by Tony Scholes
Updated Friday, 20th April 2007
Burnley were on the verge of a place in the semi-finals of the Fairs Cup. The job was half done with a superb 1-1 draw in West Germany against Eintracht Frankfurt.
We'd beaten Napoli and now with the result in the Wald Stadion we were being tipped as joint favourites for the competition and the town was buzzing in anticipation of the game, particularly with the league form faltering following injuries to both forwards Willie Irvine and Andy Lochhead.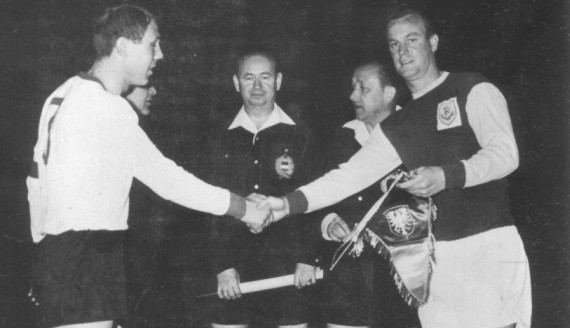 The two captains on the night Lindner and Gordon Harris before kick off
The Eintracht team arrived in Burnley and were staying at the Keirby Hotel although in that same week work began on a new superior hotel in the Queensgate area of the town. It was being built by Ken Bates' company Howarth Construction, and was to be another year before it would open. It was eventually given the name 'The Prairie'.
With Eintracht settled in the Keirby and using Burnley's Gawthorpe for training, the Clarets went off for special cup training, although this time it was at
Morecambe
and not their traditional
Blackpool
base.
Things weren't quiet at Turf Moor though with significant news from either side of the old cricket field end. The Clarets made a signing, albeit a 16-year-old youngster, sent by his dad Tommy Docherty who was then manager of
Chelsea
. A year on and young Mick would lift the FA Youth Cup as Burnley captain.
Next door there was a blow for Lancashire League club Burnley when professional Charlie Griffith collapsed with severe chest pains. It was fortunate that club chairman Harry Langton was there at the time and he took the appropriate emergency action, he gave him a lift home and helped get him to bed.


As Eintracht arrived, the draw was made for the semi-final. The Fairs Cup committee confirmed that Leeds and Burnley would not be kept apart and that it would be a straight draw. We were paired with Juventus or Dinamo Zagreb.


Dinamo proved to be easy winners against the Italians (winning 5-2 on aggregate) and the other semi-final was eventually Leeds v
Kilmarnock
after they had beaten Bologna and Lokomotive Leipzig respectively.
The West German side had arrived without their star inside forward Wolfgang Solz who had been ruled out of the game with an ankle injury, but other than that they were expected to be at full strength.


As for the Clarets, we had been without Brian Miller, Arthur Bellamy and Andy Lochhead in the home win against
Sunderland
on the Saturday but Harry Potts said they were all fit and we were likely to have our strongest side out other than broken leg victim Irvine and full back John Angus. Potts said special cup training had gone well and the weather had been excellent in Morecambe where they had trained on the ground of Morecambe FC.
The reality was that Burnley chose this of all games to turn in their worst performance of the season and fell to an embarrassing 2-1 defeat. "Excuses are unacceptable - this was the biggest flop of the lot say the fans," was how the Burnley Express headlined the debacle.


Their reporter Keith McNee wrote: "The season is over. It came to a miserable full stop after a confused, ragbag offering which could be aptly labelled 'Lost in a tactical bog'. The fans are not mincing words, they are disgruntled about having hopes lifted, then shattered in what they scornfully call typical fashion.


"The general opinion is that once again Burnley completely failed, in approach and in performance, to rise to the big occasion. Every follower I have spoken to since Tuesday's debacle complain of baffling team selection, irritating tactics and rank bad performances and are clearly sick and tired of the worn out excuses about injuries."


Lochhead, as it happens, was ruled out but no one could understand the logic of playing Les Latcham and Brian O'Neil as strikers, and coach Jimmy Adamson was getting the blame for this latest bit of tactical 'genius'.


Dave Merrington was the major culprit on the night, in that he was at fault with both goals, the first of them a dreadful error. We went a goal down with just twelve minutes of the first half remaining, but needed just the one goal to take it to extra time.


When he gave away a second with eighteen minutes left, giving Eintracht the extra away goal, we suddenly needed three goals to go on and win it. That was never going to happen. We did get one back with four minutes to go. Brian Miller had gone up front by then and pulled one back with what has proved to be Burnley's last goal in European competition. Miller had scored in the first leg too, so the only player to play in all of Burnley's twelve European ties holds the distinction of scoring our last two goals.


Adamson said: "It was a bad night for us, without doubt. Our boys just couldn't settle down. They needed someone at the back to get the team going, someone like John Angus. Our lads were always tense and anxious. They showed the effort, but not the skill of which they are capable. No excuses, but an explanation, we missed Lochhead and Angus terribly. They could have made the difference."


Manager Harry Potts added: "We missed Lochhead. We knew on Monday he wouldn't be fit with his leg strain and of course we felt the pinch of his absence and other absences. But things were running smoothly for half an hour until we gave that goal away. It was unfortunate, one of those things, and Dave Merrington is more upset about it than anybody. If we had kept them out until half time we would have won."


Things didn't get too much better after the game either. John Murray, who didn't feature in the game, was suspended by the club for a breach of discipline, as was club captain Alex Elder. Elder had clashed, like so many others, with Adamson and he was to play only twice more for Burnley before leaving the club in the summer.


Four days after this debacle of a performance we travelled to Villa Park for a Division One game where we beat
Aston Villa
1-0 with an own goal from their keeper Colin Withers. Just before half time Brian Miller was substituted after sustaining a knee injury. "It's something and nothing," said trainer George Bray just before the start of the second half, but the injury had ended Miller's playing career.
So the game against Eintracht forty years ago was his last ninety minutes in Burnley colours, his goal the last he scored for the Clarets, his playing career over at the age of 30.


We'll leave the last word on our exit from Europe with Miller who, as honestly as always, said after the defeat: "I don't think any of our lads have any complaints. Give Eintracht Frankfurt credit, they played well and we didn't. Nothing went right once they got that first goal. Eintracht were superior on the night but we feel that if we played them again next Tuesday we would win. But that's not much consolation."


The teams were;


Burnley (4-2-4): Harry Thomson, Fred Smith, Dave Merrington, Brian Miller, Alex Elder, Arthur Bellamy, Gordon Harris, Willie Morgan, Les Latcham, Brian O'Neil, Ralph Coates.


Eintracht Frankfurt (4-2-4): Kunter, Jusufi, Lindner, Blusch, Schamer, Friedrich, Huberts, Grabowski, Bechtold, Abbe, Lotz.


Referee: E Bostrom (Sweden).


Attendance: 25,161.
Interact with us
Sponsored links