One foot in the semi-final
Feature by Tony Scholes
Updated Wednesday, 4th April 2007
After the fantastic result and the great escape from Napoli, the Clarets were heading for West Germany again for the first leg of their Fairs Cup tie against Eintracht Frankfurt.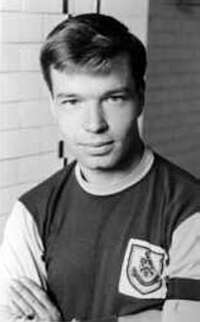 Alex Elder - axed ahead of the trip to Frankfurt
As the team prepared to leave the town for this vital game there were problems afoot with members of five trade unions set to protest when Foreign Secretary George Brown visited the town. Their argument was with the previous Conservative Government but they were demanding that Brown, and Labour, put right the problems that were damaging the local textile industry.
Entertainment wise things were looking up in the town and the Majestic, the Tivoli and the Imperial, three of the local cinemas, were now pulling in the crowds hosting big prize bingo. There were twelve games per evening for the cost of 2/- (10p) and players could go home with prizes as much as £15.


If bingo wasn't your cup of tea there was always the more traditional entertainment and for live entertainment Kenny Ball and his Jazzmen were appearing at the Cabaret Club in Rosegrove whilst at the Casino Club in Manchester Road you could hear the Four Pennies belting out Juliet.


The journey to West Germany for the team was certainly not a smooth one. Club captain Alex Elder was left out of the travelling party and manager Harry Potts said he wasn't quite fit, but rumours circulating of problems between the player and coach Jimmy Adamson were hardly dampened when Chairman Bob Lord said the player would not be granted a transfer even if he requested one.


Just what we needed before the big game, and there was worse to come for those who did travel when the Douglas DC-9 taking them from Ringway Airport in Manchester to Frankfurt was violently struck by lightening. Acting skipper Brian Miller said: "It was a frightening experience," whilst reserve goalkeeper Adam Blacklaw disagreed saying: "It wasn't half as frightening as what happened to me in Naples."


Still, all was well on landing and they were met by the Eintracht secretary Herr Wilhelm Eward who welcomed them with a bunch of red and white carnations. Lord wasn't on the flight, he arrived later with secretary Albert Maddox after attending a Football League meeting in London.


Going into the game, the players were confident and coach Adamson claimed: "We will reach the semi-final," although he did admit that the first thirty minutes in the Wald Stadion would be vital. The only injury worry for Burnley was winger Willie Morgan who had an ankle problem, although both forwards Andy Lochhead and Willie Irvine were ruled out.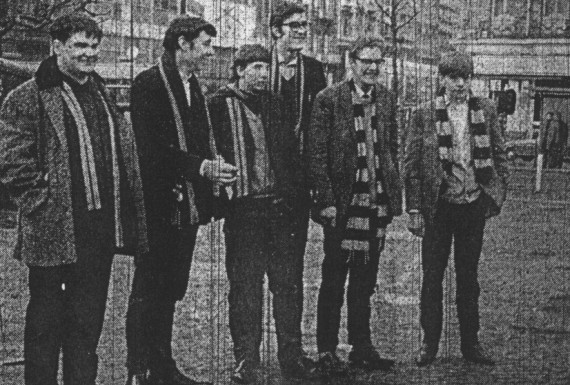 Burnley fans on their way to Frankfurt
The game proved to be one of two halves, with our hosts in the ascendancy during the first forty-five minutes before Burnley came back at them after the half time interval. We held out for most of the first half but with just nine minutes to go to the break Eintracht took the lead when right-half Lothar Friedrich scored with a brilliant overhead scissor kick.
This led to a torrid last few minutes of the half for the Clarets and with the referee looking at his watch they almost got a second. As in Italy, Harry Thomson saved the day with a superb save to deny West German international Jurgen Grabowski.


The second half was a different story altogether, and by the end of the game the West Germans were thankful Burnley hadn't turned it round and won the game. Morgan, having passed a late fitness test, was the tormenter Brian O'Neil had headed just over from a Ralph Coates cross and Arthur Bellamy went close but won a corner and it was from this flag kick that we grabbed our equaliser. Morgan's cross was perfect for Miller to soar above a defender to head home between two players on the line.


It was all Burnley now and in he last fifteen minutes we did everything but score. However it was their turn to hold out, and they did, meaning the two sides would meet again at Turf Moor with the scores level.


Bob Lord described it as our best performance yet in Europe and for once the national press sung our praises. "A great tactical triumph by Burnley here in the vast Wald Stadion makes them favourites for a place in the semi-finals," wrote the Daily Mail. And from the Daily Express: "Burnley, bless them, matched one of Europe's great attacking sides with thrust for thrust, chance for chance, and goal for goal."


We were already being made joint favourites with Leeds to win the Fairs Cup but first we had to get home and another difficult journey. This time the pilot claimed the winds made landing at Manchester was beyond reasonable safety limits but they finally touched down in
Liverpool
.
Tickets were on sale for the second leg, at prices higher than for league games. Prices were as follows: Stand 'A' 15/- (75p) Wing Stands 12/6 (62.5p) Enclosure 7/6 (37.5p) Ground 5/6 (27.5p). There were juvenile and pensioner tickets in the ground only priced at 3/- (15p).


The teams in Frankfurt were:


Eintracht (4-2-4): Kunter, Jusufi, Lindner, Blusch, Schamer, Friedrich, Huberts, Grabowski, Bechtold, Solz, Lotz.


Burnley (4-2-4):
Harry Thomson, Fred Smith, Dave Merrington, Brian Miller, John Angus, Arthur Bellamy, Gordon Harris, Willie Morgan, Les Latcham, Brian O'Neil, Ralph Coates.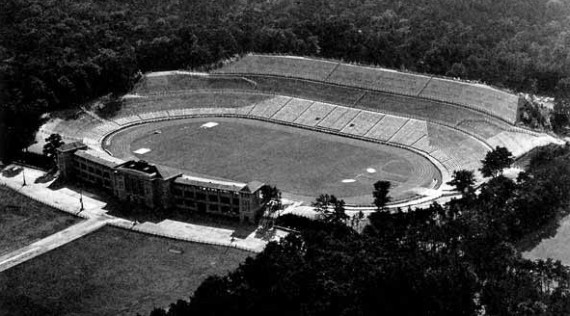 The Wald Stadion in 1967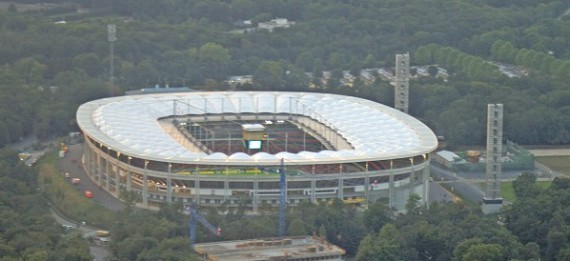 and today
Interact with us
Sponsored links