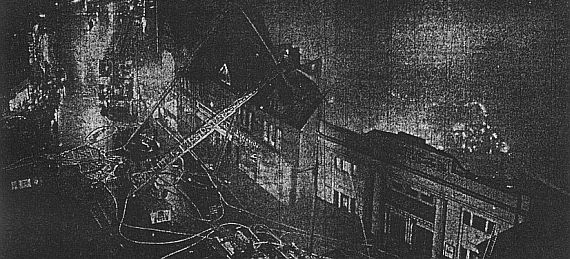 The Empress Ballroom on fire
The championship success of the previous season meant Burnley were the country's representatives in a competition that was still in its infancy; a competition that had been won by Real Madrid in each of its five seasons.
Twice, in the finals of 1956 and 1959, they had defeated Stade de Reims and it was the French club that Burnley had been paired with who this time were one of the big favourites to become the second ever winners.
It was appropriate in this particular week that we came up against European opposition given that the previous Sunday had been Remembrance Sunday. It hadn't been a good one either. Mr W. H. Barnes was the chairman of the Burnley branch of the British Legion and had been involved since 1922.
In 1960 he was disappointed with how difficult it was to sell the poppies. "I don't think there is the same feeling now towards Poppy Day," said a concerned Mr Barnes. "We are not getting the response we used to do from the heads of business and commerce. One firm told me 'We haven't time to bother selling poppies' and that hasn't helped."
I think, fifty years on, Mr Barnes would now be proud of the response and the standing for a minute's silence at football as was witnessed at the Burnley v Watford game last Saturday.
The headline news in the Burnley Express was of the big fire that had engulfed the Empress Ballroom on the previous Sunday. It brought the life of the ballroom to an end and the owners, Mecca Ltd., moved quickly to acquire a two year lease on the Mechanics Institute to allow them to continue in business until the new premises, promised for the Pickup/Croft area were ready.
here were a couple of other noteworthy news items of the time that were a reminder of stories during our 1959/60 championship series. One was of Mr R. A. Noble, the Chief Constable of Burnley. He'd departed to take the same role at Derby but when he was late at the cenotaph a constable went to his office to get him and found him dead of a heart attack.
Local opera singer Jean Reddy had given it all up for a life as a nun in a closed order. It was thought she'd never be heard of again but Jean had been taken ill and had been rushed to hospital with double pneumonia. She had decided to leave the convent and was recuperating in Italy before returning home.
Her close friend in Burnley, with whom she would return to, said Miss Reddy would probably find switchboard or clerical work, for which she had been trained, and could start singing again.
There was a lot of singing and dancing going on when it was confirmed that pubs in Burnley would be open for an extra 30 minutes each night, apart from Sunday. The new 11:00 p.m. closing didn't suit a lot of the landlords although the customers thought it was a great idea.
But on 16
th
November 1960 there was only one real item of news in Burnley and that was the arrival of European Cup football.
Such was the importance of the game that Burnley opted for their special cup tie training and went off to Blackpool on the Monday ahead of the game.
Reims had arrived in Burnley and the official party included twelve journalists and eleven supporters. Other French partisans, we were told, had gone straight to Blackpool.
Reims had injury concerns. They'd played Grenoble on the previous Friday and St. Etienne two days later. It left Raymond Kopa nursing a bruised ankle and he was doubtful [although he did play]. Burnley meanwhile had just beaten Wolves 5-3.
Burnley Football Club allowed their visitors the use of Gawthorpe for training and even made available after-training baths.
Ahead of the game, Burnley supporters were given a warning. Because of it being a big game it was thought that expert pickpocket operators from Manchester, Liverpool, Birmingham and even London could be in attendance. All spectators were advised to leave valuables at home, particularly with the game being played within the hours of darkness.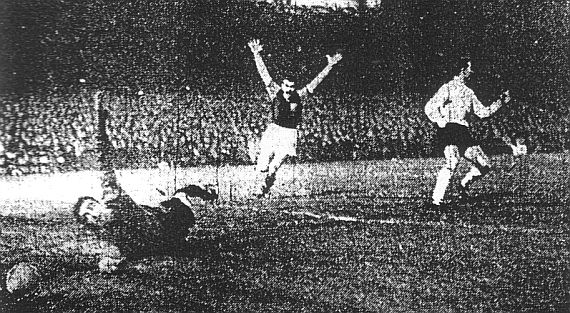 John Connelly celebrates Jimmy Robson's first minute goal
So to the game and what a game it was, as reported in the Burnley Express through the words of Don Smith.
"Gala night with an international atmosphere at Turf Moor, on Wednesday, resulted in both teams being given an ovation at both interval and final whistle, while those who have booked their seats for the various flights to France could view the return match with a certain amount of confidence.

With Burnley holding a 2-0 lead it meant that Reims would have to score three to beat the Turf Moor score, and as one ardent supporter pointed out, the matches in which this present Burnley attack fail to score are few and far between. Therefore, the local side must go to France favourites for Round Three of the European Cup."
Reims realised they had to keep more than a watchful eye on the Irish genius McIlroy but centre-forward Pointer caused them endless problems as his non-stop dashes distracted them.
The player who rose to the occasion more than most, and in more ways than one, was Blacklaw. His display must have ranked as one of his best. He tipped over a 30-yard volley from Moreau, saved a Piantoni header and kept out a wonderful curling drive from Vincent.
In the very first minute, Burnley went on the attack via a long diagonal ball from Miller. Rodzic headed out but only to Connelly who hooked a pass forward for
ROBSON
to score.
What a start, and on 22 minutes it was 2-0. A shot from
MCILROY
had the sting taken out of it by Siatka. Goalkeeper Jacquet, who was covering the original direction, had the mortification of seeing the ball roll into the far corner as he was still desperately trying to halt his own progress towards the other side.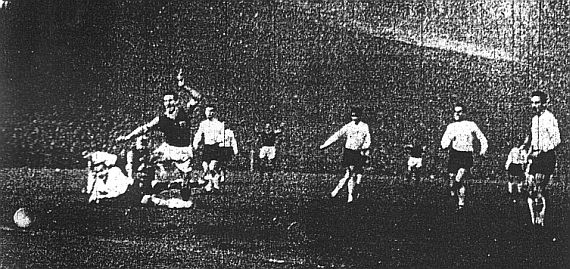 Jimmy McIlroy scores the second
McIlroy hit the bar in the second half but Jacquet had more anxiety than actual action, while at the other end Blacklaw nobly indulged in both to emerge from his ordeal with real honours.
And so it was 2-0 and Burnley could look forward to the second leg at the Parc de Princes two weeks later. Supporters wanting to go to the game were warned by Althams Travel that they WOULD need passports. Passengers on flights from London to Paris didn't need them but from Manchester they were very much required. Althams offered full help to people in acquiring passports.
The teams at Turf Moor were;
Burnley:
Adam Blacklaw, John Angus, Alex Elder, Walter Joyce, Jimmy Adamson, Brian Miller, John Connelly, Jimmy McIlroy, Ray Pointer, Jimmy Robson, Brian Pilkington.
Stade de Reims:
Jacquet, Wendling, Rodzik, Leblond, Siatka, Moreau, Rustichelli, Muller, Kopa, Piantoni, Vincent.
Referee:
Senor D. Jose Gonzales Echevarria (Spain).
Attendance:
36,742.