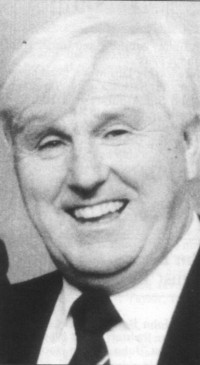 There had been plenty of mistakes made in recent years, so why not another. Cavanagh, who had joined Buchan to assist him, was put in charge on a temporary basis initially but we were to be lumbered with this obnoxious man for the rest of the season.
Cavanagh, 57 by the time he arrived at Turf Moor, had started his playing career with Preston but it was with Stockport in the 1949/50 season that he made his league debut. From Stockport he went on to play for Huddersfield, Doncaster, Bristol City and Carlisle before hanging up his boots in 1960.
He had managed previously; he was in charge of Brentford for an unsuccessful eighteen months in the mid-1960s when his second and third games in charge were against the Clarets in the 3rd round of the FA Cup.
Coaching roles followed but he was probably best known as the little man with the white hair and cap who run on to treat injured players at Manchester United during the time Tommy Docherty was manager.
He never wanted to leave Old Trafford, and that was evident. It was all he talked about, he continued to strut around in his Manchester United cap and even wore it in the dug out (which was then in front of the Longside) on match days, something that infuriated the Burnley fans.
His first piece of business was to sell Wayne Biggins to Norwich and replace him with former Claret Derrick Parker. It wasn't the best bit of business, and Parker proved to be his only permanent signing as Burnley manager.
There were loan signings to add to that and there were debuts for youngsters from the youth team but only Ashley Hoskin, who suffered a broken leg in an early game, went on to make any real contribution to the club.
His record as Burnley manager, in terms of points per game, was better only than that of John Benson of the managers who had gone before him and the disappointing first season in the basement was a warning for us of what was to come.
The summer of 1986 was a very depressing time to be a Claret. There were rumours of the club shutting down as the three man board looked for investment, but the one bit of bright news was the announcement that Cavanagh was leaving the club. There were suggestions that his departure was due to him requiring a hip replacement operation, but no one cared why, we'd rid ourselves of this awful man and his cap.
The last two seasons had been shocking ones for Burnley Football Club, we needed to make the right appointment and start taking the club forward again.
Cavanagh went on to work for the FA School of Excellence which was his last job in football. He regrettably suffered from the dreadful Alzheimer's Disease in later life and died in March 2007 at the age of 78.