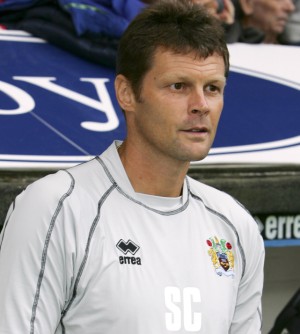 Cotterill had been a player with Wimbledon, Brighton and Bournemouth but his career had been cut short through injury and he took his first steps in management with Sligo in the Republic of Ireland.
He returned home to Cheltenham and was soon named manager. In just over five years there he took them to three promotions from the Southern League to the current League One. To add to that there was an FA Trophy win at Wembley and he bowed out with a play off win at the Millennium Stadium and moved to Stoke.
That led to a difficult time and he quickly moved on to join Howard Wilkinson at Sunderland, a move that won him the name Quitterall with the Stoke City fans.
They couldn't turn things round at Sunderland and both he and Wilkinson were sacked with months after which he spent some time coaching at Leicester before accepting the Burnley job, earning himself a three year contract.
He was Burnley manager for just over three seasons and those three full seasons all, to some extent, followed a similar pattern. Whatever the start to the season, and in 2005/06 we were bottom for a short time early in the season, we always had a good autumn and were right up there in the approach to Christmas. We always looked in with a chance of reaching the play offs
In his first season in particular it was remarkable given the size of the squad, and it was a reduction in the squad that always led to a poor run of form. In 2004/05 season we sold both Robbie Blake and Richard Chaplow in January. Robbie's was the greatest loss, the whole playing system revolved around him and he was our leading goalscorer by some distance.
Eventually Cotterill was able to bring in Ade Akinbiyi as a replacement but by then we were already having to settle for a mid- table place with the hope of better to come in the following season. That season though started off poorly with just one win in the first ten games, but then came the recovery.
By Christmas we were in the top six but again January proved crucial. Amidst rumours that Cotterill might go to Leicester he one again had to sell our leading goalscorer. Akinbiyi headed for Sheffield United. Again we suffered in form but the board backed the manager during a run of six successive defeats and awarded him a new deal until the end of the 2009/10 season.
Before the end of the season the next striker replacement came in; this time it was Andy Gray from Sunderland, initially on loan then permanently in the summer of 2006.
Cotterill's third, and ultimately final, season got off to a great start. We were playing our best football in a long time and headed the league for a while. There were some outstanding performances with the 4-1 win at Norwich probably the best of the lot. All was going well and Gray was scoring the goals. Then disaster struck just after the loan window had closed when he broke three metatarsals.
This time the drop in form was dramatic. We didn't win any of the remaining six games in 2006 and even though Cotterill was given money to spend this time in January the results just got worse and worse. I don't think anyone would have been surprised had he lost his job but again the club showed faith in him despite a run of eighteen consecutive league games without a win, the second worst in the club's history.
With us looking close to a relegation battle we found that elusive win, won five out of six, and by the end of the season we were more than comfortable. That allowed him to rebuild the squad in the summer. Akinbiyi had returned in January, Blake followed during the close season, and hopes were high.
For the first fourteen games of the season we played more than well enough away from home but at home struggled at times and won only twice against West Brom and Norwich. The home game against Hull in November 2007 was as bad as anything during his time as manager but even so it stiil came as a big shock when two days later the club announced they were parting company with him by mutual consent.
Given what he started with there is no doubt that he definitely improved the club and he left the new manager with a lot stronger squad to start with than had in the summer of 2004, a squad that included such as Clarke Carlisle, Steven Caldwell, his last signing Graham Alexander, Blake, Gray and young Chris McCann who had been brought through the youth system.
He will though be judged by many on results alone. We never did make a sustained challenge for the play offs, but he kept us in the second tier of English football for three years and that, looking back, was some achievement in, at times, difficult circumstances.
After leaving Burnley he was out of work for some time before accepting the Notts County job in March 2010. A run of 14 wins and just one defeat in 18 games followed that took them to the League Two title but Cotterill opted for a move to Portsmouth in the summer of 2010 following their relegation from the Premier League.