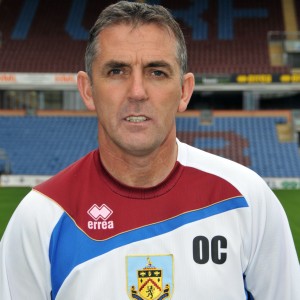 Two days later Steve Davis took charge of the team against Leicester at the Walkers Stadium in a game we won 1-0 with a goal from Andy Gray. With an international break to follow it gave us two weeks to find Cotterill's successor
Mike Newell and Joe Royle were early names linked with the job, but Burnley soon played their hand and revealed their number one target by formally requesting permission of Sheffield Wednesday to interview their boss Brian Laws, the former Burnley right back.
Permission was refused and although Laws remained a target, and was reportedly keen on the job, it was time to look elsewhere. Even by then I'd been given the name Owen Coyle as a potential leading candidate. I knew he'd been a fringe player at Bolton at one time but, with no real interest in Scottish football, I'd no idea what he was doing in 2007.
As Paul Jewell and Peter Reid came into the frame, and the club announced a five man short list, it looked as though Coyle was very much a name thrown in by chance, maybe by some tabloid journalist.
Blackpool's Simon Grayson was linked, worryingly Paul Simpson lost his job at Preston, but then the whole process became laughable when Carlton Palmer declared a firm interest in the job.
Then news broke that Reid had got the job. Whatever happened afterwards remains unknown but suddenly the attention changed and we made an official approach to St. Johnstone to speak to Owen Coyle.
By then he'd accepted the job, pending agreement between the two clubs, and after an initial refusal we were given formal permission to speak to him and on Thursday 22nd November 2007 he became Burnley manager.
On his appointment he said: "I am delighted to take this opportunity, and delighted is an understatement, I just can't wait to get going now. Leaving St. Johnstone was a wrench because of everything I have done at that football club, but as soon as Burnley came on the scene it was a no brainer for me and the sooner I could get down here and get going the better."
Brendan Flood described him as the new Bill Shankly at the time, but apart from being a non-drinking Scot I'm not so sure where that comparison came from.
He got off to a strange sort of start as Burnley boss, struggling to win at home but reeling in amazing results on the road. The first three away games at Watford, Charlton and Wolves were against the teams first, second and fifth in the league on the day of his appointment.
They all ended in glorious wins to lift us up close to the play offs, but he had to wait until 12th January for his first home win, a 1-0 success against Plymouth in his eighth home game in charge.
When any new manager takes over there will be some players who benefit and some who suffer and early suggestions were that Andy Gray (our leading scorer at the time) and Kyle Lafferty were two players for whom things might not go so well, whilst others, such as Garreth O'Connor, James O'Connor and Joey Gudjonsson, found themselves very much back in favour.
Over the remainder of the season there were some more good performances coupled with some horror shows. Blackpool on New Year's Day, for all the wrong reasons, will live long in the memory but so will the second half at Queens Park Rangers when we stormed to a 4-2 win having been 2-0 down.
He'd made no permanent signings during the January transfer window that season but sold Gray, and come the end of the season he made a number of changes to the squad. Lafferty, Jon Harley and James O'Connor were the prominent departures whilst coming in were two million plus signings in Martin Paterson and Chris Eagles. They were joined by Kevin McDonald, Christian Kalvenes, Diego Penny, Remco van der Schaaf and after a difficult start Steven Thompson was signed from Cardiff.
It was a difficult start, with two defeats and two 0-0 draws in the first four games, but things started to improve and there were some very good performances with some much better results. The 2008/09 season was beginning to look as though it might be a better season, but even into November I don't think anyone could have ever imagined half of what was about to happen.
It started really at Stamford Bridge when we knocked Chelsea out of the Carling Cup on penalties. We'd already beaten Bury, Oldham and Fulham and when Arsenal went the same way just before Christmas it was all building up nicely.
League results up to Christmas were exceptional and we even won at Bramall Lane for the first time since 1973. We went into Christmas in fourth place in the Championship but then we came off the rails a bit.
From Christmas to the end of January we made some progress in the FA Cup, went out of the Carling Cup to Spurs in the cruellest of ways possible, but lost five successive league games. We were ninth by then and despite better results in February we ended that month in the same position.
The season had started with a 4-1 hammering at Sheffield Wednesday, and on the last day of February they hit us for four again. As I left Turf Moor that afternoon I received a text message from a friend that read: "Play offs are starting to look a pipe dream".
I couldn't disagree, but neither of us could have imagined that we would lose just once more in eleven league games and then score three wonder goals in the play offs (two at Reading and one at Wembley) that saw us all the way to the Premier League.
By this time Coyle was being considered as God by a lot of Burnley fans whilst he himself boasted of looking like George Clooney. He was number one in town, but even before we'd got the play off trophy home he was linked with the now vacant Celtic job, and he used all his brilliant media techniques to avoid answering a direct question from Alastair Campbell from the town hall balcony.
Later, he confirmed there had never been an approach from Celtic, and at a Clarets Mad function confirmed that he would not have taken it had it been offered, that he had a long term job to do at Burnley.
Summer signings included the smashing of our transfer record with the £3 million capture of Steven Fletcher from Hibs. Other new faces were Tyrone Mears, Richard Eckersley, David Edgar, Brian Easton and Ecuadorian Fernando Guerrero on loan. After the start of the season they were joined by Andre Bikey and David Nugent who was signed on loan from Portsmouth.
Into the Premier League and incredibly we won our first four home games, a record for a newly promoted club, and five out of the first six. It's fair to say the away form was hardly matching it as heavy defeat followed heavy defeat. Still, as long as we were winning at home and in mid-table we were more than OK.
Home wins turned to home draws, away defeats (with one exception) remained away defeats, and we started to slide down the table. I don't think any Burnley supporter would have ever pointed any fingers at him, even had he taken us straight back down, after all we realised how difficult it was for a club like Burnley to be playing at the top level.
He continued to smile and be positive but there was very much a change as he used every opportunity to bemoan his lack of funds. Just about every interview on Sky Sports News made reference to budgets and I really did start to wonder what his agenda was when he said Wolves' boss Mick McCarthy had laughed when he told him our budget. I think the directors might have done more than wonder but would have had serious questions to ask as to why he was telling rivals about our financial budgets.
We drew 1-1 with Bolton on Boxing Day. His old friend Phil Gartside was there but they didn't see each other on the day apparently. Just a few days later Bolton drew at home to Hull and manager Gary Megson was dismissed.
Coyle was offered short odds by the bookmakers but ahead of our FA Cup tie he just about dismissed it and said it would be a good job for someone. I think even then I knew what he was going to do.
Having not done a post-match interview after the cup win he scurried off to Scotland where he met up with his old mate Gartside. "I want to go to Bolton," he said after a meeting with Barry Kilby and Flood on the Monday.
From hero to zero, he'd certainly achieved that. He'd lied to the Burnley fans and they weren't going to accept that. Thankfully his departure was quick but as he made the move he took with him no less than six other members of staff including his own brother-in-law who had suddenly started appearing in our technical area.
He was installed as Bolton manager on Friday 8th January and five days later Brian Laws was appointed new manager of Burnley.
Owen Coyle, the man who spoke about loyalty, of building the club, of work in progress, had opted to walk out just six months into a new four year deal. Amazingly he was then boasting about how he had remained loyal and turned down Celtic, the same Celtic he had told us had never made an approach.
Needless to say the return fixture with Bolton was coming up and on Tuesday 26th January we travelled to the Reebok. He would have enjoyed it, they beat us, but his behaviour was quite simply appalling before the game and after it.
His interviews on television were disgraceful, attacking Burnley fans, claiming the abuse was all down to social issues and even suggesting he was bloody Moses, although that biblical error was down to his right hand man Alan Nixon. His actions on the pitch at the end of the game were unbelievable and could have incited some real trouble inside the Reebok. It all said everything about the man who is so self centred.
Owen Coyle had been Burnley manager for just over two years and it is difficult to describe his time with us now. In football terms there can be nothing other than praise. Granted he was given more money to spend than any previous Burnley manager could have hoped for, but in spending it he built a squad that took us all the way to Wembley and the Premier League.
He became the first Burnley manager ever to get us promoted to the Premier League and the first to win promotion to the top flight since Jimmy Adamson in 1973. We played a brand of attractive football and, although there were some sorry performances at times, we had some really memorable games to look back on. For that we can all be very grateful.
But in the end he was a man whose word could not be believed. He accused Andy Gray, his first sale, of showing no loyalty and turned him into a hate figure for Burnley fans.
There is nothing more certain than the fact that he'll always divide opinion amongst Burnley fans. I very much remain in the unforgiving camp and always will. Whilst always thanking Owen Coyle for what we achieved on the field during his time at Burnley, I can never forgive him for how he behaved at the end of his time at Turf Moor.