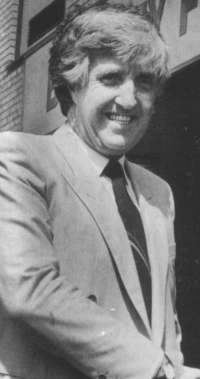 That ruled out the caretaker Frank Casper, and, after much deliberation and speculation, the club went for former Bournemouth, Norwich and Manchester City boss John Bond who just pipped former Spurs player John Duncan for the job.
Not only had we gone for someone from outside the club but had gone for probably the most high profile manager available. The town was buzzing with anticipation, and even more so when he brought in players of the quality of Kevin Reeves, Tommy Hutchison and Joe Gallagher.
Bond had spent virtually the whole of his playing career with West Ham as a right back and he was in the side that won a classic FA Cup quarter-final against Burnley in 1964, before going on to win the Wembley final against Preston. He eventually moved on to Torquay where he played until he was 37 before hanging up his boots and joining Gillingham as a coach.
His next move took him into management for the first time when he joined Bournemouth in May 1970. He enjoyed a hugely successful three and a half years at Dean Court and that won him a move to Norwich in November 1973.
Norwich were in trouble and he couldn't prevent them being relegated, but they returned a year later and such was his popularity there he was manager for no less than seven years.
He left to replace Malcolm Allison at Manchester City. Despite dragging them out of the relegation mire and taking them the Centenary FA Cup Final of 1981 he was never really accepted by the City fans. He resigned in February 1983 with City in the top half of the First Division. His assistant John Benson took over and incredibly presided over an amazing collapse that saw them relegated. Benson was immediately sacked.
And so to June 1983 and his appointment at Burnley. He made a lot of changes, probably too many. He brought in his own backroom staff – the aforementioned John Benson, John Docherty and John Sainty – and his team on the field was soon showing significant change from the one that had gone down.
After a mixed start, during which time we went out of the League Cup to Crewe and withstood a board room upheaval, we really started to play some good football. We weren't just moving up the league but murdering sides. Port Vale were beaten 7-0, Scunthorpe 5-0 and we scored four on three other occasions, all of these wins coming in a thirteen game run.
However, it all seemed to start going wrong when Kevin Reeves, who had proved to be an inspirational signing, suffered a hip injury that ruled him out for the rest of the season. In the end it was even worse than that with the former England striker never being able to play again. It really was a major blow, Reeves was crucial in the way he linked up with such as Hutchison and Billy Hamilton. He was able to create so much space that the midfielders were hitting the net on a regular basis as they took advantage, and none took advantage more than Brian Flynn.
Wayne Biggins was signed from Matlock Town as a replacement. He did well, very well in fact, but was no Reeves. We fell away from the promotion race after the loss of Reeves and Bond went missing for a number of games towards the end of the season, supposedly on a scouting mission. The season ended poorly but there didn't appear to be any major problems and during the close season in 1984 Bond went about rebuilding his squad and brought in eight new players, all of them on free transfers.
As the pre-season got underway in 1984 he stood chatting to Burnley fans at Great Harwood and at Morecambe but news was soon beginning to filter through that all was not well between him and the board, and almost on the eve of the new season he paved the way for his exit with a public attack on the directors.
On the Monday, just five days before the 1984/85 league season was due to start, John Bond was sacked by Burnley and the club were set to embark on what was its worst ever period.
His name is now mud around Turf Moor and quite often the attacks come from people who weren't even around during that Bond year.What it has done is leave so many questions unanswered. Would things have been so different had Reeves not been injured? Would we have still been relegated a year later had John Bond stayed? Did he really bankrupt the club with his transfer dealings?
He's certainly been accused of a number of things he didn't do and even one official Burnley FC publication accuses him of getting rid of Alan Stevenson, Steve Taylor, Tommy Cassidy and Phil Cavener, all of them released by Frank Casper. Overall we all have to form our own opinions on him.
He was never as black as some would paint him, far from it, but he did make some poor mistakes. It was Bond who sold right back Brian Laws and Lee Dixon, two who went on to play at a much higher level than where we were playing, and certainly the signings of Gallagher and Gerry Gow must have been amongst his worst.
He moved on to Swansea, where a year later he had the last laugh on us. Although we beat them at the Vetch Field a couple of weeks before the end of the season it was Swansea who survived as we were relegated to the Fourth Division.
From Swansea he went on to manage both Birmingham and Shrewsbury and came face to face with Burnley again whilst with the latter. The wo clusb were drawn against each other in the FA Cup but he refused to come to Burnley for the first game and then spent the Gay Meadow replay hiding at the back of the stand in a steward's coat.
He was involved at Witton Albion for a time and then, during the 1999/2000 season, he was assistant to John Benson at Wigan. This proved to be his last job in league football although he did act as a consultant for Northwich Victoria for a while in 2007.
Now 78 years of age, John Bond is retired, and is unlikely to make another appearance at Turf Moor – not even if we can find a steward's coat to fit him.
John Bond sadly passed away on 26th September 2012 at the age of 79.