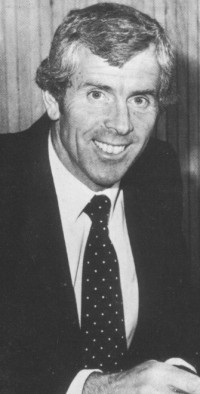 He was eventually handed the job on a permanent basis and that, given his record in management, looked very much like a disaster waiting to happen. By the end of the season the disaster had happened.
Benson had started his playing career with Manchester City but moved to Torquay where he met up with John Bond. His next move was to Bournemouth, signed by Bond who had by then taken over as manager at Dean Court. He signed for Bond yet again, this time as a player/coach, at Norwich where he remained until the time came to move into management.
That first move into management saw him return to Bournemouth in January 1975 and he held the job for three years. In his first season the club were relegated and his second full season ended in a sixth place finish in the Fourth Division. That was as good as it got. They started to struggle after that and he was eventually replaced in 1978 by Alec Stock.
He returned to Norwich as youth coach and was offered the manager's job when Bond moved to Manchester City in 1980. He turned it down to follow Bond to Maine Road where he became assistant manager. He held that position until February 1983 when he replaced the departed Bond as manager.
City were in the top half of the league and looking to push for a European place. Reality kicked in, they had made a mistake, and Benson somehow contrived to turn a decent season into relegation. They lost twelve of the remaining fifteen games, and went down as David Pleat danced around the Maine Road pitch in his ridiculous suit and shoes.
That had been just a year before he was appointed Burnley manager so it appeared to be complete folly by the Burnley board to even consider giving him the job and, in one year, he took a team boasting the likes of Tommy Hutchison, Kevin Hird, Alan Taylor, Wayne Biggins, Vince Overson and Micky Phelan down to the Fourth Division.
In fairness he had taken over at short notice with the team already in place for the season but we turned in some horrendous performances. When he tried to shore things up with signings he brought in the likes of Les Lawrence, Geoff Palmer and Mark Rhodes who served only to make things worse.
The players at the time considered him to be a good coach but no manager and things went from bad to worse. With time running out, he was losing it completely and accused the players of playing like a load of fishcakes after we'd managed only a home draw against Millwall. They responded with a 1-0 win against John Bond's Swansea in the next game on a day when two supporters placed a box of Birds Eye Fishcakes in the dugout just ahead of kick off.
Needing to win the last game of the season at Walsall to give ourselves a chance of staying up, we did just that with a 3-2 victory, but six days later Swansea picked up a point from their one remaining game to condemn us to the Fourth Division.
Benson remains the only manager to take Burnley down to the bottom division, I hope that is always the case. He was nothing short of a disaster and the only good news came after the season had ended when the club announced they were dispensing with his services.
There's little good I can recall about his season as manager, maybe the 9-0 FA Cup win at Penrith, but there are a lot of bad things and bad performances so easily remembered. It looked a poor decision by the Burnley board in August 1984, nine months later we were a Fourth Division club.
Benson continued to work in football and eventually moved back to Norwich to assist John Deehan with the administrative work. When Deehan resigned and became Wigan manager, Benson went with him.
Twice he was offered the manager's job at Wigan. He turned it down the first time because of ill health but accepted the job in the summer of 1999. He had one year in the job, incredibly appointing John Bond as his assistant. They looked promotion certainties for much of the season before missing out.
He remained at Wigan where, for a time, he worked with Steve Bruce. Bruce was impressed with him and took him to Birmingham, then back to Wigan and eventually to Sunderland.
John Benson continued to work for Bruce at Sunderland until he was taken ill in the last few months of 2010. He had cancer and sadly passed away on 30th October 2010, aged 67.