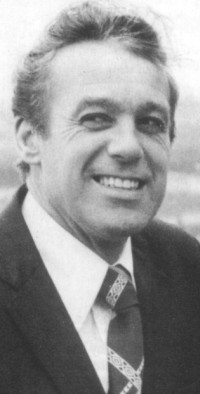 Joe Brown had already been a coach at Turf Moor for fifteen years when he was chosen to replace Adamson. It was a difficult time to take over and he was never really able to have an impact.
Without doubt Joe was one of the nicest people you could ever wish to meet. I sometimes wondered if he was strong enough to be a manager and perhaps that was a problem.
He'd played for the Clarets in the early fifties but a serious back injury restricted him to just six first team appearances and he moved on to Bournemouth, but he returned to Turf Moor as a coach in 1961.
His biggest success came in the 1967/68 season. He was in charge of the youth team that went on to lift the FA Youth Cup that season. He was very highly thought of as a youth coach but was promoted to the first team when Adamson became manager in 1970.
That led to six years working with the first team before he accepted the manager's position but he took over a team that was already in the relegation places and with players who maybe didn't give him the commitment they should have done.
His first game in charge was at Norwich and I can see the banner now that was displayed by the Burnley fans that day at Carrow Road. It read: "We won't go down … we've got Joe Brown" but sadly we did go down.
That game proved to be Frank Casper's last for Burnley and there were other experienced players, those who had sided with Adamson, who were left out of the team. These were players such as Willie Morgan, Colin Waldron, Mick Docherty and Doug Collins, all of whom had left the club by the summer.
There was to be no quick return. We struggled in the Second Division almost from the start and with the crowd getting more restless with each game it came as no surprise when the news came that he'd lost his job in February 1977.
Joe did sign such as Tony Morley and Terry Cochrane, two players who would go on to make profits for the club. He also brought back Harry Potts as chief scout. The signing of Morley was not without speculation that he knew nothing about it,that Lord had signed him on the recommendations of Tom Finney with Brown first introduced to him when he turned up for training.
When relieved of his first team duties he was offered another job at the club but he decided not to accept in and said his farewells. He moved on to Manchester United where he worked with the youth set up for a good number of years before retiring. He's continued to live in Burnley but has suffered from poor health for a number of years.