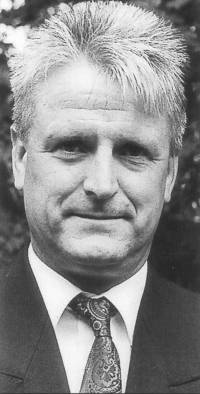 "The search is on," Chairman Frank Teasdale told us as he looked for his fifth managerial appointment, but meanwhile they handed the temporary responsibility to Casper's assistant Jimmy Mullen ahead of the home game against Carlisle.
He won that one 2-0, and youngster Graham Lancashire, who had scored on his full debut the week before at Scarborough, grabbed himself a home debut goal. Just one week later, with still no appointment, Lancashire was to provide Mullen with a strong case for the job as he hit a hat trick at Wrexham in a 6-2 win.
That was it, he was far from a popular choice, but the grey haired Geordie who had lost his job at Blackpool just over a year earlier was handed the responsibility of trying to get Burnley out of the basement division. If ever it was the right man, in the right place, at the right time, this was it.
By mid-December he had won his first nine league games in charge, whilst having won through two rounds of the FA Cup and won two Autoglass Trophy ties. The Clarets had climbed to third in the table.
We never let it slip. By the time we clinched the title at York we had lost only four league games under his charge, we'd had a very special day at Derby in the cup, filled the ground at Carlisle with thousands wearing Jimmy Mullen masks and on the day the trophy was handed over in front of a packed Turf Moor I'll always recall the 'Jim fixed it for us' banner in the Cricket Field Stand.
He'd captured the imagination of the Burnley fans. Never had a Burnley manager been so popular, and he'd grabbed this great club of ours by the scruff of the neck and lifted it from somewhere it should never have been in the first place, a place where it had been stuck for seven long years.
Over the next two years, he established us in the Third Division (or to give it its brand new 1992 name, Division Two, after the inception of the Premiership). Not just established, despite struggling to win very often away from home, he got us via a superb night in Devon to our first ever Wembley win in the Play off Final against Stockport County, the club who thought they were our rivals.
From there it was a real struggle and we suffered instant relegation a year later, at one point losing eight consecutive league games. He introduced some real wastes of time on loan and despite a late fight it was back down.
It was back to winning ways in 1995/96 and after yet another win against Stockport in January we were in fifth place in the table, doing better than two years earlier, and looking set for at least another go in the play offs.
From there it went wrong, there were rumours of problems, on top of that the board were being put under severe pressure from the fans, and the next four games were all lost as we slipped into mid-table.
The last of those four defeats coincided with the infamous 3:33 protest and the board, now under real pressure, and seeing the fans beginning to turn on Mullen, took action and sacked the manager.
He's wasn't involved in league football again until 2007 when he became assistant manager at Walsall. He got the manager's job too for a short time in 2008/09 season. More recently he was number two to Ronnie Moore at Rotherham.
For a time after he left Burnley his name was not the most popular around Turf Moor. But time has passed and surely there's only one way to remember Jimmy Mullen, as the passionate manager who turned this club of ours round and got it moving forwards again after a dreadful period, the worst period in the club's history.
He must surely now be remembered with great affection – he won two promotions, albeit suffering a relegation as well, and gave us some incredible days out – Northampton, Derby, Carlisle, York, Plymouth and Wembley to name some.
Jim really did fix it for us.