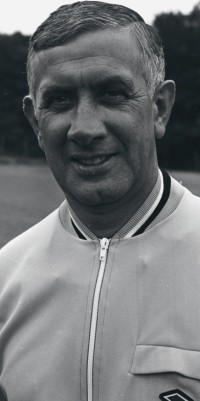 Even so, when the day arrived it was very much out of the blue. No one outside the club was expecting it, although there had been some negotiating going on that had led to the ousting of Harry Potts leaving the way clear for the former captain.
Adamson had been with Burnley since 1946 when he arrived as a young footballer from Ashington in Northumberland. He went on to play almost 500 games for the club. He became captain and led us to the Football League Championship under Potts' stewardship.
He was offered a manager's job whilst still a player at Burnley, and that was the prestigious position of manager of England. He would have been England's first ever full time manager but he turned down the opportunity leaving the Football Association to instead appoint Ipswich boss Alf Ramsey.
Adamson had gone to the 1962 World Cup in Chile as Walter Winterbottom's assistant but that had been his only involvement with the national side and he was never called up to play for his country.
His six years in charge at Burnley got off to a poor start. It picked up remarkably to turn us into one of the best sides in the country, and then came to an end during another torrid period. After ending the 1969/70 season Adamson proclaimed, ahead of his first full season in charge, that Burnley would be the 'Team of the Seventies' but we were promptly relegated after twenty-four years in the top flight.
An average season next time round in the Second Division was rescued with six successive wins in the last six games, but in the next season there were only four defeats as he led us to the Second Division title and a return to the First Division after just two years.
He steered us to an FA Cup Semi-Final and sixth place in the league in our first season back and we missed out on a UEFA Cup place only on goal difference, Despite being forced to sell his captain Martin Dobson, things looked even better in the following season but injuries in the last few weeks saw us fade away and by the following (1975/76) season we were struggling near the bottom of the league.
Into the New Year and there were suggestions that all was not well between Lord and Adamson, ironic given that it was these two who perhaps combined to force out Potts. An FA Cup defeat at Blackpool gave the chairman the ammunition he needed and Adamson was sacked, his association with Burnley coming to an end after 30 years.
He went on to manage both Sunderland and Leeds, with little success, but after losing his job at Elland Road in November 1980 he retired from the game. He's continued to live in Burnley but for many years he showed no interest in the game or the club he served so well for so long.
It was always thought that he'd never go to Turf Moor again but in January 2005 he arrived, with one of his former players Paul Fletcher, for an FA Cup tie against Liverpool, but unfortunately the game was postponed.
However, in January 2011, the Jimmy Adamson Lounge opened at Turf Moor. In the week prior to the opening it was reported that he wouldn't be well enough to attend, but he did make it for the opening and to watch the game against QPR. Just ahead of kick off Jimmy stepped out of the lounge and into the lower tier of the Jimmy McIlroy Stand. There was no annoucement initially but as the crowd saw him so the applause started. I'm not sure what sort of reception he could have been expecting but it was a stunning and sustained one as Turf Moor rose as one for its former captain and manager.
It's been said that one of the clashes between Lord and Adamson was that Lord wanted to build a stadium and Adamson wanted to build a team. He was an inventive coach and for a three year period his team played some wonderful and successful football. Player sales cost him and, after 30 years at the club, he made hisinglorious exit having being sacked by Lord.