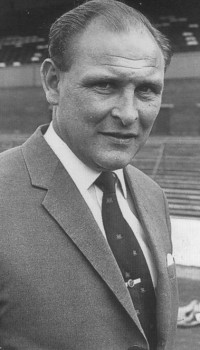 Harry had left the club in the summer of 1972 but was back in football within six months, taking over from Bob Stokoe at Blackpool. By coincidence, his first game in charge of the Seasiders was against Burnley on Boxing Day 1972, a game we won 2-1, but in January 1976 he was successful in an FA Cup tie against the Clarets, a game which saw the end of Jimmy Adamson's reign as manager.
He left Bloomfield Road that summer and returned to Burnley to work alongside Joe Brown but we were in trouble in Division Two that season and when he took over from Joe we were next to bottom in the league with fifteen games to go.
We reached safety but things didn't get better, in fact for a time they got worse, and only an amazing run at the end of the following season kept us up. Harry was still having to sell players. Brian Flynn and Ray Hankin both moved to Leeds but we had a better 1978/79 season that saw us lift another trophy, this time the Anglo Scottish Cup.
I can still remember Harry on the pitch during the interruptions in the Celtic game in that competition, helping people back onto the terracing as attempts were made to get the game re-started following the crowd problems.
That win against Celtic led to a semi-final against Mansfield and we eventually faced Oldham in the final. Looking back it was very fitting that his last full season in charge of Burnley Football Club saw us win something.
More sales followed as the financial problems mounted, with Tony Morley and Terry Cochrane going to Aston Villa and Middlesbrough respectively. Morley had scored in the Easter win at Blackburn in April 1979 but we'd failed to win another game when a 2-0 home defeat to Cardiff in October 1979 took us to the bottom of the league in what was Burnley's longest ever run without a win. It brought to an end Harry's association with Burnley Football Club.
There was a real sadness to it. Harry's Burnley career should never have ended like this and with us in such a poor position. He would not be involved in league football again although he did act as Chief Scout for Colne Dynamoes for a time.
He continued to live locally before passing away after a long illness in January 1996. Brunshaw Road was lined by fans, players, directors and many former players as the funeral cortege stopped to allow him to be at Turf Moor one final time. Just over five years later that very road outside Turf Moor was so appropriately renamed 'Harry Potts Way' in recognition of his achievements for our club.
Harry was surely, alongside John Haworth, Burnley's finest ever manager.