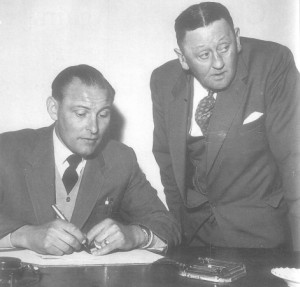 He'd done just that with his first appointment, that of Alan Brown in 1954 who returned from a coaching role with Sheffield Wednesday, and following the resignation of Billy Dougall on medical grounds he brought back to Turf Moor another member of that successful team of the late 1940s and early 1950s, schemer Harry Potts.
Potts had moved on to Everton in 1950 in a big £20,000 transfer and remained with the Goodison Park club until he retired as a player at the end of the 1955/56 season. There was to be no departure from football for him, the North Easterner joined Wolves as a coach that summer and a year later became manager of Shrewsbury Town.
Just thirty games into his managerial career he was on the move again, and back to the club where it had all started for him as a young player. He was back at Turf Moor and it is impossible to think that anyone could have known what was just around the corner for Harry Potts and Burnley Football Club.
The work of the previous managers meant he arrived to take over a team that had some very good players and with a youth policy that would go on to provide him with some amazing talent over the years he was in charge.
By the end of that 1957/58 season we had reached sixth and the following season was another good one when we finished seventh. What followed was one of the most incredible of times to be involved with this great club of ours. In four successive seasons we took each of the top four positions, we played in an FA Cup Final, and became only the third club to represent England in the European Cup, joining Manchester United and Wolves.
It all started with the Championship in 1959/60 and Potts' only signing prior to that was Alex Elder, the young full back from Northern Ireland. The manager saw his team triumph on a wonderful night at Maine Road, the home of Manchester City, in May 1960. In doing so he joined John Haworth as the only managers to take Burnley to the league title, and this in his first full season in charge. Today he would be lauded by fans, media and just about everyone in the game, but not then, managers were more in the background and, I'm sure, that's just how Harry Potts preferred it.
That was followed up with two more amazing seasons. In 1960/61, when Burnley played no less than 62 games, we were fourth in the league, we reached the semi-final of both the FA Cup and the League Cup, the latter in its inaugural season, and the last eight of the European Cup.
That season Spurs became the first team of the 20th century to win the Football League and FA Cup double, but a year later we came so close to emulating them. We were three games away from winning that elusive double. We ended with nothing in what was a cruel finish to the season, but Burnley were by no means finished.
The 1962/63 season saw the departures of Tommy Cummings, and more significantly Jimmy McIlroy, but we were still a top team and finished third and then, after two less successful seasons, we were fighting for the Championship again, finishing third in 1965/66.
That team won as many points as the champions had done six years earlier. This was very much a Potts team mixed with four stalwarts of the championship team in Adam Blacklaw, John Angus, Alex Elder and Brian Miller. By now the manager was benefiting and introducing such talent as Brian O'Neil, Willie Morgan, Willie Irvine and Ralph Coates.
Potts, with that team, took Burnley back into Europe. We would have qualified a number of times had we been a city rather than a town, but a rule change in 1966 allowed us to go into the Fairs Cup and we went on to reach the quarter finals. The European Cup exploits had ended with a defeat to West German side Hamburg and it was West German opposition again, this time Eintracht Frankfurt, who ended out interest.
Things were getting more difficult for Burnley by this time but, even so, we were able, at least, to maintain a position in the middle of the First Division throughout the decade.
It was all getting more difficult but we remained an average First Division side right through to the end of the decade. We were in mid-table when, in February 1970, we entertained Nottingham Forest. We turned in a superb performance to beat 5-0. but Incredibly Harry lost his job after this game.
He was moved upstairs to the position of General Manager where he remained for two years before parting company with the club on what was a sad day for Burnley Football Club in the summer of 1972.
It had been a remarkable twelve years, and never to be forgotten, but Harry's days at Burnley weren't over and he would return later in the decade to lead the club again.