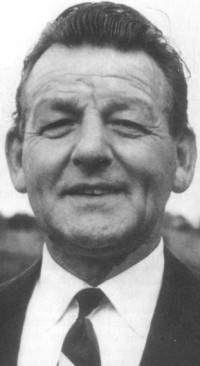 Hill, as a player, was a top wing half who started his career with his home town club of Forfar. A transfer to Aberdeen established him and he won three Scottish caps whilst with the Dons.
His next move saw him join Arsenal in the summer of 1936 at just the right time and he was a member of the side that went on to win three League Championships in successive seasons. From there he moved on to Blackpool and then Southampton before returning to the North West and becoming assistant trainer at Preston.
He served as an RAF Flight-Lieutenant in India during the war but in the summer of 1944 he became player manager of Crewe and held that position until becoming the Burnley manager in September 1948.
For six years Hill built on the two years under Cliff Britton that had seen us promoted and secure third place in the First Division. We didn't finish that high again during that period, but after four years in mid-table Hill's team had sixth and seventh placed finishes in his last two years with the club.
He was also responsible for signing some very good players for Burnley, and it is fair to say one very special player. He brought in Billy Elliott, Roy Stephenson and Chelsea's Billy Gray.
They were all good players without a doubt but in March 1950 he made the signing that ensured he would always be remembered at Turf Moor. Burnley's scouts had gone to watch a player in Northern Ireland but were more impressed with one of the other players they saw, so much so that Hill himself went to take a look at him.
Thankfully the player turned in an excellent performance and Hill made his move immediately. He paid £8,000 to Glentoran and Jimmy McIlroy was a Claret.
Hill moved on from Burnley in the summer of 1954, accepting an invitation to become manager of Preston where he had started his coaching back in the late 1930s. From there he took a coaching club with a club in Baghdad before returning to England to manager Notts County and then Charlton.
He retired from Charlton after a managerial career of over twenty years but continued in the game as a scout with Manchester City until he died in Luton in June 1970.