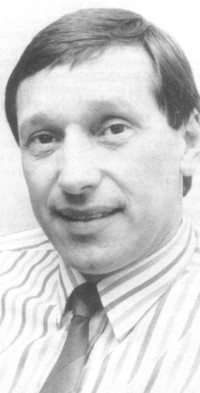 Within hours of taking over he sat in the dug out at Spurs and watched his side score a sensational 4-1 victory. He was immediately told the job was his for the remainder of the season. At the time we were facing a battle to avoid the drop to the Third Division but were, incredibly, still in both cup competitions.
Barnsley born Frank had been with the club for almost sixteen years. He'd been signed from his first club Rotherham in the summer of 1967 and was Burnley's first signing for over eight years. He was a member of the side that won the Second Division in 1973 and did so well on its return to the First Division.
But as the Clarets recorded a stunning 4-1 win against Champions elect Leeds United at Elland Road, he was cruelly kicked out of the game by Norman Hunter, and after a long battle to get fit he hung up his boots in January 1976 and joined the club's coaching staff.
On the Saturday after the Spurs win he found his first league match in charge was against his home town club Barnsley at Turf Moor, and Barnsley at the time were managed by Hunter. Who could blame Frank for snubbing him?
He got a win and indeed he got off to a good start. It looked for a time as though we might pull ourselves away from the bottom.
There were four successive league home wins although we went out of the Milk Cup in the semi-final whilst reaching the last eight of the FA Cup. With fourteen games to go we had climbed out of the bottom three but a shocking run over Easter, with five successive defeats, dropped us right back and we never recovered.
We needed to win our last game against Palace, If we did win it, they went down, but a defeat or a draw would see us relegated. We went and played a negative game and lost it 1-0 having had only one shot at goal. After just one year we found ourselves back in the Third Division.
Frank was given the responsibility of dealingn with the retained list and released players such as strikers Paul McGee and Steve Taylor and midfielder Tommy Cassidy. He also brought to an end the Burnley career of his former team mate, goalkeeper Alan Stevenson, who was one appearance short of equalling the post-war appearance record held jointly by John Angus and Jimmy McIlroy.
We'd won as many games as we'd lost under Casper, but the directors then decided to look elsewhere for a new manager with chairman John Jackson confirming there would be a break with tradition and a manager would be brought in from outside, something that hadn't happened since Harry Potts was brought back to the club in 1958.
Frank's time at Turf Moor, for now, was drawing to an end. He'd been so popular as a player and had come close to reaching his targets during his short time as manager. But after the most remarkable of seasons we were set for a new man.