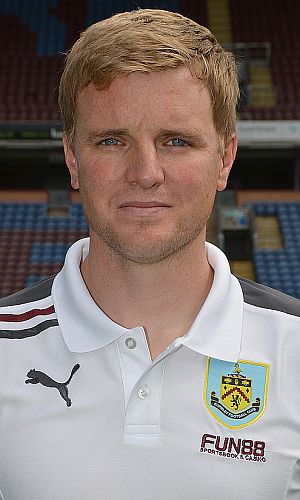 First team coach Stuart Gray was placed in charge as the search started with Paul Lambert believed to be the clear favourite. He wasn't the favourite with the voters on Clarets Mad who opted for Chris Hughton.
Also, far more popular in the vote was Bournemouth's Eddie Howe and it was Howe, in an amazing few days for him, who landed the job after Gray had managed the team for four games.
Despite being without a manager, I don't think too many Burnley fans took too much notice when Bournemouth chairman Eddie Mitchell announced that Howe was remaining at Bournemouth having turned down both Charlton and Crystal Palace.
The day after, sat at a reserve team game at Airbus UK, the texts started coming through to say that he was going to be our new boss.
On the Friday he managed Bournemouth for the last time, a 2-1 defeat at Colchester, before travelling up to Burnley, with his assistant Jason Tindall, to watch our home game against QPR.
After that game at Colchester, asked if it was difficult leaving Bournemouth, he said: "It's extremely difficult. I've had a fantastic time here.
"The majority of my career has been spent here and I love the club deeply but I just feel this is too good an opportunity to turn down. It's been a very difficult decision still, very difficult to leave these players."
He arrived at Turf Moor, where he scored his first Bournemouth goal in a 2-2 draw in 1997, in the pouring rain and received a very warm reception on the day when one of his predecessors Jimmy Adamson made his return to the ground.
One day later, on the Sunday, he was confirmed as Burnley manager on a contract until the end of the 2013/14 season. He was immediately joined by Tindall and Jonathan Dalzell, the fitness coach, with Tom Long leaving the club.
It all got off to a good start. They always reckon a new manager gets a honeymoon period and there is no doubt Howe got one. We won six and drew two of his first nine league games in charge. We were seventh in the table, just three points behind sixth place Nottingham Forest and with two games in hand.
The talk was all about another play off finish but then the wheels came off with only one point from the next six games, and although a recovery followed it was too late and in the end we had to settle for an eighth place finish, seven points away from the bottom play off place held by Forest.
At the season's end Howe, who had signed Charlie Austin and Marvin Bartley, from Swindon and Bournemouth respectively, in January, released just Kevin McDonald, Steven Thompson and the hardly seen Remco van der Schaaf.
He also set about making changes to his backroom team. Out went Stuart Gray and Ash Hoskin, first team and development squad coaches respectively. Jason Blake arrived from Bournemouth to replace Hoskin with Brian Glover, from West Ham, and Des Taylor, from Bournemouth, brought in to boost the scouting operation.
There were no surprises with the players released and he said that the squad would only need a little bit of tweaking, so I don't think anyone expected too much in the transfer market although I think it was a surprise that, when the players returned for pre-season training, there had been no signings.
Things quickly changed. Within days, Graham Alexander had his contract terminated and Clarke Carlisle joined League One Preston on a season long loan. Young Manchester City defender Ben Mee arrived on loan but the exit door then opened again with Chris Iwelumo going to Watford.
It all quietened down again until we were away in the South West. Suddenly the news broke that both Chris Eagles and Tyrone Mears were signing for Bolton. That stunned everyone but it wasn't over yet.
Kieran Trippier, another loanee from Manchester City, replaced Mears and Keith Treacy came in from Preston to take Eagles' place. It wasn't over though. Danny Fox and Wade Elliott were both sold after the season started, prompting a rush of forward signings, Danny Ings, Zavon Hines and Junior Stanislas.
The tweak had become major surgery. Howe was probably most disappointed with the Fox sale. He wasn't happy with either of Eagles or Mears going to Bolton, but I believe that the other departures, those of Alexander, Carlisle, Iwelumo and Elliott were what he wanted.
If he'd had a good spell, then a bad spell after joining Burnley, the 2011/12 season was something similar. We didn't start well and we certainly didn't end well, but we had an outstanding purple patch in the middle.
The surprising thing was the team's inability to win at Turf Moor but the ease at which they picked up victories on the road. There were some outstanding performances and there were some downright horrible performances. In the end, shuffle it all together and you probably got an average sort of season.
There were never going to be wholesale changes at the end of last season. I think we all knew Jay Rodriguez was going but it was kept to a minimum with Howe bringing in just Jason Shackell, Joseph Mills, Brian Stock and Sam Vokes for the first team squad.
The 2012/13 season had started in very similar vein. There were good performances, most notably the 2-0 opening day of the season win over Bolton, but some shockers too, particularly the away games at Huddersfield and Swindon.
I thought Howe was beginning to look as though he had the weight of the world on his shoulders. Watching his interviews I suspected a lack of enthusiasm from the manager and I did feel that was worryingly beginning to show with the performances.
I, and I don't think anyone, could have known of his personal problems. Simply, he didn't want to be in our part of the country, he wanted and needed to be with his family in Bournemouth.
We all appeared to be very surprised when he was installed as favourite for the Bournemouth job, soon becoming odds on for the job. It didn't make sense from a football perspective but as the days moved on it became obvious that was what he wanted.
On Friday 12th October 2012, Burnley agreed a deal with Bournemouth for his return and the following day, along with assistant Tindall, he was appointed by the Dean Court club. His time at Burnley had come to an end after 21 months.
He oversaw big changes at first team level with so many players leaving. Perhaps that makes it difficult to judge him but the club haven't progressed at that level and he left with the first team in the lower reaches of the division.
There's been much debate about the style of football. It wasn't a style I enjoyed but, at the end of the day, fans want to see winning football. He did bring about an improvement away from home with 16 of his 40 away league games won, although only three from the end of January 2012.
At home though, after winning the first two there have been only 11 more wins in 35 league games at Turf Moor.
But, it's not just at first team level he's influenced changes. There have been big changes to the facilities for the players at both Turf Moor and Gawthorpe and, significantly, he's made similar changes to the youth department at Turf Moor, changes that saw the departures of both Martin Dobson and Vince Overson.
Hes left a lot of his own staff in place and said, in his first interview on his return to Bournemouth, that they would all be remaining at Burnley and he and Tindall would work with the staff currently in place at Bournemouth.
There is absolutely no doubt that he also left Burnley with the best striker in the division in Charlie Austin. Howe's first signing had, almost certainly, proved to be his best.
Maybe, having made such far reaching changes at Burnley, it will be some time in the future before his management of the club can properly be assessed, but one thing is for certain, his move back home left Burnley looking for a fourth manager in under three years.